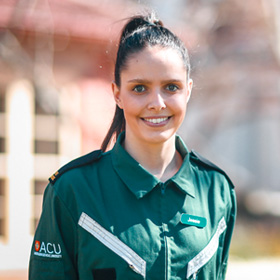 Jessie Dixon
George Alexander Foundation Scholarship
Jessie Dixon was in her first year of a Bachelor of Nursing/Bachelor of Paramedicine degree at the Ballarat Campus when she received a 2014 George Alexander Foundation Scholarship.
Originally from Horsham, Jessie moved to Ballarat to finish her VCE at Ballarat & Clarendon College, and hopes she can provide support to other students coming to ACU.
'I was extremely excited, honoured and proud to be awarded a George Alexander Foundation Scholarship. Both my family and I felt reassured knowing I could now afford all the necessary resources and university expenses needed to do my best. Community involvement gives me a great deal of satisfaction. I've helped with Meals on Wheels, worked with junior sports programs, undertaken community service at a special school, and volunteered at a nursing home.'
'My career goal is to become a well-trained and highly regarded health care professional. I believe nothing is more important than being entrusted with a human life, and I look forward to improving the health of my community. I really appreciate the friendly and intimate environment at ACU. The lecturers willingly share their time and knowledge, and they genuinely want their students to achieve their full potential.'
'I can't wait to finish university and join the workforce. I will relish the opportunity to make a positive impact on individuals, families and communities.'
The $15,000 funds will contribute to Jessie's living expenses like accommodation, books and uniforms.