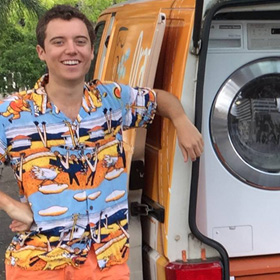 David Tubb
Sophia Scholarship
David Tubb received the 2015 Sophia Scholarship for his outstanding contribution to the common good, a core ACU principle. The Graduate Diploma in Education (Secondary)/Graduate Certificate in Religious Education student at ACU's Brisbane Campus is also a board member and volunteer coordinator at Orange Sky Laundry, a registered non-profit organisation, charity, and world-first initiative.
Founded in Brisbane in September 2014, Orange Sky Laundry is a free mobile laundry service operating vans with washing machines and dryers. They offer a complete laundry service to homeless and disadvantaged people five days a week across many locations in Brisbane and surrounding areas, and more recently in Cairns. Approximately one in 200 Australians are homeless on any given night, underscoring the importance of Orange Sky Laundry's work in the community.
The Sophia Scholarship will financially assist David and the Orange Sky Laundry team with the ongoing costs of the vans, start-up costs of a new van, support to expand to additional cities, and training of volunteers in crisis management and working with alcohol and drug addictions, and mental illness. David is responsible for the effective day-to-day management of vans in Brisbane and Cairns, as well as coordinating volunteers in other Australian locations. The group plans on expanding further, striving for 15 different vans operating in 15 locations by the end of 2015.
A prolific volunteer, David also helps out during his holidays at Edmund Rice Camps, which provide holiday experiences for disadvantaged children and their families.
David said he is passionate about becoming a positive influence in the daily lives of his students. In the future he hopes to work in schools and educational facilities catering to students on the margins of society.
"I hope to challenge the best and brightest to extend themselves academically and develop a social conscience capable of making a genuine difference for their generation," he said.content here