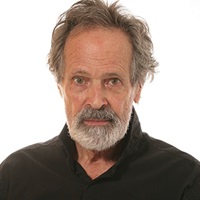 Marginal Notes by Rod Usher
As she got older, ever more lonely,
Mother wanted certain things.
Not only cigarettes and whisky.
Paintings. She 'discovered' young artists.
She also had a good eye for sculpture.
Some of what we called her excesses
we parcelled out after her funeral.
I got the bronze head of the African woman,
Louise bagged the tall wooden cassowary,
Victoria has the best beach painting.
Fontaine, who is damaged, asked for the tv.
Mother also wanted an Arts Degree.
Depression, age, and whisky were obstacles.
She dressed up for University, loved it,
once wrote off her blue Celica at the entrance.
Some students snickered at her hand-raising,
lecturers bemused by so much engagement
from an old woman with a posh voice.
Essays, however, were a hitch.
Margaret had ideas, theories, arguments,
but getting them down…
She delegated. Sister Victoria and I ghosted them.
Graduation Day, robed and mortarboarded,
Margaret MacLeod was an exultant B.A.
I also got some of her prescribed texts,
which have languished decades on my shelves.
Just now I've read her Moll Flanders.
Though it's not the done thing,
and in anyone else's hand I'd be bleating,
it's got Mum's marginal notes in shaky pencil,
a belated inheritance for a son who often
tried in vain to drop anchor on her enthusiasms.
The notes bring her back as much as her photo,
looking like a Fifties film star, above my desk.
………….2
Here, on Page 84, where Moll says…'being now
a Woman of Fortune, 'tho I was a Woman
without a Fortune' Mother has pencilled: 'Me!'
On 91, Moll says 'I lay still and let him come to Bed'.
Mother, who boasted a big libido, notes,
almost in Defoe's early 18th Century English:
'She has slight inclination.'
Elswehere:
'Fool.'
'Decision of necessity, not ideology.'
'Circumstance not inclination.'
She underlines a lot. Where Moll says:
'I packed up my baggage and put myself
in Posture for a Journey',
Mother, a physiotherapist, underscores Posture.
I reckon Ms Flanders just meant get herself ready,
but that very knitpicking thought burns.
I was always trying to straighten out
a mother who life had bent out of shape,
who wanted from me just hugs, kisses,
praise, laughter and shared whisky.
I kissed her cold forehead in her coffin,
spilled anecdotes at her crowded funeral.
A marginal son.