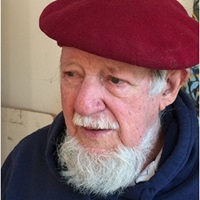 "It's a distinct honour to be included among the Highly Commended in this year's poetry prize and I much look forward to reading the work of the prize-winners among my fellow-writers. The continuation of this annual award by the ACU encourages so many of us to hone our work as best we can, and for that reason alone everyone involved with the Prize deserves, and has, our warmest thanks."
---
Cadences for Ms. Weznecki by Keith Harrison
The past imperfect and the present tense:
Ms. Weznecki, wearing her cigarette-smoke like
an overcoat, her chalk-stick wincing across
the blackboard, her iambs always scanning faultlessly,
would flop down in a frump of resignation:
'You footballing simians have nothing in your heads —
and why are your hearts are so dry!' Then suck back
a ball of delicious smoke. 'But'. Suck. 'Nonetheless'.
Suck. 'Nonetheless, I'm not giving up on you.' I'm going
to teach you how to listen.' Suck. 'Or die.' —
or should I say, then die?'
Her scrawny throat erupts in a rough laugh.
Her past imperfect and her present tense
and tenser every day she tried to draw all
her lost life-smoke back into the delicate
tissues of her lungs, the craving slowly
leaching her away. Syntactic intricacies in French
brought flashes to her eyes. 'Listen
to what he said, precisely, not what you think he said —
or what the grammarians wanted him to say:
Votre âme est un paysage choisi
Que vont charmants masques et bergamasques.
It was never 'Où vont - even in the drafts.
Always Que. Que vont: exactly wrong, exactly right.'
She taught us the responsibilities of rhyme,
how Baudelaire could make it flow
and why the words in the ponderous ocean-turtle song
float through a hundred years in an interminable dream.
She taught us the fluctuant water-words of Stevens
and how a tom-tit can skitter across a lawn, then
Vanish. She taught us the only dance that matters,
where consonants insinuate themselves invisibly
among their vowels, or explode against them, or
smoothe them over, and sometimes marry them.
Always changing.
And, going deeper, how Heraclitus had it right,
and Plato always played catch-up because
only his head was wholly there; how Heaney conspired
with Hopkins at the edge of dawn.
And as we grew
less ape-like she made us catch the tiniest
details in Vivaldi, the way his bees
sang uninterruptedly along the summer vines,
and winter lightning cracked against black trellises.
All exactitudes made her stop, and flush
as if she were in love for the first and only time.
One day she read us Valéry who could take
a woman's underwater arm and make it elongate
to an undulating thin string, then wobble it,
darken it, and let it go. Try that some time,
she'd say, and feel your clumsiness. Then learn
this: Your clumsiness is your only ground.
That's where you begin. With clumsiness, and sound.
On days like that, her eyes softening, she'd forget
her cigarette; then lunge for another, then slow-motion
topple down our minds, ten years, until one night, late,
we tip-toed into her ward. Shrunken now, her eyes still
flamed with her old hunger. She looked up.
'Ha, the monkey-men!' My god, you're hairier than
I thought'. Huge pause. At last, she said 'Don't smoke',
and turned her face to the wall. Some time
down the dark well of the following week she fell
from here to god knows where, and as I fall with her
I flail my arms but never touch her.
So here I am in my piddling years trying to keep
the last black smoke from pouring in my door.
My grandson's worried, can't find his sleep.
He shuffles into my study. 'Granpa, it's almost three.
Take some rest.'
Son, you don't understand.
I've always been on the edge of it.
Edge of what? he asks. Well, I have this hunger
to make one thing really beautiful before I go.
It's hard. It's joyful - and it's hard, I murmur
as he turns away.
Oh yes, I want to make
something beautiful, and soon – and if I do,
as we both continue falling, and if I do, Ms Weznecki,
I'll dedicate the whole damn thing to you.