Mister Micawber by Bruce Clark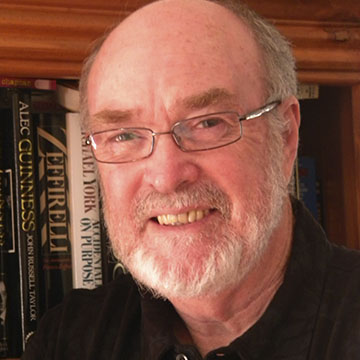 A couple of decades ago, my play The Kaufman Letter was an unsuccessful finalist in the Queensland Premier's Drama Awards. The title derived from a letter the American writer and educator Bel Kaufman wrote to an ex-teacher trying to explain to him what lasting benefit he had given her. She eventually realised that his strength was that: "You recognised me". Recognition of the quality of your work is the greatest reward that a Third Placing in the ACU Poetry Prize can deliver. The author James Michener believed a work was never completed until it reached an audience. Till it does, can you even call yourself a writer? Several times during my forty-plus years of teaching, the problem of finding an Unseen Poem for a poetry exam was solved simply by my writing one. This resulted in some amazing student dissertations, but there was always the controversy that we were using "unrecognised" material. Every year I write a Christmas Poem for family, friends, and colleagues. This year, Europe Books in London will be publishing an anthology of twenty years of these poems under the title Silent Nights. But as this is largely a vanity project, it also is based on self-belief rather than any real recognition. I compliment unequivocally the ACU, in the broader sense, for its advocacy of Australian Literature, particularly in trying times. In a more specific sense, I commend ACU for providing a sense of personal recognition for selected authors, the only real compliment and motivator ever needed by any artist in any field. As I approach my seventieth year, I am still very much committed to becoming a proper writer when I grow up.
---
MISTER MICAWBER
Mister Micawber was found almost at the twilight of our purging,
in the hours when the holocaust shadows descended,
the time we knew nothing more was bound to turn up.
Our event was media-lit as The Fire from Hell,
a deft description that burdened us with bewilderment,
having no relevant experience to fulfil the metaphor,
and wondering at the soul of the journalist who did.
If where we'd been transported was Hell, then
like the mind-ceasing reactions of those still-Anglo convicts,
it was a view we never wished to see again, till conquered.
Mister Micawber could have been a corpse,
sarcophagus-ed as he was in an almost underground corner
of the sole remaining soul of our home, its foundations.
All above us was charred, consumed, consigned to the air,
and here a charred but unconsigned marsupial
had sought its own entombed burial chamber, and failed.
Mister Micawber had once been a koala.
Now he might well have been the result of some vile genetic experiment.
Largely unfurred, one eye heat-soldered shut,
the other clouded and squinting, claws clenched and bony
like the skeletal remains of the eucalypts cobwebbing our sky.
Till he moved we had sought shovels for his remains.
When we saw he did remain, and took in his remnant state,
it seemed we'd be deemed authors of euthanasia
to ease him from a world that had betrayed his resilience,
victimed him to Hiroshima-survival mode
without the intellect to comprehend his role in disaster.
Only when we absorbed the impact of the scorched-earth epiphany
that surrounded us, cast into flame-restored hues by a copperfield sunset,
did we encounter newly-enflamed resolve in the sanctity of Life.
Enough of our world had already died; here pulse persisted, hope was possible.
We shovelled him out for a shower, and not into a grave.
Mister Micawber was condemned by authority.
An over-committed vet found our campsite that night
as we ridiculously re-initiated flame for comfort.
The stern volunteer - stern from the day's experience
of raddled Nature rather than by personal nature itself -
was graciously gracing properties to check on animals,
her hypodermics and bullets more overwrought
than her ointments and unnecessary diagnoses.
Our cattle were all gone, our cats, our poor chooks.
Only in our memories did anything remain of our books.
Earlier in the day we had laughed with bitter reluctance
to realise, when we encouraged with the aphorism of
something being bound to turn up, we were mimicking
the blind optimism of Mister Micawber from the classics.
The naming seemed appropriate, and, when the vet shrugged off suffering,
enough that we resolved towards nursing, the naming was almost essential.
Mister Micawber departed his ravaged surroundings that night.
Blanketed in a box, he accepted a watering from us,
but resisted all reaction to the old W. C. Fields joke we tried,
the one about abhorring water because fishes fornicated in the stuff.
Perhaps inspired, for most of that long night we indulged
in the prolonged nocturnal intimacies that were our sole source of solace,
taking the enforced luxury of all the time in the world
to rediscover every ecstatic sensation of that god-given process.
We had the dickens scared from us at one stage
when Micawber grunted aloud the mating accompaniment of his species.
Whether that dying contribution assisted or not, we created our daughter that night, and buried the foetus-like corpse of Micawber when discovered at dawn.
Mister Micawber has his own memorial and gardens
resting outside that corner of the foundations where he was found.
We sat there with our daughter the other night,
she now old enough to hear of fairy tales redolent with eternity.
Cows lowed from our lower paddock
enjoying the cud of miraculously regenerated grasses.
The moonlight cast down upon us shadows from the reverse ruins
of our house, newly struggling upwards towards the unthreatening sky.
Green leaves were now caught in the once-black cobwebs
of the eucalypts high above our vigil for new legends.
Though the leaves are insufficient to sustain new micawbers,
an anxious young koala did dash through the clearing the other day
in search of some more succulent grove to sustain him.
And while all ideas of reincarnation are anathema to realists,
reality does prescribe immortality as the very real revival of life
from our own memories and conversation of the Good Ones we have known.
Could Mister Micawber possibly have seen the anguish, and revived
by rejuvenation what had been once a very real life?
Undoubtedly not. Undoubtedly. But as our world restores around us,
there must be the possibility, mustn't there? There must…