Course information for - 2021 entry
Offered at 5 locations
Study mode

Multi-mode

Duration

Other

Fees (first year)*

$7568 Commonwealth Supported

Start dates

Semester 1 - February , Semester 2 - July
Entry to this course is governed by the Admission to Coursework Programs Policy. The selection of course entrants is based on academic merit and satisfaction of non-academic capabilities for entry to initial teacher education. In accordance with the mission of ACU, the Faculty of Education and Arts is committed to providing access to education for a diversity of students. ACU provides a range of access and equity schemes which consider additional or alternative factors in assessing applicants, including applicants of Aboriginal or Torres Strait Islander descent.
The Master of Teaching (Secondary) is for graduates who want to become secondary school teachers and who already have an appropriate undergraduate degree. Graduates will meet the requirements for teaching in Catholic, independent and government high schools and other secondary schools.
The Graduate Certificate in Religious Education is designed to help students meet accreditation requirements to teach Religious Education in Catholic Schools in addition to their other teaching areas.
Depending on your undergraduate degree this Masters degree will prepare you to teach specialist areas.
It will enable you to adopt a research-based approach to reflective practice. You'll able to consider the implications and applications of this approach to your own professional development and its contribution to your students' learning and wellbeing.
The course provides valuable professional experience through a range of school and community-based placements during the course.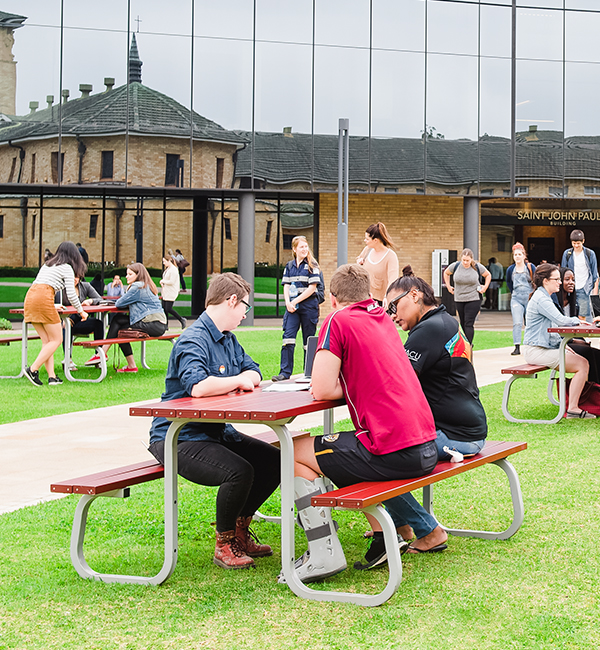 Professional experience
Students must complete a minimum of 60 days professional experience during which time they are required to be available full-time.
Work placement
The Professional Experience program consists of a minimum of 10 weeks of teaching rounds, usually broken into three blocks.
Professional experience covers all school and community-based experience designed to help students develop professional competence and personal commitment, in accordance with the expressed Catholic philosophy of the University. The professional experience units apply skills, techniques and processes taught in the Foundations Studies and Professional Studies units.
Professional experience units are planned as a specific sequence allowing for progressive development of both classroom-based proficiency and an understanding of the relevance of theory to practice and practice to theory. The practicum will be supported by other forms of in-school experiences, such as school-based tutorials and workshops.
Certain prerequisite units are required before students are placed in schools.
Supervised professional experience is at the heart of all our pre-service teacher education courses and the Faculty will find appropriate placements to suit the needs of your course. Placements will usually be arranged for the scheduled placement period in the professional experience calendar though this may not always be possible.
Professional recognition
The Master of Teaching (Secondary) has been listed on the Australian Institute for Teaching and School Leadership (AITSL) accredited programs list and meets the teacher education component of the qualification requirement for registration (accreditation) as a secondary school teacher in all states and territories.
The Graduate Certificate in Religious Education is the basic certification required to teach religious education.
Course details
Course structure
To complete the Master of Teaching (Secondary)/Graduate Certificate in Religious Education, a student must complete 190 credit points (cp).
AQF framework
Masters/Graduate Certificate – AQF Level 9/8
Exit Points
A student who has successfully completed the following requirements may exit from the course that qualification. Note that none of these qualifications qualify a student to teach in Australia.
Graduate Diploma in Educational Studies: 80 cp from the Schedule of Unit Offerings, consisting of:
40 cp from Education Studies;
40 cp from Curriculum Studies.
Graduate Certificate in Educational Studies: 40 cp from the Schedule of Unit Offerings is required for a student to exit with this qualification.
A student who does not meet the LANTITE requirements may exit with the Graduate Diploma in Educational Studies or Graduate Certificate in Educational Studies if they meet the requirements of those awards.
A student who has completed 20 credit points from the Religious Education units and 20 credit points from the Theology units may exit with the Graduate Certificate in Religious Education.
Entry requirements
An applicant must also comply with the Admission to Coursework Programs Policy.
To be eligible for admission to the course, an applicant must:
have successfully completed a Bachelor degree or equivalent qualification, with:
a major study in one teaching area; and
a separate minor study in a second teaching area, that may be separate from or related to the major study area;
be able to select from teaching areas that are available within the course and meet the requirements of applicant's local state/territory registration authority; and
the combination of teaching areas identified would usually prepare the applicant to teach across all year levels of secondary schooling.
demonstrate suitability for teaching as evidenced by completion of an assessment available in the relevant State at the time of application
Applicants who completed Bachelor degrees outside Australia should review Admission to Coursework Programs Policy to determine if they are required to meet additional English Language Proficiency requirements for entry into the course.
Applicants seeking teacher registration in Australia should check with state registration bodies to confirm English Language Proficiency requirements for teacher registration.
International applicants need to meet the English Language Proficiency requirements as defined in the Admission to Coursework Programs Policy.
Additional Approvals
All students enrolled must have the appropriate approvals before they may enter a classroom.
These are: Blue Card (Qld), Working with Vulnerable People (ACT) or Working with Children Check (NSW and Vic).
International students must provide a police check from their home country. All students who have lived in another country for twelve months or more must provide a police check from that country for that period.
Disclamer :The Course entry requirements above are for 2021 Admission.
English language requirements
No score less than 7 in reading and writing. No score less than 8 in listening and speaking.
Pathways
Further study
Master of Teaching (Secondary) is a pathway to doctoral studies.
Additional course information
Non-academic assessment - suitability for teaching
Applicants who apply for entry into this initial teacher education course will be required to complete a non-academic assessment. The assessment is to demonstrate suitability for teaching and will be part of your application when applying for admission into this course. Please visit our Suitability for teaching page for more information.
Literacy and Numeracy Test in Initial Teacher Education (LANTITE)
Students will be required to demonstrate they have achieved approved benchmarks in literacy and numeracy as demonstrated through the Literacy and Numeracy Test in Initial Teacher Education (LANTITE). Successful completion of LANTITE is a requirement for course completion.
If you have started your ITE course at another institution and wish to transfer to ACU to complete your studies, please be sure that you have read and understand the requirements for receiving credit for previous studies and those on completing LANTITE.
Fees
Course costs
Average first year fee*
$7568 Commonwealth Supported
All costs are calculated using current rates and are based on a full-time study load of 40 credit points (normally 4 units) per semester.
A student's annual fee may vary in accordance with:
the number of units studied per semester;
the choice of major or specialisation; and
elective units.
The University reviews fees annually.
Payment options
You should be able to concentrate on getting good marks instead of worrying about how you'll pay your fees. We have a number of options that can help you ease the financial burden, including government assistance, scholarships and income support.
Scholarships
You could be eligible for one of the hundreds of scholarships we award each year to help students from across the university with the cost of studying, accommodation or overseas study opportunities. Some of our scholarships are awarded on the basis of merit, but these aren't just for the academically gifted; ACU also recognises excellence in community engagement and leadership. We also offer a range of scholarships for those who may be struggling financially or who have faced other barriers to accessing education.