Graduate Certificate in Theological Studies
Course information for - 2022 entry
Offered at 7 locations
Study mode

Multi-mode

Duration

0.5 year full-time or equivalent part-time

Fees (first year)*

$9336 Fee-Paying

Start dates

Semester 1 - February , Semester 2 - July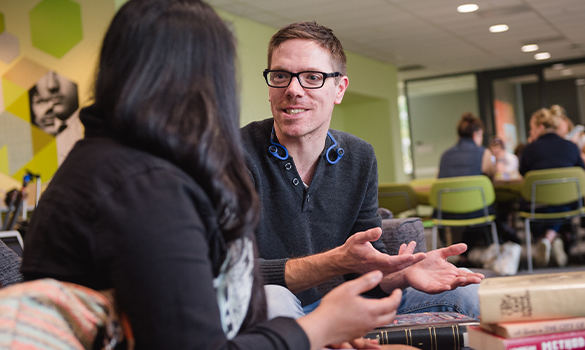 The Graduate Certificate in Theological Studies provides a strong introductory grounding in the discipline of theology, through the lens of the Catholic intellectual tradition.
It is suitable for you if you have an undergraduate degree in another discipline, are seeking professional development for a career in a Catholic or other Christian or faith-based organisation or wish to pursue a specific interest in theology.
Available specialisations include:
Ancient languages
The Biblical world
Christian thought and tradition
Liturgical studies
Philosophy
Spirituality
Successful completion of the Graduate Certificate in Theological Studies qualifies you for admission into the Graduate Diploma in Theological Studies, Master of Theology.
Course details
Course structure
To complete the Graduate Certificate in Theological Studies, a student must complete 40 credit points (cp).
AQF framework
Graduate Certificate - AQF Level 8
Entry requirements
An applicant must also comply with the Admission to Coursework Programs Policy.
To be eligible for admission to the course, an applicant must have completed an undergraduate degree in any discipline.
Disclaimer: The course entry requirements above are for 2022 Admission.
Pathways
Further study
Successful completion of the Graduate Certificate in Theological Studies provides entry into the Master of Theological Studies.
Fees
Course costs
Average first year fee*
$9336 Fee-Paying
All costs are calculated using current rates and are based on a full-time study load of 40 credit points (normally 4 units) per semester.
A student's annual fee may vary in accordance with:
the number of units studied per semester;
the choice of major or specialisation; and
elective units.
The University reviews fees annually.
Payment options
You should be able to concentrate on getting good marks instead of worrying about how you'll pay your fees. We have a number of options that can help you ease the financial burden, including government assistance, scholarships and income support.
Scholarships
You could be eligible for one of the hundreds of scholarships we award each year to help students from across the university with the cost of studying, accommodation or overseas study opportunities. Some of our scholarships are awarded on the basis of merit, but these aren't just for the academically gifted; ACU also recognises excellence in community engagement and leadership. We also offer a range of scholarships for those who may be struggling financially or who have faced other barriers to accessing education.