Course information for - 2021 entry
Offered at 6 locations
Study mode

Attendance

Duration

0.5 year full-time or equivalent part-time

Fees (first year)*

$ Fee-Paying

Start dates

Semester 1 - February , Semester 2 - July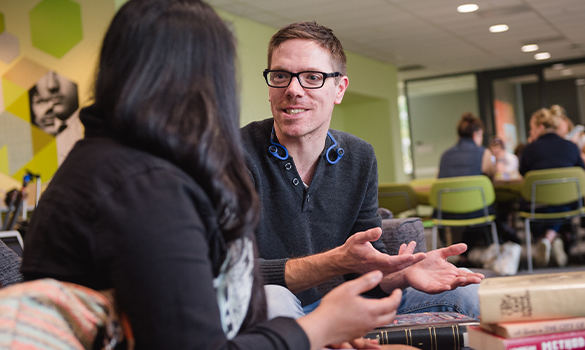 The Graduate Certificate in Mission and Catholic Culture is designed for professionals in Catholic institutions of higher education and faith-based organisations and agencies who wish to enhance their understanding of the specifically Christian and Catholic context in which they are leaders, and to develop skills in the promotion of a Christian and Catholic culture.
The purpose of this course is to support and assist personnel within Catholic and other faith based organisations to acquire the factual and experiential knowledge through readings, reflections and discussions. This supports development in the conceptual and analytical capabilities required to reflect on and to realise personal and organizational mission alignment.
Course details
Course structure
To complete the Graduate Certificate in Mission and Culture, a student must complete 40 credit points (cp).
AQF framework
Graduate Certificate - AQF Level 8
Entry requirements
An applicant must also comply with the Admission to Coursework Programs Policy.
To be eligible for admission to the course, an applicant must have completed a Bachelor degree or equivalent.
Disclamer :The Course entry requirements above are for 2021 Admission. Refer to your relevant Tertiary Admission Centre website for future years' entry requirements.
Pathways
Further study
Graduates of the Graduate Certificate in Mission and Culture can apply for advanced standing in the Master of Professional Studies in Theology and Master of Theological Studies
Fees
Course costs
Average first year fee*
$ Fee-Paying
All costs are calculated using current rates and are based on a full-time study load of 40 credit points (normally 4 units) per semester.
A student's annual fee may vary in accordance with:
the number of units studied per semester;
the choice of major or specialisation; and
elective units.
The University reviews fees annually.
Payment options
You should be able to concentrate on getting good marks instead of worrying about how you'll pay your fees. We have a number of options that can help you ease the financial burden, including government assistance, scholarships and income support.
Scholarships
You could be eligible for one of the hundreds of scholarships we award each year to help students from across the university with the cost of studying, accommodation or overseas study opportunities. Some of our scholarships are awarded on the basis of merit, but these aren't just for the academically gifted; ACU also recognises excellence in community engagement and leadership. We also offer a range of scholarships for those who may be struggling financially or who have faced other barriers to accessing education.