Graduate Diploma in Design and Technologies Education
Course information for - 2024 entry
Offered at 1 locations
Study mode

Multi-mode

Duration

1 year full-time or equivalent part-time

Fees (first year)*

$6730 Fee Paying

Start dates

Summer term November
Applications for the 2024 intake will close on 23 November 2023 for an early start in Summer Semester, November 2023.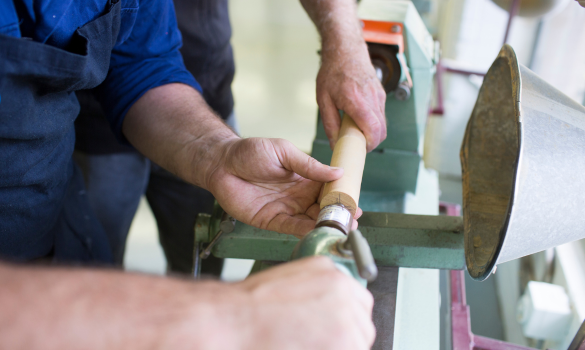 The Graduate Diploma in Design and Technologies Education is a course that responds to the need for teachers to be upskilled and ready to empower students in design and technologies. Graduates who successfully complete this course will be able to apply for recognition as a teacher in the following subject areas: Design and Technologies, Industrial Technology (Timber) and Industrial Technology (Engineering), in addition to their current teaching areas.
This flexible course allows for all units to be delivered online, whilst the practical components are undertaken at either an ACU campus or in a school where the student works under supervision of an accredited technologies teacher (and/or technical staff). Units are run in professional terms for approximately four weeks each. This includes online study and a week of practical intensive.
Student will explore units in:
Timber design
Product design
Electromechanical and engineering technologies
Design and technologies curriculum, pedagogy and assessment
ACU strongly encourages students to be fully vaccinated. With our industry and community placement partners requiring vaccination, and with public health orders regularly changing - students can avoid interruption to their studies, placement and graduation requirements by becoming fully vaccinated.
Professional recognition
Registered teachers who successfully complete the Graduate Diploma in Design and Technologies Education may apply for recognition of additional teaching areas through their state-based accreditation authorities and/or relevant state-based Departments of Education.
Careers
Registered teachers who successfully complete the Graduate Diploma in Design and Technologies Education will be eligible to apply for accreditation to teach Design and Technologies in Secondary Education Technologies programs in Australian schools. There is a high demand for Technologies teachers.
Course details
AQF framework
Graduate Diploma - AQF Level 8
Entry requirements
An applicant must comply with the Admission to Coursework Programs Policy .
To be eligible for admission to the Graduate Diploma in Design and Technologies Education course, an applicant must have completed a Bachelor degree in Education or a Bachelor degree with a recognised teaching qualification.
Disclaimer: The course entry requirements above are for 2024 Admission. Refer to your relevant Tertiary Admission Centre website for future years' entry requirements.
English language requirements
IELTS overall score of 7.0. Individual score of 6.0 in all tests
Pathways
Further study
Graduates may progress to masters by coursework.
Fees
Course costs
Average first year fee*
$6730 Fee Paying
Payment options
You should be able to concentrate on getting good marks instead of worrying about how you'll pay your fees. We have a number of options that can help you ease the financial burden, including government assistance, scholarships and income support.
Scholarships
You could be eligible for one of the hundreds of scholarships we award each year to help students from across the university with the cost of studying, accommodation or overseas study opportunities. Some of our scholarships are awarded on the basis of merit, but these aren't just for the academically gifted; ACU also recognises excellence in community engagement and leadership. We also offer a range of scholarships for those who may be struggling financially or who have faced other barriers to accessing education.
Staff Profile
Assoc. Prof. Belinda von Mengersen
National Course Coordinator and Discipline Lead Design Innovation and Technologies, National School of Arts and Humanities
Belinda vonMengersen is the National Course Coordinator and Discipline Lead Design Innovation and Technologies for the National School of Arts and Humanities. A specialist in traditional, current and emerging textile technologies, her primary research focusses on the study and practice of contemporary textiles and the intersection between new technology and traditional textile materials and techniques. Her secondary area of research practice is in creativity and reflective writing as a tool for conceptual thinking in studio practice. She has authored chapters in three volumes of Springer's Contemporary Issues in Technology series, regularly reviews articles for the International Journal of Technology and Design Education and presents frequently at International Design and Technologies conferences.