Doctor of Philosophy
Course information for - 2022 entry
Offered at 6 locations
Study mode

Attendance

Duration

Three years full-time, with the possibility of a six to 12 month extension, or

Six years part-time, with the possibility of a 12 to 24 month extension.

Start dates

February 2022, July 2022
The course is available at Ballarat, Brisbane, Canberra, Melbourne, North Sydney, Strathfield.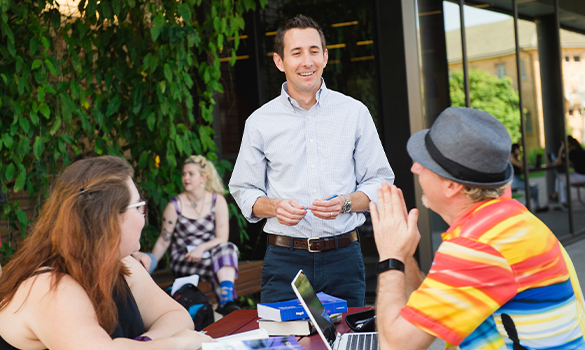 The Doctor of Philosophy (PhD) is awarded for high-level research and, as such, it is expected that candidates will make a contribution to knowledge in their chosen field. A PhD may be undertaken by three different means:
Traditional PhD: A PhD candidate's work is assessed on the basis of a c. 100,000 word thesis.
PhD by Publication: A PhD candidate's work is assessed on the basis of the submission of a thesis (c. 50,000 words) containing a number of papers written up as journal articles.
PhD by Creative Project: A PhD candidate's work is assessed on the basis of a thesis and a project, including but not limited to: a durable record of performance, exhibition of visual arts, writing, design, film, multimedia, CD, DVD, software program or other creative works.
Further detailed information regarding requirements for the submission of a PhD may be located in the Guidelines on the Preparation and Presentation of a Research or Professional Doctoral Thesis for Examination.
ACU strongly encourages students to be fully vaccinated. With our industry and community placement partners requiring vaccination, and with public health orders regularly changing - students can avoid interruption to their studies, placement and graduation requirements by becoming fully vaccinated.
Course details
Course structure
To complete the Doctor of Philosophy (PhD), a student must complete 240 credit points (cp).
AQF framework
Doctorate by research - AQF Level 10
Entry requirements
Eligibility criteria
A candidate for the degree of Doctor of Philosophy must comply with the Higher Degree Research Regulations.
An applicant for admission to candidature for the degree of Doctor of Philosophy must have completed one of the following:
a. an appropriate undergraduate degree with Honours at a minimum level of Second Class Division A (Distinction average) or equivalent; or
b. a master's degree with appropriate research training in a relevant field; or
c. an equivalent qualification and/or demonstrated research experience, with evidence of capacity to undertake independent research work (eg an authored publication).
Meeting the eligibility requirements for admission is not in itself a guarantee of admission. The candidate's potential to undertake research, the quality and feasibility of the research proposal, the availability of appropriate supervision and the referee's reports will all be taken into consideration. Please refer to Regulation 5.2.
Disclaimer: The course entry requirements above are for 2022 Admission.
English language requirements
If applicants have an overseas qualification/s from an institution where English is not the standard language of instruction, they will need to meet ACU's English proficiency requirements, e.g Academic IELTS 6.5 (including individual scores of 6.0 for all tests). Refer to Appendix C Higher Degree Research Regulations
Fees
Course costs
Commencing domestic candidates enrolling in a master-by-research or doctoral degree at ACU will be offered a Research Training Program Fee Offset Scholarship under the Australian Government's Research Training Program. Further information about Research Training Program Scholarships can be found in the Research Training Program Scholarship Policy available at here.
All costs are calculated using current rates and are based on a full-time study load of 40 credit points (normally 4 units) per semester.
A student's annual fee may vary in accordance with:
the number of units studied per semester;
the choice of major or specialisation; and
elective units.
The University reviews fees annually.
Scholarships
ACU offers a number of scholarships to local and international research candidates. Information about these scholarships, including the application process is available from the Research Scholarships .
How to apply
Domestic applicants
Contact res.cand@acu.edu.au (Australian and New Zealand citizens).
Australian and New Zealand citizens and Australian permanent residents apply directly to the ACU Candidature Services.
Candidature Services, Student Administration
Australian Catholic University
115 Victoria Parade, Fitzroy VIC 3065
Email: Res.Cand@acu.edu.au