Diploma in Visual Arts and Design
Course information for - 2023 entry
Offered at 3 locations
Study mode

Multi-mode

Duration

1 year full-time or equivalent part-time

ATAR

New

Fees (first year)*

$10006 CSP

Start dates

Semester 1 intake: Not available

Midyear (Semester 2) intake: Beginning July 2023

Applications open April 2023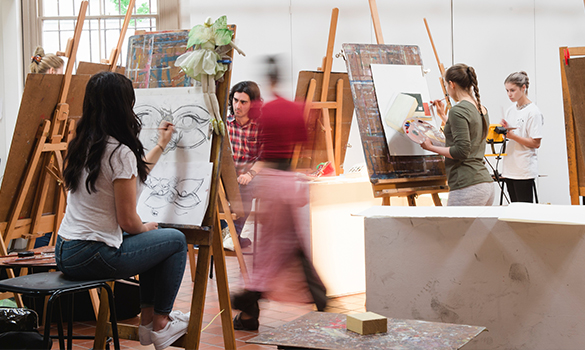 Follow your passion and explore a broad-based visual arts and design program that integrates the areas of studio-based art, graphic design or history and theory of art and design combined with relevant communication and industry skills. You will gain the knowledge and skills to prepare you for a career in the creative industries. This course can be used as a pathway into the Bachelor of Visual Arts and Design degree or as a starting point into teaching.
ACU strongly encourages students to be fully vaccinated. With our industry and community placement partners requiring vaccination, and with public health orders regularly changing - students can avoid interruption to their studies, placement and graduation requirements by becoming fully vaccinated.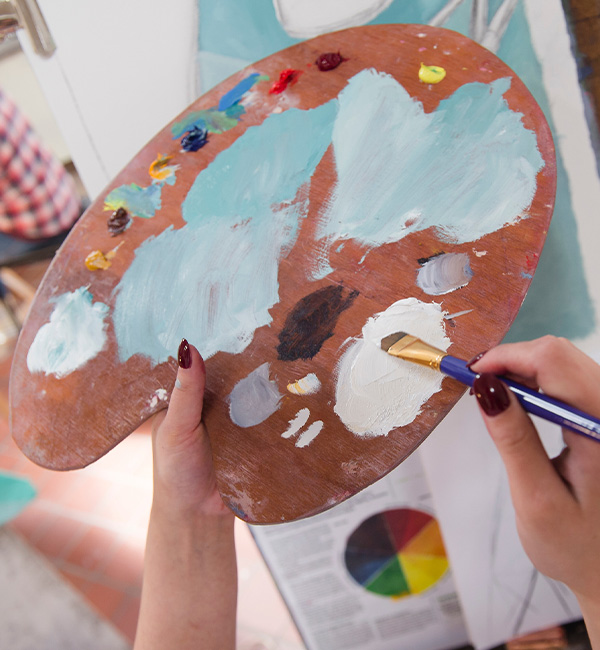 Careers
The course assists students to prepare for a career in the visual arts and design industries.
Course details
Course structure
To complete the Diploma in Visual Arts and Design, a student must complete 80 credit points (cp).
Sample program map
Year - Study period
Unit 1
Unit 2
Unit 3
Unit 4
Unit 5

Year 1 - Semester 1

BA Elective

ARTS109 Drawing

OR

BA Elective

(fully online students only)

ARTS236 Ceramics/Multimedia

DESN120 Graphic Design Thinking data-versionlabel=2 >

Year 1 - Semester 2

ARTS241 Painting

ARTS112 Art in the Early 20th Century

DESN242 Design for Publication

UNCC100 Self and Community: Exploring the Anatomy of Modern Society

or

PHCC102 Being Human

or

PHCC104 Ethics and the Good Life
This is a sample program only and units will vary depending on your campus and mode of study. Please refer to the handbook for the prerequisite units and the current listing.
Students enrolled in the fully online course take an additional elective unit instead of ARTS109 Drawing.
AQF framework
Diploma - AQF Level 5
Additional course information
The Diploma in Visual Arts and Design course is available as a UniAccess-International program.
The aim is to provide an opportunity for students from diverse backgrounds to study a selection of units of interest to them in a program that offers a pathway to a relevant Bachelors degree. The course is offered on a fee-paying basis and is available to international students (UniAccess-International).
Entry requirements
An applicant must also comply with the Admission to Coursework Programs Policy.
To be eligible for admission to the course, an applicant must have completed the equivalent of year 12 level.
International students must meet the English Language Proficiency requirements as defined in the Admission to Coursework Programs Policy.
Disclaimer: The course entry requirements above are for 2023 Admission.
English language requirements
Overall score: 6.0. Individual score of 5.5 in all tests.
Pathways
Further study
A UniAccess-International student who successfully completes eight units specified by a UniAccess program may either leave with a Diploma qualification or continue their studies with a place in the Bachelor of Visual Arts and Design course. Domestic students are also able to use this degree as a pathway into the Bachelor of Visual Arts and Design program.
Fees
Payment options
You should be able to concentrate on getting good marks instead of worrying about how you'll pay your fees. We have a number of options that can help you ease the financial burden, including government assistance, scholarships and income support.
Scholarships
You could be eligible for one of the hundreds of scholarships we award each year to help students from across the university with the cost of studying, accommodation or overseas study opportunities. Some of our scholarships are awarded on the basis of merit, but these aren't just for the academically gifted; ACU also recognises excellence in community engagement and leadership. We also offer a range of scholarships for those who may be struggling financially or who have faced other barriers to accessing education.