Diploma in Business
Course information for - 2022 entry
Offered at 4 locations
Study mode

Attendance, Multi-mode

Duration

1 year full-time or equivalent part-time

UAC code

109941

ATAR

N/A

Fees (first year)*

$12468 CSP

Start dates

Semester 1 - February , Semester 2 - To be advised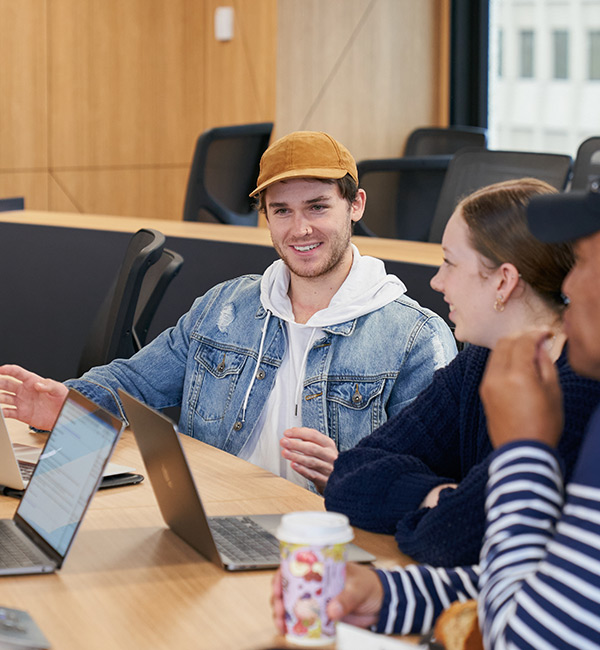 The Diploma in Business is an important stepping-stone to achieve your career and study goals. You'll graduate with a formal standalone qualification plus gain credit for the first year of any of our business bachelor's degree and transition straight into second year.
Not only does our diploma in Business have lower entry requirements than our bachelor's degrees, but it will help you to develop skills needed to succeed in more advanced tertiary study.
Whether you have just finished Year 12 or finished years ago, our Diploma in Business is a Commonwealth supported place (CSP-funded) and will help you achieve your goals.
We are here to support you from start to finish. We ensure smaller class sizes, offer tailored support as you transition to university study, and provide a range of student services to help you succeed.
Course details
Course structure
To complete the Diploma in Business, a student must complete 80 credit points (cp).
Sample program map
| Year - Study period | Unit 1 | Unit 2 | Unit 3 | Unit 4 | Unit 5 |
| --- | --- | --- | --- | --- | --- |
| Year 1 Semester 1 | BUSD104 Money Matters | BUSD112 Managing Markets | BUSD113 Managing People and Organisations | DPBI100 Academic Literacy in Business and Information Technology | |
| Year 1 Semester 2 | ECOD200 Economics: Policy Frameworks and Markets | MKTD207 Marketing Toolkit | HRMD204 Organisational Behaviour | BUSD111 Working with Technology | |
This is a sample program only and units will vary between states. Please refer to the handbook for the prerequisite units and the current listing.
AQF framework
Diploma - AQF Level 5
Entry requirements
An applicant must comply with the Admission to Coursework Programs Policy
International students must also meet the English Language Proficiency requirements as defined in the Admission to Coursework Programs Policy .
For domestic students to be eligible for admission to the course, an applicant must have completed:
Equivalent of year 12 level with the ACU minimum eligibility rank for Diploma programs; OR
Entry via an alternative pathway as approved by ACU.
International applicants need to meet the English Language Proficiency requirements as defined in Schedule Three (Associate Degree, Diploma and Certificate courses) of the Admission to Coursework Programs Policy .
The entry requirements are as follows:
IELTS: Overall score: 6.0 individual score of: 5.5 in all tests
PTE: 50 with a minimum of 42 in all four communicative skills
TOEFL: Internet based total of 60: minimum 18 in writing, 8 in reading, 16 in speaking and 7 in listening
ACU English Language Test: C (60-64%)
CAE: Overall CAE: 169 Individual score of at least 162 in all tests.
Disclaimer: The course entry requirements above are for 2022 Admission.

Adjustment factors
If you're currently completing Year 12 you may be eligible for adjustment factors that can boost your rank and help you get into your desired course.
Adjustment factors may be applied to your TAC application if you study particular subjects, attend schools geographically close to our campuses or in certain regional areas, apply as an elite athlete or performer or meet certain other criteria.
Pathways
Further study
Students who complete the Diploma in Business may apply for entry into the Bachelor of Commerce, Bachelor of Business Administration and Bachelor of Commerce/Bachelor of Business Administration. Credit will be given for units completed in the diploma program. It may also provide a pathway to a range of double degrees.
Fees
Course costs
Average first year fee*
$12468 CSP
Payment options
You should be able to concentrate on getting good marks instead of worrying about how you'll pay your fees. We have a number of options that can help you ease the financial burden, including government assistance, scholarships and income support.
Scholarships
You could be eligible for one of the hundreds of scholarships we award each year to help students from across the university with the cost of studying, accommodation or overseas study opportunities. Some of our scholarships are awarded on the basis of merit, but these aren't just for the academically gifted; ACU also recognises excellence in community engagement and leadership. We also offer a range of scholarships for those who may be struggling financially or who have faced other barriers to accessing education.
Staff Profile
Dr Wendy James
Associate Professor, Peter Faber Business School
Dr Wendy James is a fully Certified Management Accountant (CMA) as well as a Certified Practicing Accountant (CPA) and a Chartered Accountant (CA). Dr James was the National Head of the Accounting Discipline at the Australian Catholic University (ACU) and has been at a number of universities including Charles Darwin University (CDU) and before that Torrens University Australia (TUA), part of the international Laureate group of universities. Dr James has also spent time with the University of Adelaide and the University of South Australia where she was a senior lecturer with Open Universities Australia.
Dr Pandula Gamage
Deputy Head of School (NSW), and Senior Lecturer, Peter Faber Business School
Dr Pandula Gamage completed his PhD at La Trobe University, Master of Commerce degree (Accounting) at the University of Melbourne and the Graduate Certificate in Tertiary Education at Victoria University. Since commencing at ACU, Dr Gamage has provided and continues to provide productive and sustained leadership in a range of areas. He has taught extensively in international programs including China, Singapore, Malaysia and Vietnam. Dr Gamage also engages in high-impact research publishing in prestigious journals and received research grants linked with national professional accounting and finance associations. Prior to commencing his academic career, Dr Gamage held managerial roles in the industry. He is also a member of the Institute of Chartered Accountants Australia and New Zealand.