Bachelor of Paramedicine
Course information for - 2023 entry
Offered at 2 locations
Study mode

Attendance

Duration

3 years full-time or equivalent part-time

QTAC code

115461

ATAR

82.95 for Brisbane

Fees (first year)*

$8629 CSP

Start dates

Semester 1 intake: Beginning February 2023

Applications open August 2022

Midyear (Semester 2) intake: to be advised
It's an exciting time for paramedicine. As one of the fastest evolving health professions, ACU aims to be at the forefront of change and creating paramedics for the future. By developing professional paramedics who are emotionally intelligent and motivated to improve communities we provide the foundations for you to deliver compassionate primary, urgent and or emergency health care in challenging and dynamic environments. Through authentic learning and diverse clinical experiences, you will develop key attributes for paramedicine.
The knowledge and skills developed are applicable for the national and international workforce. For those meeting a high-standard within the Bachelor of Paramedicine, you will be eligible to apply for Honours program upon completion.
ACU strongly encourages students to be fully vaccinated. With our industry and community placement partners requiring vaccination, and with public health orders regularly changing - students can avoid interruption to their studies, placement and graduation requirements by becoming fully vaccinated.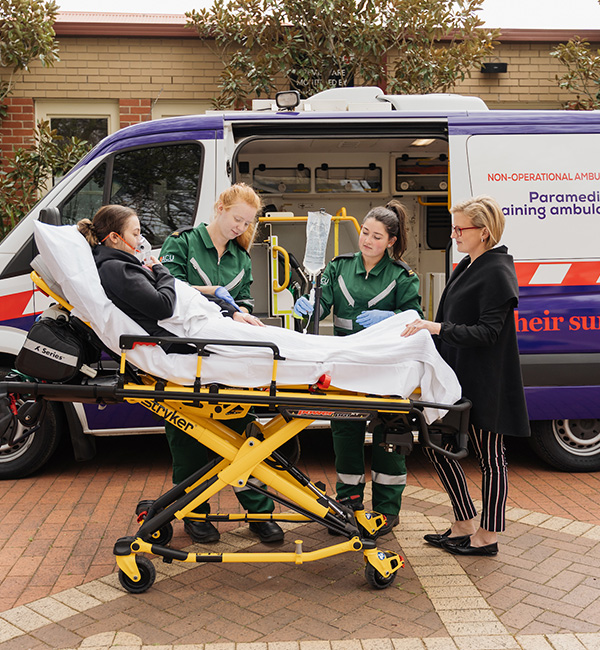 Professional experience
Students will undertake five clinical practice units in acute health care settings, throughout the course.
As part of your course, you will be placed in a range of organisations to integrate the theory you learn with practical workplace experiences (placements). As part of your enrolment, you must complete the Faculty of Health Sciences pre-placement requirements. To ensure you meet these requirements you need to start as soon as possible. Visit ACU's Work Integrated Learning (WIL) website to view your Pre-Placement Requirements checklist.
Medical and Physical Capacity Test
Students enrolled in the Bachelor of Paramedicine will be required to undertake a medical and physical capacity test prior to commencing clinical placement with an Australian Ambulance Service. This is an ambulance service mandatory requirement.
Professional recognition
As of 1 December 2018, paramedicine has become a regulated profession under Ahpra .
ACU graduates of the Bachelor of Paramedicine and the Bachelor of Nursing/Bachelor of Paramedicine are eligible for registration with Ahpra. Ahpra has a list of ACU's graduates from 2015 onwards. Paramedics who graduated prior to 2015 will need to demonstrate that they are using their paramedic knowledge and skills in their current work. Some aspects of nursing would contribute to this body of evidence.
The Bachelor of Paramedicine and the Bachelor of Nursing/Bachelor of Paramedicine were previously accredited by the Council of Ambulance Authorities (CAA). Since national registration of Paramedicine in Australia, the Paramedicine Board of Australia extended ACU's Paramedicine programs accreditation until December 2021, with the revised course seeking accreditation in 2022. Graduates will be eligible for registration as practising paramedics with the Australian Health Practitioner Regulation Agency (Ahpra).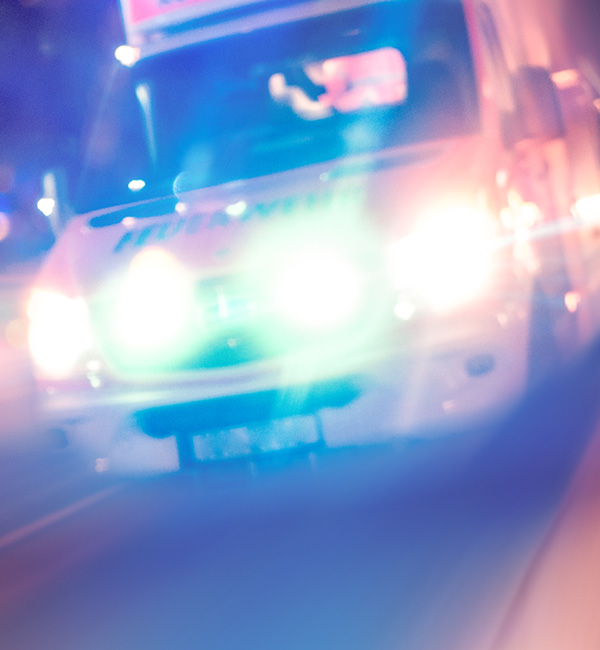 Careers
Graduates will be eligible for employment as a paramedic with an emergency ambulance service in Australia and in some international ambulance or health organisations.
With further study qualified paramedics can go on to become:
intensive-care paramedics (ICPs)
team leaders
clinical instructors
ambulance service managers
specialist educators
flight paramedics
special operations team (SOT) rescue paramedics
Course details
Course structure
To complete the Bachelor of Paramedicine, a student must complete 240 credit points (cp).
Sample program map
Year - Study period
Unit 1
Unit 2
Unit 3
Unit 4
Unit 5
Year 1 - Semester 1

HLSC122 Evidence for Practice

BIOL121 Human Biological Science 1

PARA114 Personal and Interpersonal Skills for Paramedicine

PARA115 Fundamentals of Paramedicine Care

Year 1 - Semester 2

Core Curriculum

100 level unit:

Either

UNCC100 Self and Community: Exploring the Anatomy of Modern Society

or

PHCC102 Being Human

or

PHCC104 Ethics and the Good Life

BIOL122 Human Biological Science 2




PARA126 Paramedicine Theory: Primary Care

PARA127 Paramedicine in Practice: Primary Care

Year 2 - Semester 1

HLSC120 Indigenous Health and Culture

PARA214 Paramedicine Principles: Pharmacotherapy and Toxicology

PARA216 Paramedicine Theory: Medical 1

PARA217 Paramedicine in Practice: Medical 1

Year 2 - Semester 2

HLSC220 Health Care Ethics

PARA225 Paramedicine Care: Mental Health and Vulnerable Populations

PARA226 Paramedicine Theory: Medical 2

PARA227 Paramedicine in Practice: Medical 2

Year 3 - Semester 1

Core Curriculum

300 level unit:

Either

UNCC300 Justice and Change in a Global World

or

PHCC320 The Just Society

PARA314 Contemporary Challenges in Paramedicine

PARA316 Paramedicine Theory: Lifespan Health

PARA317 Paramedicine in Practice: Lifespan Health

Year 3 - Semester 2

PARA329 Transition to Paramedic Practice and Professionalism

PARA323 Community Engagement and Paramedic Practice Innovations

PARA325 Paramedicine Care: High Acuity and Major Incidents

PARA327 Paramedicine in Practice: Complex Care
This is a sample program only and units will vary depending on your campus and mode of study. Please refer to the handbook for the prerequisite units and the current listing.
AQF framework
Bachelor - AQF Level 7
Additional course information
Classes
Class size: Your class size will depend on the unit you are studying and whether or not that unit is taught across different degrees. However, in North Sydney you can expect approximately 30 students in lectures, in Melbourne, approximately 100, in Canberra, approximately 100 in lectures, 15 – 20 in simulation wards and labs, and 30 in tutorials, in Ballarat approximately 100 in lectures, with a maximum of 15 in simulation wards and labs, and 30 in tutorials, in Brisbane between 90 and 140 students in lectures, with a maximum of 30 in tutorials; practical labs have a ratio of 15 students to every one academic.
In 2021 we welcomed in North Sydney approximately 25 new students; in Melbourne, 103; in Canberra, 39 new students to the double degree, B. Nursing/B. Paramedicine; in Ballarat approximately 93 new students to the double degree, and in Brisbane, 110 new students to the B. Paramedicine, and 114 to the double degree, B. Nursing/B. Paramedicine.
Contact hours: You will be on campus for approximately 15 hours per week with additional studies required in your own time, plus any clinical practice (from the end of first year).
We understand the need for flexibility when it comes to your studies. For many of our undergraduate programmes lectures and tutorials are delivered face to face. Lectures provide an opportunity to engage with the lecturer and at times guest lecturers who provide specialist insights into the course content. Tutorials are where critical exploration of key concepts and development of attributes takes place. This is achieved through activities including group work, debate and role play.
Lectures and some tutorials are recorded and are made available online for students who cannot attend in person. Due to the lack of interactivity, recordings clearly do not provide the learning experience that face-to-face provides, however, post-COVID face-to-face lectures/tutorials may not always be possible.
Sample assessment
Each unit has three assessments per semester. Assessment tasks include video presentations, group work, hands-on practical tasks, online quizzes, and online or in-class written assignments. Assessments have different weighting percentages towards your overall mark. A single assessment cannot be worth more than 50 per cent of your assessment total. The format of assessments is different for every unit and will be explained by your lecturer prior to the due date.
PARA216 Paramedicine Theory: Medical 1
· Concept Map - 20%
Enables you to visually organise and create a knowledge network that will assist in your comprehension of broad complex topics.
· Written Assessment - 40%
Provides you with the opportunity to identify real-world problems and articulate solutions while supporting your development of academic communication and critical thinking skills.
· Exam - 40%
Enables you to demonstrate broad understanding of the principles, management and care required for medical aetiologies within the paramedicine context.
Overseas study available
Each year ACU's Faculty of Health Sciences offers a number of destinations around the world where you can undertake a community engagement unit or clinical placement/professional practice abroad as part of your studies. These activities are facilitated through our ACU overseas partners. Most of these experiences are offered to students enrolled in their third or final year of study at ACU.
You can also choose to study health sciences units at ACU's Rome Campus over the June – July or December – January breaks.
Note: overseas study opportunities are subject to program availability and to public health restrictions in place at the planned time of travel.
To find out more, visit: www.acu.edu.au/study-at-acu/study-overseas/study-tours-and-short-programs/study-health-sciences-overseas/
Entry requirements
An applicant must also comply with the Admission to Coursework Programs Policy.
All students must demonstrate English language proficiency either by providing a written declaration that English is their primary language or evidence that they have achieved the minimum English language test results as specified in the Paramedicine Board of Australia registration standards.
Applicants for Paramedicine should carefully review the details outlined in Schedule 3, Section 3b of the Admission to Coursework Programs Policy to check how they must demonstrate their English Language Proficiency.
To be eligible for admission to the course, an applicant must have completed the following prerequisites at year 12 level, or equivalent.
| State | Prerequisites |
| --- | --- |
| Queensland | Prerequisites: English (Units 3 & 4, C) |
| Victoria | Prerequisites: Units 3 and 4 – a study score of at least 30 in English (EAL) or 25 in any other English. |
Disclaimer: The course entry requirements above are for 2023 Admission. Refer to your relevant Tertiary Admission Centre website for future years' entry requirements.
View transparency admission information
Applicants with recent secondary education
You'll need to meet the minimum entry requirements and subject prerequisites for your chosen course.
If your school result was affected by circumstances outside of your control, such as financial hardship, illness, disability or a challenging home environment, you may qualify for an access scheme. You can apply through your TAC as part of your application process.
Applicants with vocational education and training (VET) study
You'll need to meet the minimum entry requirements and subject prerequisites for your chosen course.
For current year 12 students
If you're a current Year 12 applicant you can be given a selection rank separate from, and in addition to, your ATAR if you've completed a competency-based and graded AQF Certificate III or above.
For non-school leavers
If you've completed, or are completing a competency-based AQF Certificate IV or AQF diploma you will be assigned a selection rank by your local Tertiary Admission Centre (TAC). This is an entry score based on your individual qualifications and achievements.
ACU has partnerships with ACU College, TAFE, and many private education providers. If you have completed a qualification with one of these partners, you may be eligible for guaranteed entry and/or credit into a related ACU degree. Please apply through your local TAC and then submit a credit application for your previous study.
Applicants with higher education study
You'll need to meet the minimum entry requirements and subject prerequisites for your chosen course.
If you have completed at least two units of AQF-recognised study at bachelor level or above, you'll be assigned a selection rank based on your study level, duration and grade point average that will be applied during the admission process.
If your previous study has equipped you with knowledge, skills or experiences that align with the learning outcomes of units in your new course you may be able to apply for recognition of prior learning and you may be able to complete your course sooner.
Applicants with work and life experience
You'll need to meet the minimum entry requirements and subject prerequisites for your chosen course.
If you have no formal education qualifications you may be eligible for a selection rank based on your work, life or service experience.
If you've been in paid employment, relevant to the course you're applying for, for a minimum of six months full-time (or equivalent), this work may be assessed for your selection rank.
If you're 21 years or older you can sit the Special Tertiary Admissions Test (STAT) through your local TAC.
You can apply for an ACU bridging course. Our bridging courses allow you to transition back into studying and can give you a head start on the relevant undergraduate degree.
If you have served in the defence force, your rank and time in service may contribute to your selection rank.
English language requirements
Adjustment factors
If you're currently completing Year 12 you may be eligible for adjustment factors that can boost your rank and help you get into your desired course.
Adjustment factors may be applied to your TAC application if you study particular subjects, attend schools geographically close to our campuses or in certain regional areas, apply as an elite athlete or performer or meet certain other criteria.
Pathways
Pathways into course for current or recent Year 12 students
If you can't meet the ATAR requirement for your choice of course and you're currently completing Year 12 or finished Year 12 in the two years previously, we have entry programs to get you where you want to be.
Pathways into course for applicants with previous study and/or life experience
Are you applying to ACU as a non-school leaver?
By that we mean, you're not currently completing Year 12 and haven't completed it in the two years previously. If the answer is yes and your selection rank isn't enough to meet the requirements for your desired course you still have a number of options to help you achieve your study goals.
If you're over 21, you can sit the Special Tertiary Admissions Test (STAT), or you can complete a diploma or bridging course relevant to your desired course.
Further study
An honours year is available to meritorious students, with a grade point average of 5.5, who meet the admission requirements for the Bachelor of Paramedicine (Honours).
Graduates may be eligible to progress to a postgraduate coursework degree in paramedicine, including the Graduate Certificate in Paramedicine, the Graduate Diploma in Paramedicine and the Master of Paramedicine.
Graduates may also progress to other postgraduate coursework degrees within the Faculty of Health Sciences, such as the Master of Leadership and Management in Health Care.
Fees
Course costs
Average first year fee*
$8629 CSP
All costs are calculated using current rates and are based on a full-time study load of 40 credit points (normally 4 units) per semester.
A student's annual fee may vary in accordance with:
the number of units studied per semester;
the choice of major or specialisation; and
elective units.
The university reviews fees annually.
Payment options
You should be able to concentrate on getting good marks instead of worrying about how you'll pay your fees. We have a number of options that can help you ease the financial burden, including government assistance, scholarships and income support.
Scholarships
You could be eligible for one of the hundreds of scholarships we award each year to help students from across the university with the cost of studying, accommodation or overseas study opportunities. Some of our scholarships are awarded on the basis of merit, but these aren't just for the academically gifted; ACU also recognises excellence in community engagement and leadership. We also offer a range of scholarships for those who may be struggling financially or who have faced other barriers to accessing education.
How to apply
Domestic applicants