Bachelor of Visual Arts and Design
Course information for - 2023 entry
Offered at 2 locations
Study mode

Multi-mode

Duration

3 years full-time or equivalent part-time

CRICOS Code

040344M

IELTS

6.0 overall score (Individual score of 6.0 in writing and speaking, and 5.5 in listening and reading)

Fees (first year)*

$25568

Start dates

February 2023, July 2023, February 2024, July 2024, February 2025, July 2025
Join a creative community of emerging artists, designers and art historians and discover your creative talents. Our Bachelor of Visual Arts and Design develops your skills as a graphic designer and contemporary artist through studio practice, industry placements in the creative industries, opportunities to study art history abroad and present your artwork in galleries and exhibitions.
You will enhance your creativity working in a broad range of mediums, such as drawing, painting, photography, and sculpture and be supported by educators who are art historians, designers and curators, and who exhibit their work nationally and internationally.
You'll have the opportunity to study art history overseas, at the Venice Biennale, in Paris or at our Rome campus, developing local and international networks and expanding your global outlook. Your work will be exhibited in our ACU gallery spaces over the course of your degree and you'll get real-world experience through professional practice and an industry internship.
In your final year you'll complete a major project in your chosen area and take part in the graduate exhibition showcasing your artwork, catalogue design, events management, and curating skills.
Graduates of this course can pursue further study with a Master of Teaching degree.
ACU strongly encourages students to be fully vaccinated. With our industry and community placement partners requiring vaccination, and with public health orders regularly changing - students can avoid interruption to their studies, placement and graduation requirements by becoming fully vaccinated.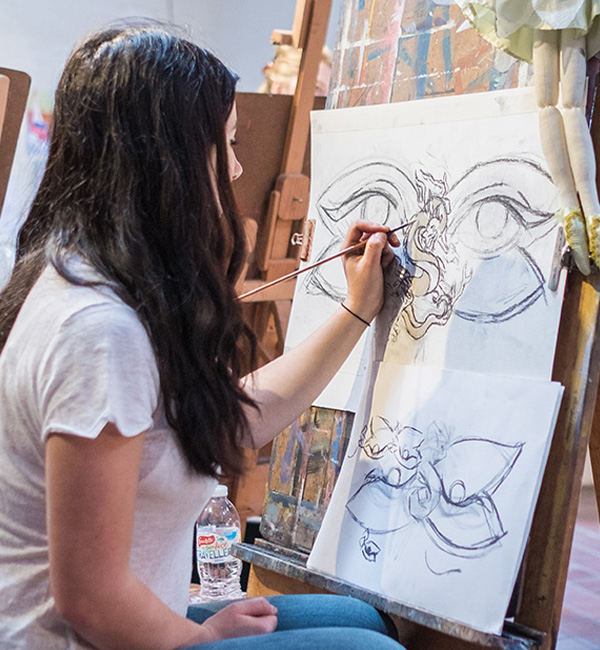 Professional experience
You will be required to complete a Professional Practice unit and a 105-hour Industry Internship.
The Professional Practice unit gives you the opportunity to explore some of the diverse career outcomes available to you as a visual arts and design graduate. It emphasises the importance of being an enterprising, socially responsible professional among your networks and communities of practice within the creative industries.
The Industry Internship requires you to volunteer in any area across the creative industries that interests you. This may include: facilitating creative workshops for community groups, volunteering in a museum or gallery, or working with graphic and web design companies or publishers.
Professional recognition
Graduates of this course may be eligible for membership of the following professional bodies:
Australian Graphic Design Association (AGDA)
Australian Print Council
Australian Net Art and Technology (ANET)
Australian Sculptors Association
Craft Australia
International Council of Museums (ICOM)
International Association of Art (UNESCO) (only available to NAVA members)
National Association for the Visual Arts (NAVA)
Potters Society
Victorian Artists Society (VAS)
Victorian Ceramic Group.
Careers
Our graduates have pursued careers in creative industries including:
administrator
advertising
art conservation
art creative director
art gallery manager
art theory research assistant
art therapist (with further training)
art writer
book illustrator
curatorship
events coordinator
film-maker and editor
graphic designer
visual artist
teaching (with further study)
theatre and set designer
visual merchandiser
Course details
Course structure
To complete the Bachelor of Visual Arts and Design, a student must complete 240 credit points (cp).
Sample program map
Year - Study period
Unit 1
Unit 2
Unit 3
Unit 4
Unit 5
Year 1 - Semester 1

ARTS109 Drawing

ARTS236 Ceramics/Multimedia

DESN120 Graphic Design Thinking

BA minor 1
OR
BA elective
Year 1 - Semester 2

ARTS112 Art in the Early 20th Century

ARTS241 Painting

DESN242 Design for Publication

UNCC100 Self and Community: Exploring the Anatomy of Modern Society

or

PHCC102 Being Human

or

PHCC104 Ethics and the Good Life

Year 2 - Semester 1

ARTS245 Printmaking

ARTS237 Postmodern Art in the 20th Century

DESN227 Web Design

OR

DESN243 Design for Visual Storytelling

ARTS226 Video / Installation

Year 2 - Semester 2

ARTS238 Photography

ARTS246 Sculptural Practice

DESN240 Design for Multimedia

OR

DESN244 Design for Social Media

BA minor 2

or

BA elective

Year 3 - Semester 1

UNCC300 Justice and Change in a Global World

or

PHCC320 The Just Society

ARTS325 Professional Practice

ARTS332 Self-Directed Studio

BA minor 3

or

BA Elective

Year 3 - Semester 2

ARTS330 Internship

ARTS341 Art in the 21st Century

or

ARTS338 International Study Tour: Venice Biennale

(intensive winter term)

ARTS340 Visual Arts and Design Major Project

BA minor 4
OR
BA elective
This is a sample program only and units will vary depending on your campus and mode of study. Please refer to the handbook for the prerequisite units and the current listing.
AQF framework
Bachelor - AQF Level 7
Exit Points
A student who has successfully completed the requirements for the Diploma in Visual Arts and Design may exit from the course with that qualification.
Entry requirements
View transparency admission information
English language requirements
Overall score of 6.0. Individual score of 6.0 in writing and speaking, and 5.5 in listening and reading.
Adjustment factors
If you're currently completing Year 12 you may be eligible for adjustment factors that can boost your rank and help you get into your desired course.
Adjustment factors may be applied to your TAC application if you study particular subjects, attend schools geographically close to our campuses or in certain regional areas, apply as an elite athlete or performer or meet certain other criteria.
Pathways
Further study
Students wishing to explore education as a career can use this course as a pathway into a Master of Teaching degree.
Fees
Course costs
Unit fee: $3196
Average first year fee: $25568
Estimate total cost: $76704
The Tuition fees quoted above are for commencing students in the current year who undertake a normal full-time load. The Unit Fee is based on a 10cp unit. Fees are reviewed annually.
Tuition fees for continuing students may increase by up to 3 percent each year for the minimum duration of the course as provided on your electronic Confirmation of Enrolment (eCOE). Students who continue to study beyond the minimum duration will have the relevant annual commencing rate applied to their fees for subsequent study periods.
Payment options
You should be able to concentrate on getting good marks instead of worrying about how you'll pay your fees. We have a number of options that can help you ease the financial burden, including government assistance, scholarships and income support.
Scholarships
You could be eligible for one of the hundreds of scholarships we award each year to help students from across the university with the cost of studying, accommodation or overseas study opportunities. Some of our scholarships are awarded on the basis of merit, but these aren't just for the academically gifted; ACU also recognises excellence in community engagement and leadership. We also offer a range of scholarships for those who may be struggling financially or who have faced other barriers to accessing education.
How to apply
Deferment
Yes. See Defer your offer.
Students with a Student Visa will need to complete the program in minimum duration, study at least one subject on-campus each semester and must not undertake more than 33% of the program online.