Bachelor of Human Rights/Bachelor of Laws
Course information for - 2024 entry
Offered at 4 locations
Duration

5 years full-time or equivalent part-time

QTAC code

112081

ATAR

New

Fees (first year)*

$16320 CSP

Start dates

Semester 1 intake: Beginning February 2024

Applications open August 2023

Midyear (Semester 2) intake: to be advised
Human rights advocacy has never been more important. It's a rapidly growing field across the world and involves aspects of law, criminal justice, history, philosophy and politics.
Studying a Bachelor of Human Rights/Bachelor of Laws will prepare you for a rewarding legal career in human rights both in Australia and globally.
Your strong commitment to social justice is at the heart of this double degree. Like you, we believe in standing up for people in need and issues that matter. We want you to see life through the eyes of others and be inspired to become the leading human rights lawyers and advocates of the 21st century. As a central part of your studies, you will gain essential skills in critical thinking, writing, analysis and debating – skills in high demand from employers.
Our law degree fulfills the academic requirements for admission to the legal profession in Australia.
You can also study the Bachelor of Human Rights or the Bachelor of Human Rights/Bachelor of Criminology and Criminal Justice.
Top 2% universities worldwide

Top 10 Catholic universities globally

Top 40 young universities worldwide
ACU strongly encourages students to be fully vaccinated. With our industry and community placement partners requiring vaccination, and with public health orders regularly changing - students can avoid interruption to their studies, placement and graduation requirements by becoming fully vaccinated.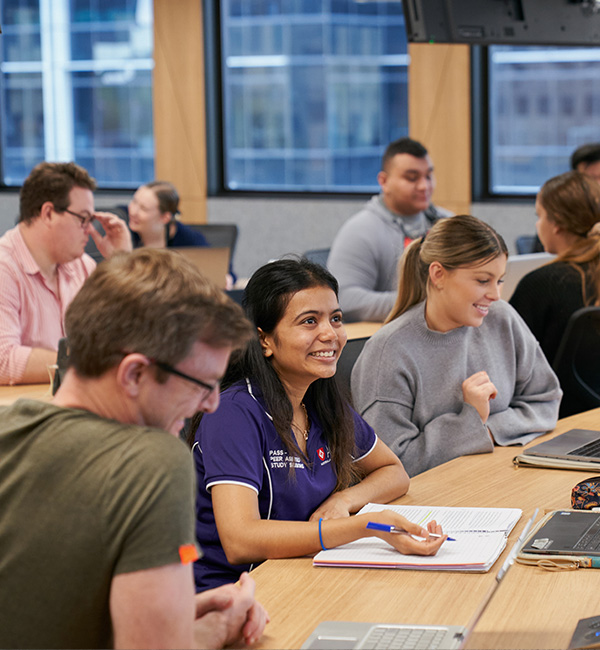 Work placement
Pro bono placements are undertaken from the second year of law studies. You'll engage in practical, law related activities, especially on behalf of those who are the most marginalised and disadvantaged in our community. These placements will provide valuable experience in the practical operation of the law. Through community engagement you'll have the opportunity to reflect upon the capacity of the law to respond to social justice issues involving those who are marginalised and disadvantaged as well as in law reform. You'll benefit from, develop and reflect upon the values of collaboration, equality, mutual respect and commitment to justice in an ethically-based profession.
Volunteer experience
The pro bono program provides practical, work-place based experience in a community context.
Professional recognition
This degree has been approved by accreditation authorities as a prerequisite for admission to legal practice in New South Wales, Queensland and Victoria, and is recognised for the purposes of admission in other Australian states and territories.
Careers
Our graduates can pursue careers in:
the legal profession
advocacy: domestic and International advocacy, humanitarian services, disaster relief, policy development, volunteer co-ordination
social services: human services provision, public health, economic development, policy development
government administration
industry regulation
communications: foreign news reporting/correspondence, investigative journalism, research
politics
NGOs, both domestic and international
academia
diplomacy
Course details
AQF framework
Double Bachelor - Bachelor/Bachelor - AQF Level 7
Entry requirements
An applicant must also comply with the Admission to Coursework Programs Policy.
International applicants must also meet the English Language Proficiency requirements as defined in the Admission to Coursework Programs Policy.
| State | Prerequisites |
| --- | --- |
| New South Wales | English (Standard) (Band 3) or English as an Additional Language (EAL) (Band 4) |
| Queensland | English (4, SA) at year 12 level |
| Victoria | Units 3 and 4 – a study score of at least 30 in English as an Additional Language (EAL) or 25 in any other English. |
Disclaimer: The course entry requirements above are for 2024 Admission.
Adjustment factors
If you're currently completing Year 12 you may be eligible for adjustment factors that can boost your rank and help you get into your desired course.
Adjustment factors may be applied to your TAC application if you study particular subjects, attend schools geographically close to our campuses or in certain regional areas, apply as an elite athlete or performer or meet certain other criteria.
Fees
Course costs
Average first year fee*
$16320 CSP
Payment options
You should be able to concentrate on getting good marks instead of worrying about how you'll pay your fees. We have a number of options that can help you ease the financial burden, including government assistance, scholarships and income support.
Scholarships
You could be eligible for one of the hundreds of scholarships we award each year to help students from across the university with the cost of studying, accommodation or overseas study opportunities. Some of our scholarships are awarded on the basis of merit, but these aren't just for the academically gifted; ACU also recognises excellence in community engagement and leadership. We also offer a range of scholarships for those who may be struggling financially or who have faced other barriers to accessing education.
Staff Profile
Dr Bill Swannie
Lecturer, Thomas More Law School
Bill Swannie is a Lecturer at the Thomas More Law School. His areas of expertise include human rights law, anti-discrimination law, legal theory, media law and international law. He has taught at Victorian law schools since 2013.
Previously, Dr Swannie was Principal Lawyer at a community legal centre, associate to a Vice President of the Victorian Civil and Administrative Tribunal, and a government lawyer.
Dr Swannie has received several awards for teaching including a citation for programs that enhance student learning. His research is published in leading Australian law journals.
Dr Swannie is a member of the editorial board of the Alternative Law Journal, a member of the Australian Discrimination Law Experts Group, and on the management committee for the Law and Society Association of Australian and New Zealand. He is a member of the Wellness for Law network and has a particular interest in student wellbeing.
Dr Amanda Alexander
Deputy Head, Thomas More Law School
Amanda Alexander is a senior lecturer and Deputy Head of the Thomas More Law School. Amanda has a BA(Hons)/LLB from the University of New South Wales and a Masters in Legal Theory and History from University College London. She completed her PhD in 2013 at the Australian National University on the history of the civilian in international law.