Bachelor of Criminology and Criminal Justice/Bachelor of Laws
Course information for - 2023 entry
Offered at 4 locations
Duration

5 years full-time or equivalent part-time

UAC code

107022

ATAR

New

Fees (first year)*

$15136 CSP

Start dates

Semester 1 intake: Not available

Midyear (Semester 2) intake: Beginning July 2023

Applications open April 2023
Super-charge your criminology and criminal justice degree with law and you will be ready to launch a meaningful legal career in the justice sector.
This double degree is the perfect combination if you want to be a criminal lawyer specialising in criminal defence and/or prosecution or work in regulatory or policy work in criminal justice areas covering issues such as interpersonal violence, policing, forensic psychology, corrections, and cybercrime.
Wider employment opportunities include working in the areas of anti-corruption, child protection, crime prevention, drugs counselling, forensic science, forensic psychology, human rights, military law enforcement, intelligence and counter-intelligence, regulatory enforcement, youth and juvenile justice, or victim support and advocacy.
ACU strongly encourages students to be fully vaccinated. With our industry and community placement partners requiring vaccination, and with public health orders regularly changing - students can avoid interruption to their studies, placement and graduation requirements by becoming fully vaccinated.
Professional experience
You will undertake a 40-hour community engagement associated with the criminal justice sector. You'll receive intensive training in workplace approaches, practices and more before starting your placement, followed by a debriefing with a clinical education specialist.
You will complete 80 hours pro bono experience (after your first year) as part of your law degree.
Work placement
Pro bono placements are undertaken from the second year of the Bachelor of Law studies. You'll engage in practical, law related activities, especially on behalf of those who are the most marginalised and disadvantaged in our community. These placements will provide valuable experience in the practical operation of the law. Through community engagement you'll have the opportunity to reflect upon the capacity of the law to respond to social justice issues involving those who are marginalised and disadvantaged as well as in law reform. You'll benefit from, develop and reflect upon the values of collaboration, equality, mutual respect and commitment to justice in an ethically-based profession.
Community engagement
The Bachelor of Laws pro bono program provides practical, work-place based experience in a community context.
Accreditation
This double degree is accredited for admission to legal practice in NSW, Qld and Vic, and recognised in other Australian states and territories.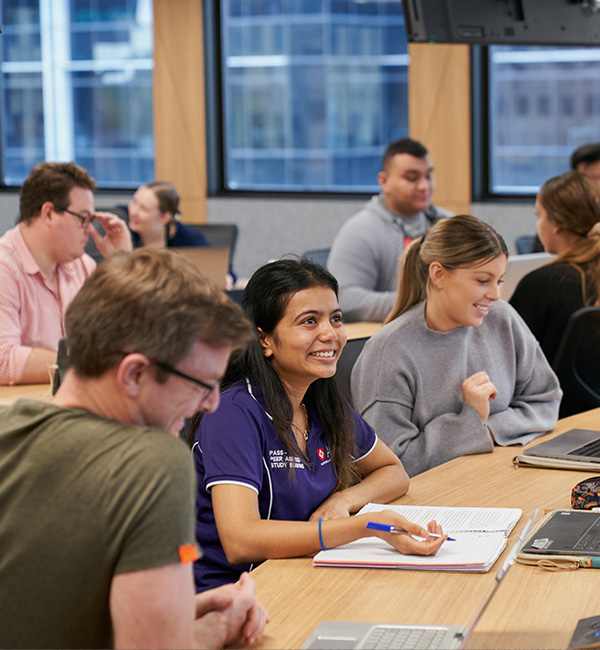 Careers
Career opportunities include:
advocacy
criminal law
defence and/or prosecutions
general policing
investigations
management and/or supervision
mediation
strategic planning & policy development
research
Course details
Course structure
To complete the Bachelor of Criminology and Criminal Justice/Bachelor of Laws, a student must complete 400 credit points (cp).
Sample program map
| Year - Study period | Unit 1 | Unit 2 | Unit 3 | Unit 4 | Unit 5 |
| --- | --- | --- | --- | --- | --- |
| Year 1 Semester 1 | LAWS104 Foundations of Law and Legal Research | LCRM101 Introduction to Criminology | LCRM105 Violent Crime and Society | LHRG111 Human Rights and Indigenous People | |
| Year 1 Semester 2 | LAWS107 Introduction to Australian Public Law | UNCC100 Self and Community: Exploring the Anatomy of Modern Society orPHCC102 Being Human orPHCC104 Ethics and the Good Life | LCRM106 Introduction to Criminal Justice System and Policy | LCRM104 Juvenile Justice data-versionlabel=2 > | |
| Year 2 Semester 1 | LAWS105 Contract Law | LAWS206 Torts | LCRM201 Introduction to Forensic Psychology and the Law data-versionlabel=2 > | LCRM202 Police Studies data-versionlabel=2 > | |
| Year 2 Semester 2 | LAWS108 Commercial Law | LAWS213 Community Legal Engagement Pro Bono | LCRM203 Introduction to Forensic Science and the Law data-versionlabel=2 > | LCRM206 Victimology | |
| Year 3 Semester 1 | LAWS106 Criminal Law and Procedure | LCRM301 Researching Criminology data-versionlabel=2 > | LCRM302 Customs, Border Protection and Biosecurity data-versionlabel=2 > | UNCC300 Justice and Change in a Global World orPHCC320 The Just Society | LAWP100 Pro Bono / Legal Professional Experience 1 |
| Year 3 Semester 2 | LAWS200 Business Organisations | LAWS201 Civil Procedure and Alternative Dispute Resolution | LCRM207 Corrections and Rehabilitation of Offenders | Law Elective 1 | |
| Year 4 Semester 1 | LCRM304 Community Engagement | LAWS421 Legal Ethics and Professional Responsibility | Criminology Elective 1 | LAWS205 Property | |
| Year 4 Semester 2 | LCRM305 Cybercrime data-versionlabel=2 > | Criminology Elective 2 | LAWS204 Land Law | LAWS403 Legal Theory | |
| Year 5 Semester 1 | LAWS418 Administrative Law | LAWS404 International Law | LAWS304 Evidence | LAWS314 Statutory Interpretation | |
| Year 5 Semester 2 | LAWS419 Constitutional Law | LAWS308 Human Rights in Contemporary Australia | LAWS420 Equity and Trusts | LAW Elective 2 | |
This is a sample program only and units will vary depending on your campus and mode of study. Please refer to the handbook for the prerequisite units and the current listing.
AQF framework
Double Bachelor - Bachelor/Bachelor - AQF Level 7
Entry requirements
An applicant must also comply with the Admission to Coursework Programs Policy that includes meeting minimum ATAR requirement.
International applicants must meet the English Language Requirements as defined in the Admission to Coursework Programs Policy
To be eligible for admission to the course, an applicant must have completed the following prerequisites at year 12 level, or equivalent:
| State | Prerequisites |
| --- | --- |
| New South Wales | English (Standard) (Band 3) or English as an Additional Language (EAL) (Band 4) |
| Queensland | English (4, SA) at year 12 level |
| Victoria | Units 3 and 4 – a study score of at least 30 in English as an Additional Language (EAL) or 25 in any other English. |
Disclaimer: The course entry requirements above are for 2023 Admission. The Course entry requirements above are for 2023 Admission. Refer to your relevant Tertiary Admission Centre website for future years' entry requirements.
Adjustment factors
If you're currently completing Year 12 you may be eligible for adjustment factors that can boost your rank and help you get into your desired course.
Adjustment factors may be applied to your TAC application if you study particular subjects, attend schools geographically close to our campuses or in certain regional areas, apply as an elite athlete or performer or meet certain other criteria.
Pathways
Further study
A student who has completed at least 120 cp of LAWS units of the degree with a grade point average (GPA) of at least 5.75 may be eligible for Admission to the Bachelor (Honours degree).
An applicant must also comply with the Admission to Coursework Programs Policy.
A student who achieves an Honours at a minimum level of Second Class Division A (Distinction average) may be eligible for Admission to the degree of Doctor of Philosophy (PhD).
Meeting the eligibility requirements for admission is not in itself a guarantee of admission. The candidate's potential to undertake research, the quality and feasibility of the research proposal, the availability of appropriate supervision and the referee's reports will all be taken into consideration. Please refer to Regulation 5.2.
A candidate for the degree of Doctor of Philosophy must comply with the Higher Degree Research Regulations.
Disclaimer: The course entry requirements above are for 2022 Admission. Refer to your relevant Tertiary Admission Centre website for future years' entry requirements.
Fees
Course costs
Average first year fee*
$15136 CSP
Payment options
You should be able to concentrate on getting good marks instead of worrying about how you'll pay your fees. We have a number of options that can help you ease the financial burden, including government assistance, scholarships and income support.
Scholarships
You could be eligible for one of the hundreds of scholarships we award each year to help students from across the university with the cost of studying, accommodation or overseas study opportunities. Some of our scholarships are awarded on the basis of merit, but these aren't just for the academically gifted; ACU also recognises excellence in community engagement and leadership. We also offer a range of scholarships for those who may be struggling financially or who have faced other barriers to accessing education.