Bachelor of Arts/Bachelor of Global Studies
The following slideshow controls have visual effect only.
Bachelor of Arts/Bachelor of Global Studies

Course information for - 2024 entry
Offered at 3 locations
Study mode

Multi-mode

Duration

4 years full-time or equivalent part-time

QTAC code

112371

ATAR

58.50 for Brisbane

Fees (first year)*

$15136 CSP

Start dates

Semester 1 intake: Beginning February 2024

Applications open August 2023

Midyear (Semester 2) intake: to be advised
The Bachelor of Arts/Bachelor of Global Studies is for anyone interested in a wide range of contemporary social issues that shape our world, including globalisation, social justice, environmental sustainability, international relations and more.
Following your passions is at the heart of this double degree, and we offer more than 20 arts majors for you to choose from, such as drama, communication, visual arts, sociology, history, politics and international relations, graphic design, psychology, criminology, studies of religion, geography, and English.
To help you develop a global perspective beyond the classroom, this degree includes a study abroad internship, giving you the opportunity to see the world with new eyes. You can also opt to study a Diploma in Languages in either Spanish or Italian alongside your degree to further enhance your employability.
To ensure this degree works with you, we offer flexible delivery, including online, multimode and on-campus attendance.
ACU strongly encourages students to be fully vaccinated. With our industry and community placement partners requiring vaccination, and with public health orders regularly changing - students can avoid interruption to their studies, placement and graduation requirements by becoming fully vaccinated.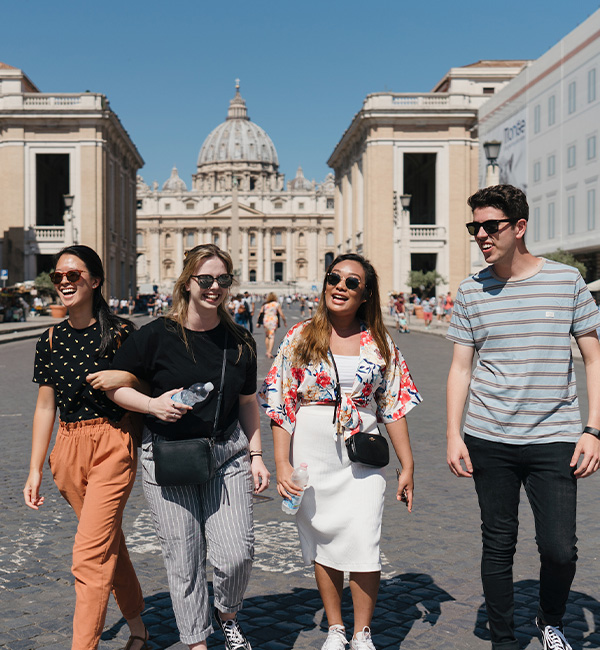 Professional experience
You will complete a period of study or work overseas in an area relevant to your studies and interests.
Work placement
You will have the unique opportunity to gain valuable international work experience tailored to your interests and career goals via one of our overseas internship partner organisations. You will also have the chance to study abroad at one of ACU's 60 partner institutions around the world.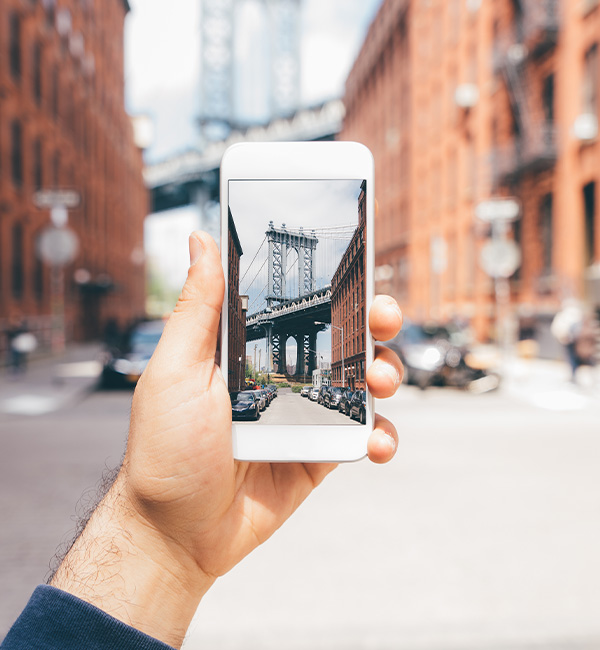 Careers
Career opportunities include:
public sector, both local and international
government service, including diplomatic service, both local and international
the United Nations system and other international organisations
social entrepreneurship and companies with a global outreach
politics and international relations
global health and community development
journalism, including travel journalism
travel and tourism
Course details
Course structure
To complete the Bachelor of Arts/Bachelor of Global Studies, a student must complete 320 credit points (cp).
Available Major(s)
Archaeology

This rich archaeology major sequence will focus on Ancient Israel and its material remains including landscapes, architecture, artefacts, and people. It will provide you with core instruction on archaeological evidence and theory combined with opportunities for hands-on experience in the field through a real archaeological excavation in Israel.

You will learn about ancient peoples in the Near East from earliest habitation through interactions of the ancient Israelites with the Egyptians, Assyrians, Babylonians, Canaanites, Philistines, Greeks and finally the Romans. Along the way, you can choose to study related units in history, languages and science depending on your personal interest. You can broaden your experience with an intensive study trip to Rome where you will learn about its past and heritage. Top achieving students can undertake a personalised special research project and progress to honours.

While this major is primarily offered through the Bachelor of Arts and Bachelor of Arts (Western Civilisation), archaeology is interdisciplinary. This means you will also have the opportunity to choose it as a major or minor within a range of other single and double degrees offered at ACU, such as theology, global studies, business, law, and education (availability of the major will vary across campuses).

The major is also a pathway to becoming a secondary-school history teacher when combined with a tertiary teaching qualification.

Business Studies

The business studies major sequence offers you the opportunity to gain a broad understanding of units in human resource management, finance, marketing and accounting. If you're studying a Bachelor of Arts you could choose to combine your business studies major with a range of related areas such as economics, politics and international relations or media.

The major is also a pathway to becoming a secondary-school business studies teacher when combined with a tertiary teaching qualification.

Drama

The major sequence in drama provides you with a comprehensive overview of theatrical literature and history and a grounding in production work. Through performances, workshops and practical classes, ACU's drama sequence develops your skills in many areas including theatre production, stage management, direction, and acting, as well as knowledge of theatre history and repertoire. You'll gain transferrable skills in communication and public speaking, allowing you to seek employment in the performing arts industry or use the skills developed in other professional contexts. When combined with an appropriate tertiary teaching qualification, the drama major is a pathway to becoming a secondary-school drama teacher. You do not need any previous theatre experience and there are no prerequisites for studying this sequence at ACU.

English

Through the study of a broad range of literary texts and approaches to reading them, the English major sequence familiarises you with literary traditions and contemporary literary cultures. This major sequence will reveal the varied ways in which people have lived, thought, felt and imagined, opening up new worlds of understanding. You will develop vital transferrable skills in effective reading, writing, analysis and interpretation that will equip you for a rewarding career in teaching, journalism, the media, or other professions that require articulate and culturally literate graduates.

Geography, Environment and Society

The geography, environment and society major sequence exposes you to the major environmental issues and challenges our world faces today. It provides a methodology for analysis and interpretation and allows you to critically evaluate management strategies. There is an emphasis on project-based research and learning as the sequence progresses, with associated development of skills in data collection (in the field and from secondary sources), collation and analysis using industry-standard equipment and methods, including GIS and Remote Sensing. Field-based learning is a crucial aspect of studying geography at ACU, with opportunities for exciting field trips within Australia and overseas. These skills may then be applied to a range of applied professional situations.

History

The history major sequence brings the past to life by introducing you to a diverse range of societies and cultures that have shaped the modern world. History at ACU has an exciting and innovative global focus. You will have the opportunity to study European, American, Australian, Indigenous, Asian and Ancient history, and to engage with key themes such as war and peace, race and class, gender and sexuality, violence and terrorism, and film and popular culture. In exploring the people, ideas and events that have defined the past and given meaning to the present, you will develop critical skills that will equip you for a rich and rewarding professional career.

Mathematics

The major sequence in mathematics is designed to provide you with a broad introduction to the study of traditional and contemporary mathematics. Highlights include introductions to cryptography, project management, networks, mathematical modelling, and finance. The major also covers the traditional areas required by those intending to become primary or secondary teachers, as teaching of mathematics from K-12 is a high demand field and the demand will grow in the future. The major sequence can act as a pathway to becoming a secondary-school maths teacher when combined with a tertiary teaching qualification.

Media

The media major sequence offers you training in media production informed by both current media theory and contemporary industry practices. The sequence is practically-oriented with multiple studio-based units to allow you to produce folios of work which align with the activities of the profession. You'll be equipped with the practical skills required for employment in a range of media industry roles including digital video production, television production, broadcast radio and online content production in new, social and emerging media. The major is also a pathway to becoming a secondary-school media teacher when combined with a tertiary teaching qualification.

Music

Our music major sequence develops your knowledge and skills in music language, analysis and musicianship. You'll be supported to become a professional musician as you learn to apply the knowledge and skills required to perform, create, manipulate, interpret and critique music in safe and culturally appropriate ways, and in ways that align with the competency norms of Australia's creative industries. A music sequence does not require an audition for entry at ACU. The major is also a pathway to becoming a secondary-school music teacher when combined with a tertiary teaching qualification.

Philosophy

The philosophy major sequence introduces you to serious and detailed thinking about the really big questions concerning reality as a whole, human nature, ethics, language, religion, truth and knowledge, logic, beauty, and justice. The study of philosophy, in both its historical and contemporary dimensions, assists you to develop critical thinking skills and clarity of thought, through which you learn to assess the strengths and weaknesses of complex arguments while also honing verbal and written communication skills. Employers across a very broad range of industries (including education, business, public administration, law, media and technology) report that they highly value the kinds of adaptable skills and attributes possessed by philosophy graduates.

Politics and International Relations

Politics is the study of power, violence and justice in our world. The questions of who gets what, why and how much, are persistent concerns plaguing all societies. In a world increasingly short of resources, individuals and nations now frequently do battle with each other to secure their own prosperity and peace. By looking at how these battles are won and lost, the major sequence of politics and international relations gives you insight into the workings of diplomacy, warfare, elections, the global economy, the nature of political parties, and the rise and fall of great powers. From everyday politics at the local level to the politics among nations, the politics major sequence at ACU will offer you the conceptual tools to think critically and act decisively in a world that is ever changing.

The major is also a pathway to becoming a secondary-school politics and society and culture teacher when combined with a tertiary teaching qualification.

Psychology

The psychology major sequence provides you with a comprehensive and systematic study of human behaviour. The emphasis is on the dynamic nature of our behaviours and the interaction of biological, social and cultural factors that influence these at all levels and at all stages of the life span.

The major is also a pathway to becoming a secondary-school psychology teacher when combined with a tertiary teaching qualification.

(Please note that this major is not an APAC accredited major in psychology; so this major does not offer a career pathway to become a psychologist).

Sociology

Sociology is one of the most relevant disciplines for understanding complex social, cultural, and political phenomena today. This "Queen of Disciplines" offers you a range of exciting theoretical, methodological, and conceptual tools for an understanding of human action, social and systemic change, institutions, and the deeper meanings of life. With subject matter such as globalisation, religion, health, work and economy, social movements, gender, and culture, sociologists are often crucially involved in a number of key debates around the ideas and events that impact on real people and their communities. These areas are a part of the sociology major sequence at ACU. You'll acquire high-order transferrable skills in reasoning, theorising, communicating, and research to do with a broader and deeper perspective of events, all of which are highly sought after by employers.

The major is also a pathway to becoming a secondary-school society and culture teacher when combined with a tertiary teaching qualification.

Study of Religions

Our multicultural societies are home to a vibrant mix of religious beliefs and experiences. Undertaking a major sequence in study of religions is an exploration of this diversity and its implications for contemporary society. You will study three of the major world religions —Christianity, Judaism and Islam — as well as having the opportunity to study religions practised in contemporary South and East Asia. We also look at Aboriginal and Torres Strait Islander spiritualities, and their connectedness to Country, as well as exploring the spiritual and religious traditions of other Indigenous peoples from around the world. In all units of study, study of religions goes beyond merely understanding the practice of religion. You will graduate with a critical awareness of the historical and contemporary aspects of each religion, as well as the need for interfaith relations and dialogue.

Theological Studies

Cultivate an adult faith and deeper spirituality. A major sequence in theological studies gives you new enthusiasm, fresh insight and deeper understanding to the gift of faith, and greater depth to spiritual experience. Key themes in theological studies include: the person and work of Jesus Christ; the Word of God in the Scriptures; the sacraments and the Church's liturgy; and the values, practices, responsibilities and traditions of a Christian way of life. It relates faith, spirituality and scholarship to a concern for human flourishing, the common good, the dignity of the human person, and stewardship of the environment and all creation. Various theological approaches will be considered in the light of contemporary world views and interfaith dialogue. You can examine the theme of social justice and its importance in the mission and teaching of Jesus, a study which assists you in thinking critically about the world around you.

The major is also a pathway to becoming a secondary-school teacher when combined with a tertiary teaching qualification.

Visual Arts

The visual arts major sequence provides a mix of art and design history and theory electives and studio-based fine art. You'll experience a range of professional practice opportunities such as entering your work in art competitions, writing publish-ready interviews, articles and art reviews and presenting you artwork in group exhibitions in the ACU gallery. You will be trained by staff who are active practitioners in their field and benefit from small class sizes in an intimate studio environment. If you're on an education pathway, you can combine a major in the visual arts with a teaching qualification to prepare you for secondary level visual arts teaching.

Available Minor(s)

Archaeology

The archaeology minor sequence will focus on the societies of people in the past through engaging with their ancient landscapes, physical remains and material culture. You will focus on Ancient Israel in its Near Eastern context and Rome, especially its province of Judaea. The minor includes coursework and fieldwork opportunities.

Business Studies

The business studies minor sequence offers students the opportunity to gain an understanding in areas including human resource management, finance, marketing and accounting. If you're studying a Bachelor of Arts you could choose to combine your business studies minor with a range of related areas such as economics, politics and international relations or digital media.

Communication

Students can choose to learn skills that underpin successful university study and also develop abilities that are immediately transferrable to any workplace and are highly sought after by employers. Depending on unit selection, the sequence develops hands-on skills in interpersonal, intercultural, and workplace communication, as well as providing training in oral and written communication skills. You will have the opportunity to select units that will let you work with different modes of writing including report writing, creative writing, writing for social media, feature writing and blogs, and you will be taught to speak in public, lead meetings, conduct interviews and negotiations and undertake mediation and conflict management. Students will leave the minor as confident and capable communicators. Employers value staff who possess the 'soft skills' that are developed within a Communications minor. Having a willingness to collaborate, being able to effectively problem solve, having critical thinking skills, possessing good interpersonal skills, and being able to adapt to change are in high demand in the workplace.

Community Services

Drama

The minor sequence in drama provides you with a comprehensive overview of theatrical literature and history and a grounding in production work. Through performances, workshops and practical classes, ACU's drama sequence develops your skills in many areas including theatre production, stage management, direction, and acting, as well as knowledge of theatre history and repertoire. You'll gain transferrable skills in communication and public speaking, allowing you to seek employment in the performing arts industry or use the skills developed in other professional contexts. When combined with an appropriate tertiary teaching qualification, the drama major is a pathway to becoming a secondary-school drama teacher. You do not need any previous theatre experience and there are no prerequisites for studying this sequence at ACU.

Digital Technologies (Computing)

Digital Technologies drive innovation in every aspect of contemporary life and is an essential and component of many disciplines. The computing sequence develops knowledge and skills in information technology, explores data communications and database systems, and introduces students to problem solving and design in digital technologies and programming. The knowledge and skills gained in the minor expands opportunities for students seeking careers in the growing number of fields that require a strong foundation in computing.

Economics

The economics minor sequence at ACU promotes the knowledge and understanding of local business operations, consumer behaviour, economic policy, and national and global economic issues. The sequence encourages you to develop your interest in contemporary economic events and helps you to understand important issues such as unemployment, foreign debt, changes in the value of the dollar and the implication of these issues for consumers, businesses and the nation. You will also consider the policy options that are available to deal with these important issues in Australia and globally. The study of economics provides you with the knowledge and skills for a variety of careers in both the private and public sectors, as well as providing a pathway for further study.

English

Through the study of a broad range of literary texts and approaches to reading them, the English minor sequence familiarises you with literary traditions and contemporary literary cultures. This minor will reveal the varied ways in which people have lived, thought, felt and imagined, opening up new worlds of understanding. You will develop vital transferrable skills in effective reading, writing, analysis and interpretation that will equip you for rewarding careers in teaching, journalism, the media, and other professions that require articulate and culturally literate graduates.

Geography, Environment and Society

The geography, environment and society minor sequence exposes you to the major environmental issues and challenges our world faces today. It provides a methodology for analysis and interpretation and allows you to critically evaluate management strategies.

Global Studies

Graphic Design

Graphic design is an innovative and essential component of contemporary visual culture and the built environment. Understanding the principles of effective visual communication adds competitive value to projects from all disciplines and allows you to develop a broad range of skills transferable to any workplace. The graphic design minor sequence will prepare you with authentic assessment projects designed to build experience and understanding of design processes methodology and equip you to confidently create and assess effective visual communication and develop your own design solution strategies. Graphic design units focus on the following areas: design for publication, information design, interactive and web design, typography, illustration, social media, visual storytelling and the digital image. Regardless of your technical background, you will acquire broad skills in current design software programs in a workshop-based computer lab class.

History

The history minor sequence brings the past to life by introducing you to a diverse range of societies and cultures that have shaped the modern world. History at ACU has an exciting and innovative global focus. You will have the opportunity to study European, American, Australian, Indigenous, Asian and Ancient history, and to engage with key themes such as war and peace, race and class, gender and sexuality, violence and terrorism, and film and popular culture. In exploring the people, ideas and events that have defined the past and given meaning to the present, you will develop critical skills that will equip you for a rich and rewarding professional career.

Healthy Development

The healthy development minor sequence gives you the opportunity to study contemporary topics in health and human development. This minor sequence explores issues related to nutrition and exercise; the human life cycle from birth to death, families, sex, adolescence and international perspectives on health issues. If you wish to do a Master of Teaching you can take this sequence in the Bachelor of Arts as a pathway to teaching health and human development in schools. Alternately, the minor can be taken alongside sequences such as sociology and youth work to provide a broader perspective on health and development.

International Development Studies

The international development studies minor sequence focuses on contemporary understandings of the causes and consequences of poverty, conflict, refugees and migration, and develops work-ready skills in project management, research and policy development. You'll be prepared for a career, either domestically or abroad, in a diverse range of government and non-government organisations tasked with supporting the alleviation of poverty in the developing world.

Legal Studies

Mathematics

The minor sequence in mathematics is designed to provide a broad introduction to the study of traditional and contemporary mathematics. Highlights include introductions to cryptography, project management, networks, mathematical modelling, and finance. The minor also covers the traditional areas required by those intending to become primary or secondary teachers, as teaching of mathematics from K-12 is a high demand field and the demand will grow in the future.

Media

The media minor sequence offers you training in media production informed by both current media theory and contemporary industry practices. The sequence is practically-oriented with multiple studio-based units that allow you to produce folios of work which align with the activities of the profession.

Music

The Music sequence develops skills in composition, music technology, musicology, music criticism and analysis. Students engage with the fundamentals of music language as it operates in a diverse range of styles and genres, and are taught to observe, understand and apply complex music processes drawn from the music of the past and the present. Students also engage with the cultural, social, aesthetic, historical and ethical functions of music through studies in musicology. Career outcomes that can arise from this sequence include teaching (when the major is combined with year 12 music performance or AMEB grade five and a tertiary teaching qualification), freelance composition (for film, television, video games, and commercials), music journalism and blogging, publishing, music administration, music retail, music research and work as 'embedded' creative practitioners using the skills developed through the sequence in the corporate and public sector.

Philosophy

The philosophy minor sequence introduces you to serious and detailed thinking about the really big questions concerning reality as a whole, human nature, ethics, language, religion, truth and knowledge, logic, beauty, and justice. The study of philosophy, in both its historical and contemporary dimensions, assists you to develop critical thinking skills and clarity of thought, through which you learn to assess the strengths and weaknesses of complex arguments while also honing verbal and written communication skills. Employers across a very broad range of industries (including education, business, public administration, law, media and technology) report that they highly value the kinds of adaptable skills and attributes possessed by philosophy graduates.

Politics and International Relations

Politics is the study of power, violence and justice in our world. The questions of who gets what, why and how much, are persistent concerns plaguing all societies. In a world increasingly short of resources, individuals and nations now frequently do battle with each other to secure their own prosperity and peace. By looking at how these battles are won and lost, the discipline of politics gives you insight into the workings of diplomacy, warfare, elections, the global economy, the nature of political parties, and the rise and fall of great powers. From everyday politics at the local level to the politics among nations, the politics and international relations minor sequence at ACU will offer you the conceptual tools to think critically and act decisively in a world that is ever changing.

Psychology

The psychology minor sequence provides you with a comprehensive and systematic study of human behaviour. The emphasis is on the dynamic nature of our behaviours and the interaction of biological, social and cultural factors that influence these at all levels and at all stages of the life span.

(Please note this minor does not offer a career pathway to become a psychologist).

Sociology

Sociology is one of the most relevant disciplines for understanding complex social, cultural, and political phenomena today. Often cited as the "Queen of Disciplines" due to it producing a number of key ideas used by many subjects that study society and culture, sociology offers students a range of exciting theoretical, methodological, and conceptual tools for an understanding of human action, social and systemic change, institutions, and the deeper meanings of life. With subject matter such as globalisation, religion, health, work and economy, social movements, gender, and culture, sociologists are often crucially involved in a number of key debates around the ideas and events that impact on real people and their communities. All of these areas are a part of the sociology sequence at the ACU. Operating in both government and private industry, sociologists are employed in a variety of roles that centre on people and their environments including community project officers, policy planners and researchers, marketers and social media publicists. Sociology at the ACU helps students acquire high-order transferrable skills in reasoning, theorising, communicating, and research to do with a broader and deeper perspective of events, all of which are highly sought after by employers.

Theological Studies

Cultivate an adult faith and deeper spirituality. A major sequence in theological studies gives you new enthusiasm, fresh insight and deeper understanding to the gift of faith, and greater depth to spiritual experience. Key themes in theological studies include: the person and work of Jesus Christ; the Word of God in the Scriptures; the sacraments and the Church's liturgy; and the values, practices, responsibilities and traditions of a Christian way of life. It relates faith, spirituality and scholarship to a concern for human flourishing, the common good, the dignity of the human person, and stewardship of the environment and all creation. Various theological approaches will be considered in the light of contemporary worldviews and interfaith dialogue. You can examine the theme of social justice and its importance in the mission and teaching of Jesus, a study which assists you in thinking critically about the world around you.

Veterans Arts Minor

Visual Arts

The visual arts minor offers a mix of art and design history and theory and studio-based fine art. You will be trained by staff who are active practitioners in their field and benefit from small class sizes in an intimate studio environment.

Youth Work

Youth work is an exciting and challenging minor sequence that introduces you to the theoretical insights and practical competencies required for dealing with the needs, problems and aspirations of young people. The youth work sequence acknowledges the social and cultural environments within which young people live and helps foster young people's emotional and social development. Subjects in the sequence include youth sociology, adolescent development, youth work practice and building relationships and supporting young people and youth work in community and family settings.

Course map

Open all

Please note: Course maps are subject to change.

AQF framework

Double Bachelor - Bachelor/Bachelor - AQF Level 7

Exit Points

Students who have met the requirements of the Bachelor of Arts or Diploma in Liberal Arts can exit with that award.

Overseas study available

Students will have to complete a semester of study abroad, international internship or a semester program in Rome.

Entry requirements

An applicant must also comply with the Admission to Coursework Programs Policy that includes meeting a minimum ATAR requirement.

International students must also meet the English Language Proficiency requirements as defined in the Admission to Coursework Programs Policy.

To be eligible for admission to the course, an applicant must have completed the following prerequisites at year 12, or equivalent:

State
Prerequisites

New South Wales

Assumed knowledge: 2 units of English (any) (Band 3). Mathematics (other than Mathematics General 2) for study in Mathematics (Band 3).

Queensland

Prerequisites: English (Units 3 & 4, C)

Victoria

Prerequisites: Units 3 and 4 – a study score of at least 25 in English (EAL) or 20 in any other English.

Assumed knowledge: Units 3 and 4 - Mathematical Methods or equivalent for study in Mathematics.

Disclaimer: The course entry requirements above are for 2024 Admission. Refer to your relevant Tertiary Admission Centre website for future years' entry requirements.

View transparency admission information

Applicants with recent secondary education

You'll need to meet the minimum entry requirements and subject prerequisites for your chosen course. 

If your school result was affected by circumstances outside of your control, such as financial hardship, illness, disability or a challenging home environment, you may qualify for an access scheme. You can apply through your TAC as part of your application process. 

Applicants with vocational education and training (VET) study

You'll need to meet the minimum entry requirements and subject prerequisites for your chosen course. 

For current year 12 students 

If you're a current Year 12 applicant you can be given a selection rank separate from, and in addition to, your ATAR if you've completed a competency-based and graded AQF Certificate III or above. 

For non-school leavers

If you've completed, or are completing a competency-based AQF Certificate IV or AQF diploma you will be assigned a selection rank by your local Tertiary Admission Centre (TAC). This is an entry score based on your individual qualifications and achievements.

ACU has partnerships with ACU College, TAFE, and many private education providers. If you have completed a qualification with one of these partners, you may be eligible for guaranteed entry and/or credit into a related ACU degree. Please apply through your local TAC and then submit a credit application for your previous study. 

Applicants with higher education study

You'll need to meet the minimum entry requirements and subject prerequisites for your chosen course.

If you have completed at least two units of AQF-recognised study at bachelor level or above, you'll be assigned a selection rank based on your study level, duration and grade point average that will be applied during the admission process.

If your previous study has equipped you with knowledge, skills or experiences that align with the learning outcomes of units in your new course you may be able to apply for recognition of prior learning and you may be able to complete your course sooner.

Applicants with work and life experience

You'll need to meet the minimum entry requirements and subject prerequisites for your chosen course.

If you have no formal education qualifications you may be eligible for a selection rank based on your work, life or service experience.

If you've been in paid employment, relevant to the course you're applying for, for a minimum of six months full-time (or equivalent), this work may be assessed for your selection rank.
If you're 21 years or older you can sit the Special Tertiary Admissions Test (STAT) through your local TAC.
You can apply for an ACU bridging course. Our bridging courses allow you to transition back into studying and can give you a head start on the relevant undergraduate degree.
If you have served in the defence force, your rank and time in service may contribute to your selection rank.

English language requirements

Overall score of 6.0. Individual score of 6.0 in writing and speaking, and 5.5 in listening and reading.

Adjustment factors

If you're currently completing Year 12 you may be eligible for adjustment factors that can boost your rank and help you get into your desired course.

Adjustment factors may be applied to your TAC application if you study particular subjects, attend schools geographically close to our campuses or in certain regional areas, apply as an elite athlete or performer or meet certain other criteria.

Pathways

Pathways into course for current or recent Year 12 students

If you can't meet the ATAR requirement for your choice of course and you're currently completing Year 12 or finished Year 12 in the two years previously, we have entry programs to get you where you want to be.

Alternatively, you may be able to complete a diploma or bridging course relevant to your desired course:

Pathways into course for applicants with previous study and/or life experience

Are you applying to ACU as a non-school leaver?

By that we mean, you're not currently completing Year 12 and haven't completed it in the two years previously. If the answer is yes and your selection rank isn't enough to meet the requirements for your desired course you still have a number of options to help you achieve your study goals.

If you're over 21, you can sit the Special Tertiary Admissions Test (STAT) , or you can complete a diploma or bridging course relevant to your desired course.

Work experience - A Selection Rank can be calculated based on your work experience - you need to document all of your experience and provide supporting documentation.

Further study

Bachelor of Arts (Honours) or other relevant postgraduate study

Fees

Course costs

Average first year fee*

$15136 CSP

* indicative only; subject to passage of legislation.

All costs are calculated using current rates and are based on a full-time study load of 40 credit points (normally 4 units) per semester.

A student's annual fee may vary in accordance with:

the number of units studied per semester;
the choice of major or specialisation; and
elective units.

The University reviews fees annually.

Payment options

You should be able to concentrate on getting good marks instead of worrying about how you'll pay your fees. We have a number of options that can help you ease the financial burden, including government assistance, scholarships and income support.

Scholarships

You could be eligible for one of the hundreds of scholarships we award each year to help students from across the university with the cost of studying, accommodation or overseas study opportunities. Some of our scholarships are awarded on the basis of merit, but these aren't just for the academically gifted; ACU also recognises excellence in community engagement and leadership. We also offer a range of scholarships for those who may be struggling financially or who have faced other barriers to accessing education.

How to apply

Domestic applicants

Direct application

Apply now

If you are a Year 12 student you must apply through VTAC, UAC or QTAC. Unfortunately, a Direct application cannot be considered.

You can apply Direct to ACU if you are not a recent school leaver and have not already applied through VTAC, UAC or QTAC.

Staff Profile

Dr Ellen Warne

National Coordinator, Programs and Quality Assurance, and Deputy Head of the National School of Arts and Humanities (Victoria)

Dr Warne is a Senior Lecturer in history and the National Coordinator, Programs & Quality Assurance, as well as Deputy Head of the National School of Arts and Humanities (Victoria) at the Australian Catholic University. She has worked as a research fellow investigating the long histories of 'working mothers' in Australia. Dr Warne's major research interest has focused on women in women-only organisations from the suffrage campaigns onwards, including the long-standing debates around 'family values' and contrasting dynamics that required women's political and economic engagement in Australia.

Dr Haydn Aarons

Course Coordinator for Global Studies and Discipline Deputy Head of School, Social Sciences

Dr Haydn Aarons is a Senior Lecturer in Sociology, and Course Coordinator for Global Studies, as well as Discipline Deputy Head of School, Social Sciences at the Australian Catholic University in Melbourne. A sociologist with specific interests in religion, cultural consumption, health, and rural communities, he has been teaching and researching in Sociology for over twenty years, specialising in quantitative research methods, particularly survey data. Widely published on a range of sociological topics, he has earned national recognition for his work on rural and regional health.

Have a question?

We're available 9am–5pm AEDT,
Monday to Friday

If you've got a question, our AskACU team has you covered. You can search FAQs, text us, email, live chat, call – whatever works for you.

Live chat with us now

Chat to our team for real-time
answers to your questions.

Launch live chat

Visit our FAQs page

Find answers to some commonly
asked questions.

See our FAQs