Last week our community came together for ACU Mission Week. Here's some of the highlights and the inspiring keynote address from Young Australian of the Year 2022 Dr Daniel Nour.

One thing that makes ACU so unique in the Australian higher education sector is our distinctiveness as a Catholic university. And what underlies this uniqueness is our mission which drives all our endeavours. While we often talk about and try to live our mission, we rarely take the time to intentionally celebrate it.

That changed last week, with the inaugural ACU Mission Week – an opportunity for our ACU community to join in celebrating our mission across all campuses.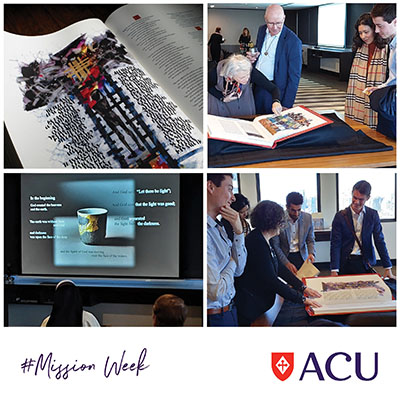 The 'We are ACU' theme that was chosen as the catch cry for the week, signifies the unique perspectives that combine to embody our ACU community and this was showcased in the activities hosted throughout the week. Some of the energising events colleagues and students participated in are featured below.
The Saint John Bible: From Inspiration to Illumination event highlighted the unique work of art and beauty of the heritage edition Saint John Bible, unbelievably hosted on each campus.
A Community Engagement showcase highlighted the research-led community engagement initiatives and opportunities in our local communities.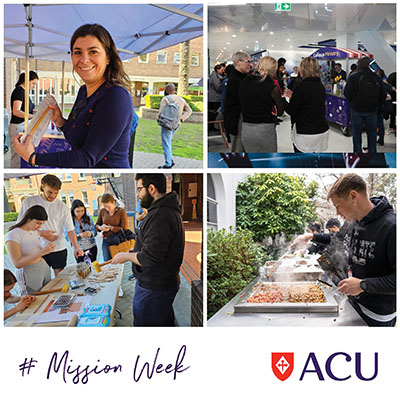 A We Are ACU festival with inspiring keynotes from both Young Australian of the Year 2022 Dr Daniel Nour and local ACU alumni; live music and good food provided by Student Life; a mind, body, spirit event focused on well-being through exercise and guided meditation.
A Coffee and a Yarn discussion about the upcoming Voice Referendum, hosted by our First Nations Directorate colleagues was very timely and relevant.
An online viewing of Laudato Si' documentary The Letter followed by a panel discussion featuring Dr Emmanuel Nathan, Dr Sandie Cornish, and Mr Mark Doggett was a real call to action for many people.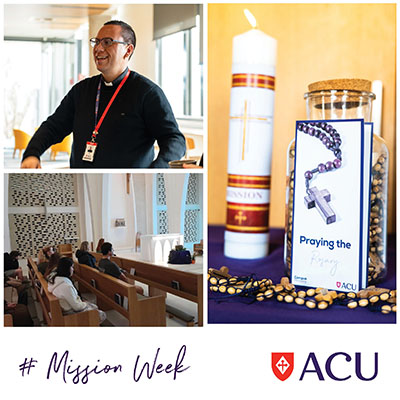 The Mission and Ministry team want to say a big thank you to all who supported, organised, and took part in the events and helped to make our first ever Mission Week a huge success!