ACU is a global leader in nursing education. Why did you choose ACU, and how did your degree prepare you to succeed?
The university is highly ranked for nursing - that was the main reason why I chose to study here. I felt confident about the quality of education they provide to students. At present, I work as a registered nurse in a day surgery unit in one of the leading private hospitals in Sydney. The basic clinical skills and principles I learned from ACU helped me transition from being a new graduate nurse to becoming a permanent staff member. It's evident that ACU is well regarded in the health care sector - in Sydney, I've met lots of other nurses who are also ACU alumni.
Industry experience is an important part of studying at ACU. What sort of industry experiences did you have, and how did they support your learning?
I did five clinical placements as part of my degree. During my first placement, I went to a community wellness clinic. My other placements were in different Sydney hospitals, including a respiratory ward, a medical ward, an emergency department, and a psychiatric ward as well. It was really a practical experience for me because it helped me build my baseline knowledge of hospital systems and processes. When I started as a new graduate nurse, I understood how it all worked.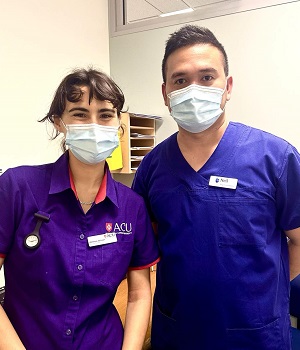 ACU is committed to supporting international students. How did ACU support you?
I felt very supported - there were lots of services available. I remember attending PASS classes, which is a peer-led study program for first-year students, and there was also a teaching session where we learnt about academic referencing, which I struggled with during my first year. We had an International Student Adviser who was there to support all the international students. And then when COVID struck in 2021, ACU offered different supports, including free food packs every week for those who needed them, which helped international students a lot.
ACU's CareerHub helps students find jobs before and after graduation. Did it help you?
Yes! They held an event where representatives from lots of different health care organisations came to ACU so that students could ask them about how to get into the new graduate program. ACU also taught me how to create a strong resumé to land a role as a new graduate. I applied for lots of nursing programs, including public and private hospitals, using that information. I got several job offers and I finally accepted a graduate role in the Orthopaedics and Acute Surgery unit at the Mater Hospital in North Sydney.
ACU is a Catholic university with a caring and ethical culture. Was that important to you?
Yes. Being a Filipino Catholic, I love to say that I carry a culture of kindness and a caring nature. It's important for me to choose a school that shares those values. The ethical teaching at ACU revolves around developing a sense of conscientiousness and integrity in all walks of life. As a nurse, I'm not only an advocate for my patients but I need to make sure they receive the highest possible level of care.
ACU Nursing has some of the best graduate employment outcomes in Australia. Find out how our world-class degrees, personalised career support and partnerships with more than 200 hospital and health care partners can transform your future career - contact our international student support team today to discuss study options that align with your goals.