Australian Catholic University (ACU) celebrated its renewal and extension of the partnership with Christ (Deemed to be University) in Bangalore, one of the leading Catholic universities in India.
Since 2010, the partnership between ACU and Christ (Deemed to be University) has not only created opportunities for the two world-recognised Catholic universities to collaborate in academic and research activities across disciplines, but today it has extended to promoting staff and student mobility through a new Student Mobility agreement.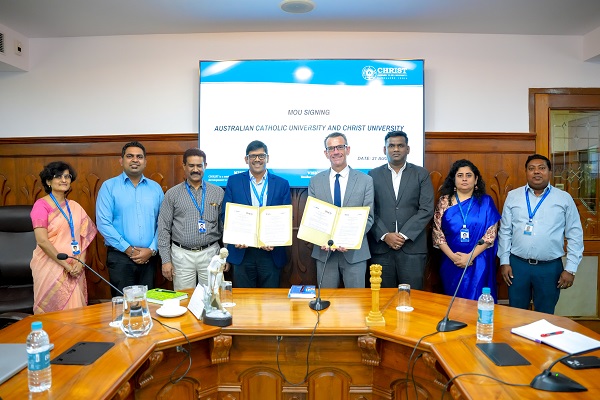 Upholding the Catholic intellectual belief of human dignity, justice and social harmony, both ACU and Christ (Deemed to be University) are committed to the holistic development of students and staff with a focus on academic excellence, professional competence and making effective contributions to society in the pursuit of knowledge, ethics and global responsibility.
ACU Pro Vice-Chancellor, Global and Education Pathways, Mr Chris Riley said, "At ACU, our students and staff are devoted to advancing the common good. By continuing and extending our partnership with Christ (Deemed to be University), we are creating international opportunities that go far beyond our campuses in Australia to reach the global community.
"Our collaboration, grounded in our shared Catholic values, continues to promote cross-cultural learning opportunities and academic excellence. Christ's esteemed reputation in India further amplifies the significance of this partnership and showcasing our joint commitment to enhancing international education," Mr Riley said.
Pro Vice-Chancellor and Director of the Office of International Affairs of Christ (Deemed to be University), Dr Fr Viju Painadath said, "We are truly proud to continue our decade-long partnership with ACU, a global Catholic institution that holds the same values as ours to foster global perspectives and develop well-rounded individuals. We are looking forward to embracing a continuous journey together to develop global citizens, change-makers and leaders who are diligent, ethical and conscientious, and who have the courage to make an impact on a global scale."
Mr Riley, Dr Painadath and Dr Anil Joseph Pinto, Registrar of Christ University, signed the renewal of the memorandum of understanding for academic collaboration and a new agreement on Student Exchange programs between ACU and Christ (Deemed to be University) in August in celebration of the long-term partnership.