A Cambodian student who pursued a career in public health after being a frontline worker during the pandemic in Victoria has been honoured at the Victorian International Education Awards (VIEA).
Meantepy Hoeung, an international student studying a Bachelor of Applied Public Health at Australian Catholic University, has been named International Student of the Year - Higher Education category award at the VIEA ceremony on October 26, 2023.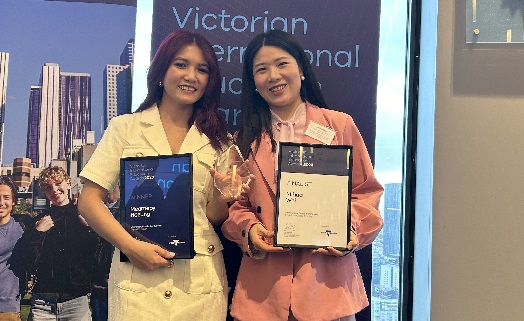 Meantepy received the award from Tim Pallas MP, Treasurer of Victoria, Minister for Industrial Relations and Minister for Economic Growth.
Driven by a deep passion for community service through healthcare, Meantepy, who arrived in Australia in 2018 as a nursing student, has made significant contributions to both the local Australian and global communities over the last five years.
In Melbourne, she was a Personal Care Assistant and later an Assistant Nurse at St Vincent's Hospital, playing a pivotal role in patient care during the pandemic. These roles inspired Meantepy to transfer from her nursing degree to a Bachelor of Applied Public Health at ACU.
Meantepy has also volunteered at LiverWELL, a non-profit organisation, where she is now Community Educator, initiating important conversations about viral hepatitis within culturally diverse communities.
Currently employed as a nurse at Ambulance Victoria, Meantepy will also take up a new role at The Peter Doherty Institute for Infection and Immunity, which houses the World Health Organization (WHO) Collaborating Centre for Viral Hepatitis.
Fellow ACU international student Mihua Wei was also named a finalist in the English Language Training category of the VIEA.
Mihua, who is from China and is in her first year of a Master of Teaching (Early Childhood and Primary) at ACU, has served as an Inclusive Support Educator, providing compassionate care to children with special needs. Recognising the challenges international students face, Mihua offered practical guidance on seeking employment and accommodation, as well as adjusting to Australian life.
Chris Riley, Pro-Vice Chancellor (Global and Education Pathways), said Meantepy and Mihua were outstanding examples of the positive impact international students make in our communities.
"Meantepy and Mihua's remarkable achievements and dedication to community service make them inspiring role models for current and future students looking to study in Australia," Mr Riley said.
"The VIEA's recognition of both Meantepy and Mihua's contribution to their respective communities demonstrates the variety of opportunities Australia's higher education sector can offer international students."
VIEA is an initiative of the Victorian Government aimed at promoting the international education sector and recognising the invaluable contributions of international students to the Victorian community.