You're studying the ACU Master of Teaching (Secondary). What drew you to teaching?
I was a tour guide for about three years - I had a small business renting our cars and motorcycles in Bali. All my work was in the tourism sector, so when COVID happened, all my income disappeared. I had to sell all my assets, which built up my savings enough that I could think about studying overseas. When I was working in tourism, it was all about connection with people. When I saw the opportunity to teach in Australia, I thought oh, I've done this, making connections with people. I could do that as a teacher, too.
Why did you choose the ACU teaching program?
I applied for ACU because of the International Student Scholarship, which is open to prospective international students. It pays 50% of your whole tuition. The scholarship has made my studies possible.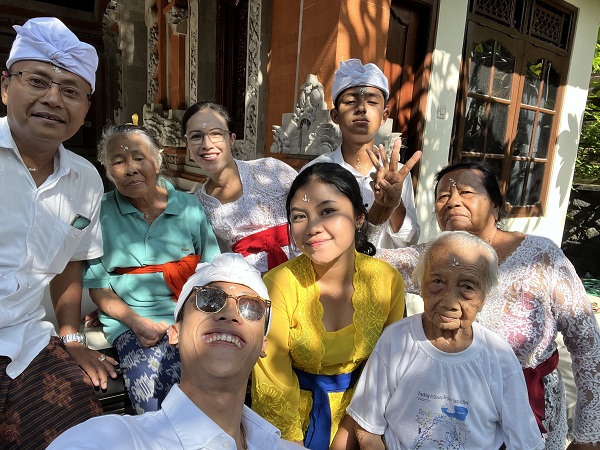 How did your degree prepare you for the realities of a teaching career?
I've done three professional teaching placements as part of my degree. The placements gave me a chance to apply all the theory and knowledge I learnt at university. One example is positive behaviour reinforcement - instead of focusing on the negative parts of the kids' behaviour, we learnt to reinforce the positive behaviours instead. I implemented that in my second placement, and it worked really well. My lecturers also often shared stories about the experience of becoming educators themselves. It's always interesting for me to hear about how they managed difficult situations with students or parents or how they planned activities in the classroom.
You've just been offered a teaching job. How did that come about?
My third placement was at Blackwater State High School, which is in a small town in rural Queensland. The placement happened because I went to a careers fair that was held by Teach Queensland. I talked to some people from the Department of Education and they told me that there are lots of opportunities in rural and regional areas for teaching students who are looking for placements and jobs. They have grants to encourage teaching students to do placements in these areas. I took one called a Beyond the Range Professional Experience Grant, which provides up to $5000 per placement. During my placement, I got an offer to work here starting next year. I've already signed the contract.
It sounds like it was easy for you to find a job!
The main point of ACU teaching placements is building professional connections. My job offer shows how that awesome connection works. It's also about knowing your competition. Australia needs a lot of teachers in rural areas, but not many people come to places like Blackwater because they're far from the city. That means there aren't many people competing for the roles. That's one of the reasons why I chose teaching as my career path for now, because I feel like I have a lot of opportunities. The plan is after my student visa finishes, I'll apply for a graduate visa.
More than 90% of ACU teaching students get jobs within four months of graduating1. Talk to our international student support team to find out where an ACU teaching degree can take you.
---
1 2019 QILT Graduate Outcomes Survey, domestic undergraduate, overall employed four months after graduating.