Hungarian President Katalin Novák visited ACU's North Sydney campus, leading a roundtable discussion with senior leaders, academics and policy experts.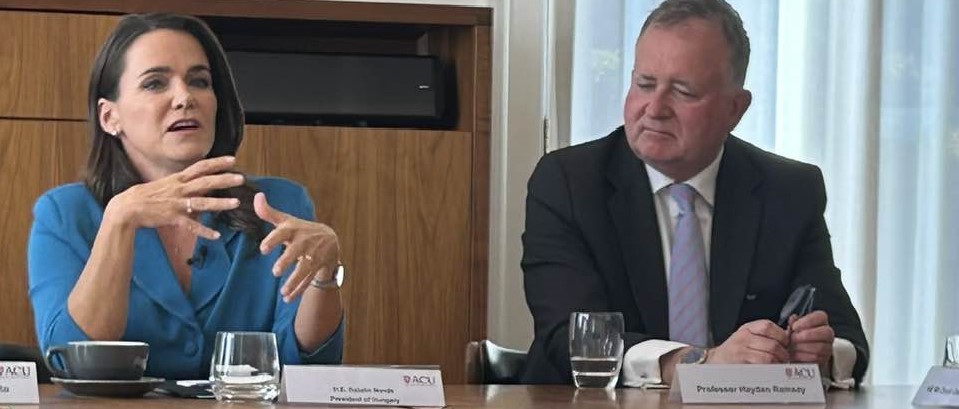 President Novák, the first female president of Hungary, is known for her strong advocacy of family values and the programs she introduced when she was a government minister to address Hungary's low fertility rates.
President Novák spoke about the range of tax and financial initiatives in Hungary to support young people to realise their own ambitions for marriage and family.
She also discussed the conflict in Ukraine and the issues it has raised for European countries.
Deputy Vice-Chancellor Professor Hayden Ramsay said President Novak's visit to ACU was testament to the power of academic and diplomatic exchanges in addressing global challenges.
"It was an honour to host President Katalin Novak at ACU and provide a platform for meaningful discussions on some important - and sometimes neglected - public policy issues," Prof. Ramsay said.
President Novák's visit to ACU was driven by her keen interest in public policy that supports family well-being and strengthens social cohesion, and the opportunity to discuss these issues with people thinking about these issues in Australia.
This aligns with the work of the PM Glynn Institute, ACU's public policy think-tank.
PM Glynn Director Dr Michael Casey said the roundtable event reflected a vital part of the Institute's work in providing forums for the discussion of important and under-discussed issues in public policy.
"It's an honour for ACU and for the PM Glynn Institute to host a visit by a head of state, especially in the context of these important questions of public policy," Dr Casey said.
"The roundtable provided a great opportunity to hear some reflections on how these issues can be engaged to have a positive impact on people, from a political leader who has put the common good and the flourishing of individuals and communities at the centre of her life in public service."
The event was attended by a group of distinguished guests, including representatives from the Catholic Church and a number of Catholic agencies, federal politics and influential think tanks.