The highest achievers from the pool, football field, hockey pitch, athletics track and film stage were among a distinguished student cohort honoured at the 2023 Australian Catholic University Sport and Performer Awards.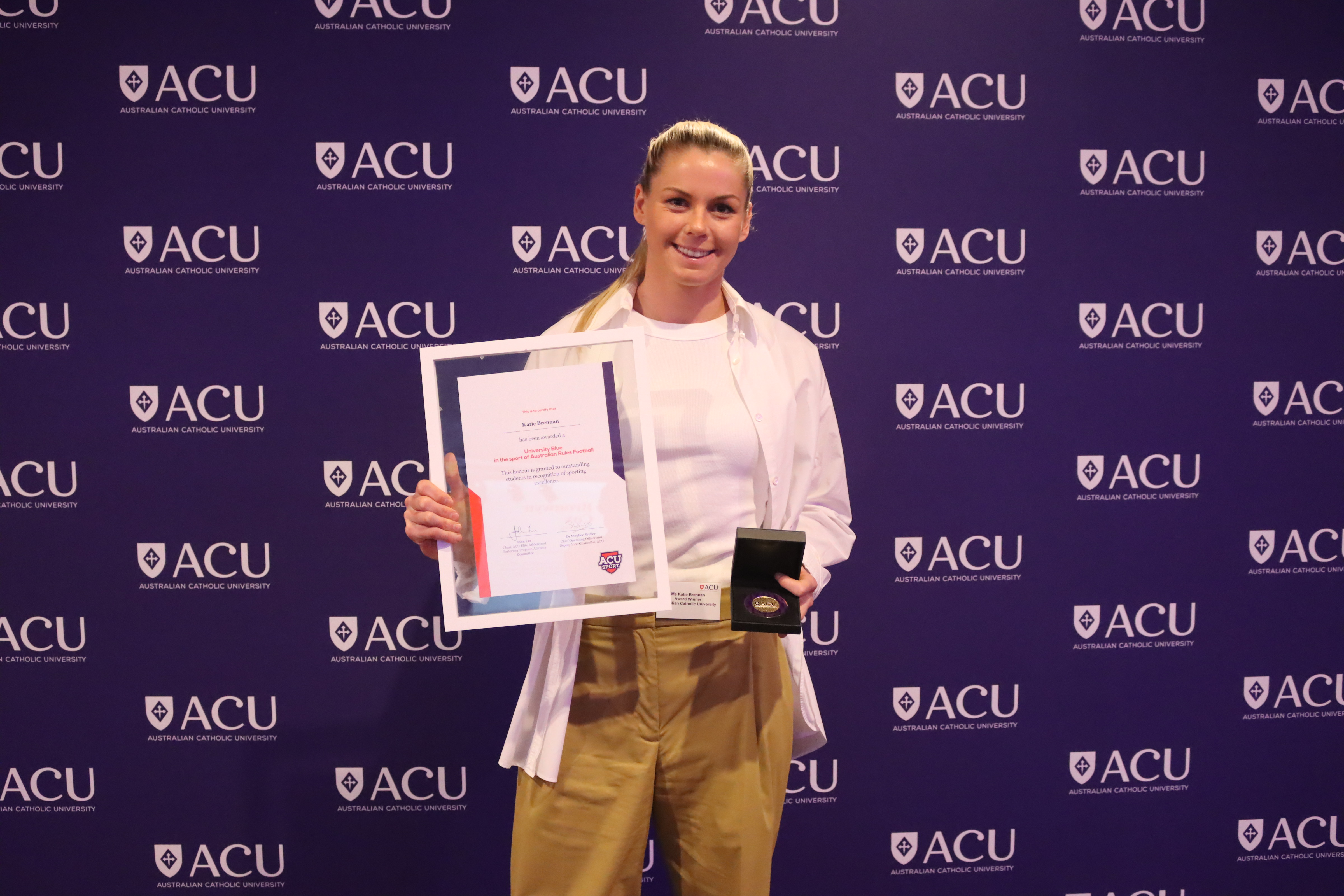 ---
Bagpiper and Elite Athlete and Performer Program student Dylan Forge led a procession of Olympians, Paralympians, Australian representatives, national champions and accomplished performers into Melbourne's Cathedral Hall for the awards ceremony.
The event recognised the depth and breadth of achievement across the university's student athletes and performers who succeeded at the top of their fields while meeting and exceeding academic standards.
The awards reflected the emphasis ACU places on the importance of sport, health and wellbeing programs in the lives of students while at university.
"Students' wellbeing is a non-negotiable," director of Sport, Wellbeing and Residential Life Paul McJannett said. "These award recipients embody the notion that a healthy mind and body should co-exist, and we will continue to support and encourage participation so that our athletes and performers can focus on what matters to them."
Among those lauded for their efforts were Academic Excellence Award winners Ian Prior (Master of High Performance Sport) from the Western Force and Roosters NRL forward Nat Butcher (Bachelor of Commerce).
Para swimmer Brenden Hall (Bachelor of Physiotherapy), who was last year awarded a University Blue, was recognised for his achievements at the Manchester 2023 Para Swimming World Championships. The three-time Paralympic champion collected the Most Outstanding Performance by an Athlete or Performer with a Disability Award for his 400m freestyle S9 bronze.
Seven students represented Australia at the FISU 2023 World University Games in Chengdu China, where they won more medals than any other Australian University.
The Games preceded ACU's most successful UniSport Nationals ever. That was reflected in Division 1 champions from Women's Football, Women's Netball and Women's Water Polo sharing the Team of the Year award and the seven FISU competitors being recognised for their achievements
The ACU Cheer Squad was recognised, both for its multiple achievements, and for the outstanding contribution of Emily Morgan who was presented with the ACU Sport Volunteer of the Year Award.
Hockey representatives were prominent recipients of ACU Blues, the highest sporting honour awarded within tertiary institutions.
Kookaburras forward Jacob Anderson (Bachelor of Exercise Science/Bachelor of Business Administration), and Hockeyroos Courtney Schonell (Bachelor of Exercise Science/Bachelor of Business Administration) and Grace Young (Bachelor of Occupational Therapy) were among 16 University Blues presented.
One of the event highlights was the Elite Athlete and Performer Program panel discussion led by stunt performer Xanthia Marinelli (Bachelor of Education/Bachelor of Arts), diver Melissa Wu (Bachelor of High Performance Sport) and St Kilda midfielder Mason Wood (Master of High Performance Sport).
EAPP student and Aria nominee Jasmine Rae performed her hit single "Green Light" and the evening finished with sprinter Naa Anang giving a vote of thanks on behalf of the student body.
"Through the business of life and sport, we often forget to stop and reflect on what we have accomplished, so to gather here with friends, old and new, and be reminded of all our hard work paying off is so encouraging," Naa said.
"Many of us have our eyes set on the 2024 Paris Olympics, so knowing we will be supported by ACU whilst we pursue excellence in sport and academics gives us all the confidence to believe our dreams are achievable."
University Blue:
Naa Anang (Athletics)
Jacob Anderson (Hockey)
Grant Atkins (NRL)
Marcus Berehulak (Water polo)
Katie Brennan (AFLW)
Bronwyn Cox (Rowing)
Dylan Forge (Bagpiping)
Alexia Hamilton (AFLW)
Alexandra Hulley (Athletics)
Xanthia Marinelli (Stunt performer)
Sean Murphy (Rowing)
Ian Prior (Super Rugby)
Courtney Schonell (Hockey)
Reba Sewart (Taekwondo)
Deborah Watson (Water polo)
Grace Young (Hockey)
EAPP Academic Excellence:
Ian Prior (Super Rugby)
Nat Butcher (NRL)
EAPP Academic Commendation:
Paris Alcorn (Football)
Belinda Lemanis (Cheer)
Xanthia Marinelli (Acting)
Melissa Wu (Diving)
Club of the Year:
ACU Cheer Club Sydney
ACU Sport Volunteer of the Year
Emily Morgan (Cheer)
Outstanding Performance by and Athlete/Performer with a Disability:
Brenden Hall (Swimming)
Outstanding Performance by an Indigenous Athlete/Performer:
Tyler Puzicha (Cycling)
Team of the Year
UniSport Nationals Women's Football
UniSport Nationals Women's Netball
UniSport Nationals Women's Water Polo
Official of the Year
Christian Layland (Football)
FISU World University Games Representatives
Emily Britton (Athletics)
Alexander Diamond (Athletics, Bronze medal in Decathlon)
Ambrosia Landsberg (Taekwondo)
Lucinda Marsh (Water polo – Bronze medal)
Madissyn Powells (Water polo – Bronze medal)
Lachlan Smith (Gymnastics)
Alec Diamond (Athletics, Bronze medal in team 20km Walk)
Media Contact: Damien Stannard, 0484387349, damien.stannard@acu.edu.au