ACU's Western Civilisation program is giving the country's best and brightest students the chance to broaden their horizons and study overseas, from semesters at the Rome campus to archaeological digs in the Middle East.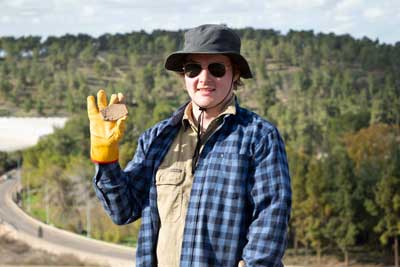 When Brendan Carrick signed up to study "Western Civilisation", he didn't picture himself wielding a pick on the side of an archaeological site in Israel, scaling the ramparts of Masada or descending into the water tunnels of Jerusalem.
But when the chance came up to see firsthand some of the historic sites of the texts he was studying for his Bachelor of Arts (Western Civilisation) at ACU, he was ready to go.
Brendan was one of ten ACU Ramsay Scholars who joined a three-week expedition to Israel this year as part of ACU's Ancient Israel Program.
During the week, they worked on an excavation site at Lachish with one of Israel's leading archaeologists and attended intensive units on history and archaeology with students from Hebrew University. On weekends they got the chance to visit many of the country's significant cultural sites,
Not only can Ramsay Scholars participate in the Ancient Israel Program, they can also opt to study for a semester at ACU's Rome campus, and go on cultural excursions within Australia and beyond.
These experiences give greater meaning and context to the texts students explore within their degree.
"Back home we spent a lot of time learning about the history, philosophy, and literature of the ancient near East, which gives you a foundational understanding," said Brendan.
"To be in these places we've read about, then to visit Masada and be at the site which was recorded by Josephus – one of the great classical authors we have studied – is incredibly exciting.
"It's one thing to read these accounts from the people of the era, but then to actually go there, where you see the Roman camps and the siege ramp and the remnants of Herod's palace, and then in Jerusalem itself, the very heart of Christianity and Judaism, is incredibly fulfilling.
"Then to be onsite at Lachish and have [archaeologist] Yossi Garfinkel giving us lectures on the history of the Kingdom of Judah, Israelites, the Phoenicians, the Philistines, it helps appreciate what you are doing and to understand what you are working with."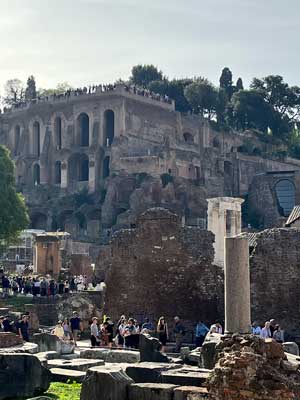 Fellow Ramsay scholar Catherine Murphy took several intensive subjects at ACU's Rome campus and travelled around Europe and the UK with the generous support of the Ramsay Centre for Western Civilisation.
"The Colosseum, the Pantheon, the Vatican Museum, the Altar of the Fatherland all came alive and gave me a new sense of how the rich history of the West all fits together," Catherine said.
"The experience of reading and discussing influential texts while exploring places like St. Peter's Basilica and the Roman Forum is unparalleled."
After finishing her study in Rome, Catherine travelled through Hungary, Austria, Germany, Spain, England, Ireland, and Scotland.
"As I pottered around these places, learning so much, sometimes attempting to speak the language and spending time with local families, I wanted to learn more about their complex histories.
"As I enter into my third year of the Bachelor of Arts (Western Civilisation), I bring with me a deeper desire to open myself up and drink more deeply of ideas in politics, philosophy, literature, art history and music I have not yet encountered."
ACU entered a partnership with the Ramsay Centre in 2020 worth approximately $50 million over eight years. The partnership enables ACU to offer at least 150 undergraduate scholarships and hire world-class educators.
Ramsay Scholars at ACU undertake the unique Bachelor of Arts (Western Civilisation) degree program in North Sydney. Each ACU Ramsay Scholarship is worth $32,000 p.a. for up to five years, with scholars taught in small class groups with tailored academic mentoring.
Since its launch, ACU has expanded the program to include two double degrees – BA (Western Civilisation)/Bachelor of Laws and BA (Western Civilisation)/Master of Teaching (Secondary) – and from July this year, a Master of Liberal Arts (Western Civilisation).
High school students interested in learning more about the course programs can take part in a three-day summer school, where they join like-minded students in critical discussions about great books of the western tradition, gaining invaluable critical thinking, communication, and reading skills.
Find out more about ACU's Ramsay Scholarships and studying Western Civilisation