Associate Professor Valentina Lorenzetti has been awarded a place in a highly competitive program designed to increase representation of women leaders in Science, Maths, Engineering and Mathematics (STEM).
Assoc. Prof. Lorenzetti leads ACU's Neuroscience of Addiction and Mental Health Program and is Deputy Director of the Healthy Brain and Mind Research Centre.
The Veski Inspiring Women in STEM side-by-side program was established in 2018 and is designed to empower women with the skills and networks to develop and achieve their career goals.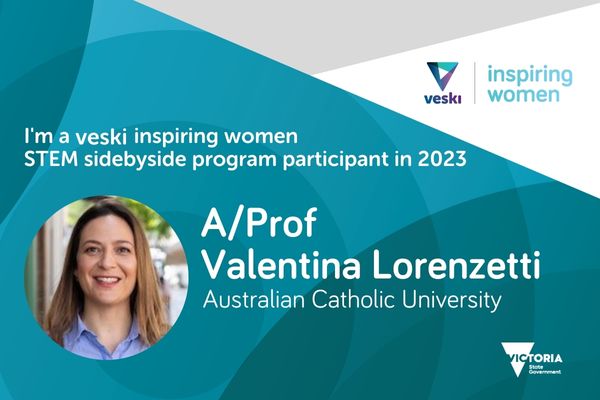 Assoc. Prof. Lorenzetti said women continued to be under-represented at leadership levels in STEM across Australia and worldwide.
"The Veski program is designed to support women wanting to progress into leadership positions, generate organisational cultural change and pave the way for future generations," she said.
"We were trained as scientists and a lot of the training is often all about learning niche skills on how to do research.
"When you're leading a team, you need a completely different set of skills - how to manage people, create an environment conducive to building trust, how to have difficult conversations in a constructive way, how to lead a team towards a shared mission and how to inspire people.
"You need to know how to bring people together to do interdisciplinary work that is meaningful and impactful, and without a strong leadership a team can't fulfill the program mission."
Assoc. Prof. Lorenzetti said initiatives like the Veski side-by-side program helped address the lack of female leaders in STEM.
"The further you go to the top, the less women are present. There should be greater representation of women in leadership." she said.
"A lot of work environments are still set up in a way that create barriers for women to access certain jobs or to be fully integrated in all aspects of the work environment. I think that's a massive problem, we need to change this and I am keen to be a contributing part of the change.

"This program will help break down those barriers and help build the next generations of women leadership in science.
Assoc. Prof. Lorenzetti said having ACU researchers selected for these kinds of programs reflected the University's commitment to increasing female representation in STEM.
"It sends a very positive message that the university is investing in leadership for female mid-career researchers within STEM. I am grateful and humbled for the support and encouragement that the University has given to undertake this program" she said.

"Focusing on good leadership is critical to shape the future and inspire the next generation of researchers push things forward."