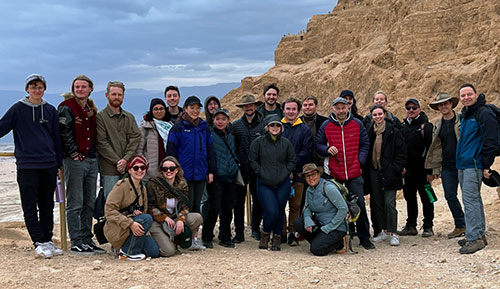 A team of ACU students and academic staff are taking part in an archaeological dig at Tel Lachish in Israel.
Access to some of the finest archaeologists and hands-on experience at a dig site at Lachish in southern Israel is providing students with a close-up view of the history they are studying. The students, who are primarily studying Archaeology, and studies of Western Civilisation at ACU, are working on the site of an ancient Canaanite and Judahite city situated in the transitional zone between the Judean Shephelah and the Philistine Coastal Plain.
The excavations led by Professor Yossi Garfinkel of the Hebrew University of Jerusalem focus on the city wall and adjacent domestic buildings of Level V to determine whether they were controlled by the Davidic monarchy.
The three-week tour has been organised as part of ACU's new Ancient Israel Program led by Associate Professor Gil Davis, Director of the program, which includes a full Major in the Archaeology of Ancient Israel and is offered into Arts, Education and Biblical Studies.
The group of 18 students spent their first week working at the excavation site at Tel Lachish (Lachish mound), using picks, hoes and trowels in their mission to uncover the outer wall of the ancient city. Any pottery and artefacts that are found are taken back to the kibbutz where the group is staying, and the students then learn to wash and catalogue the items.
Four academics specialising in archaeology, geography, biblical studies and chemical analysis – Associate Professor Gil Davis, Associate Professor Duncan Cook, Dr Gareth Wearne and Dr Sophia Aharonovich – are accompanying the students, providing rich instruction on the history of the site and surrounds, as well as an understanding of the land they are digging and the culture of both ancient and modern Israel. Under the instruction of Professor Garfinkle, Head of the Institute of Archaeology at Hebrew University, a team of Israeli staff is also working with the students, teaching them how to dig and what to look for, and how to measure the height of the site when extractions are made. Stormy weather and several days of rain meant also learning how to shut down the site when it becomes too muddy and wet to work.
After a week of work by day and lectures in the evening, the group took the opportunity to visit Jerusalem, where they wandered through the ancient City of David, the Western Wall, the Russian Compound, and the Church of the Holy Sepulchre. The following day they headed south through the Judean Desert where they climbed the historic besieged fortress of Masada, before kicking back and relaxing in the buoyancy of the Dead Sea.
The program has academic links with the Hebrew University of Jerusalem, Tel Aviv University and other international institutions. It is fully funded by generous philanthropic donations from the Education Heritage Foundation, Henroth Foundation, the Sir Asher and Lady Joel Foundation, Isaac Wakil, and The Australian Friends of The Hebrew University.