ACU students are being given the chance to kick off the new year with a month-long language intensive at the Rome campus.
This is the second time the course has been offered, after a successful trial earlier this year.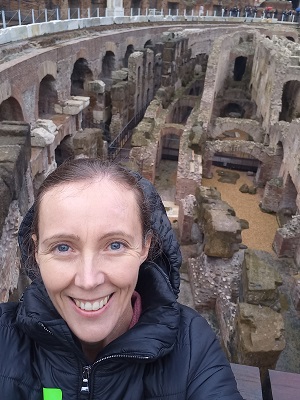 ACU Bachelor of Education student Dalemaree Willcocks was part of the inaugural summer language intensive at the Rome campus.
From climbing the Tower of Pisa to making a wish at the Trevi Fountain and visiting the ancient ruins in Pompeii, her first trip overseas was full of "pinch me" moments.
"I had never travelled outside of Australia before, but the language intensive opened up a new world to me," she says.
"Having a purpose other than sightseeing, I think you have a more authentic exposure to the city and people.
"I loved learning about the history of Rome and Italy, and I came home filled with a new confidence."
Dalemaree has enrolled in the Diploma of Languages and was one of three ACU Italian language students who received the Italian Club Cavour Prize of Excellence from the Dante Alighieri Society. She is now considering a stint teaching overseas after she graduates from ACU.
"This trip really changed everything - I want to teach overseas to experience immersing myself in another culture and teach while I continue to learn," she says.
"Travel is going to be a focus for me from now on - I want to broaden my horizons and understand other people and their cultures."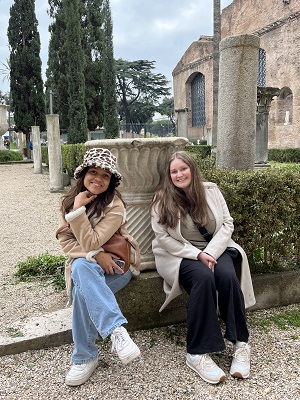 Bachelor of Nursing student Melissa de Zilva was also part of the inaugural language intensive.
"There were so many highlights during my ACU study intensive - making new friends, exploring new parts of Italy and of course the food!"
"It really helped me develop my language skills, because every day you are put in scenarios where you're forced to speak the language which I loved."
"This opportunity has opened my eyes to so many new possibilities. One of them is hopefully living in Italy for a year after I graduate from my nursing degree. I have also been looking into pursuing my nursing career in Rome."
Senior Manager of Diploma Programs at ACU, Dr Anna Menicucci, said the University's Rome campus and language offerings set it apart from other universities.
"I think it's a great attraction for ACU to have the Rome campus and it makes sense to offer language units there".
"We teach Italian, so why wouldn't we offer it at the Rome campus?"
The month-long language intensive is open to students from any discipline at ACU as an elective or part of the popular Diploma in Languages.
The first intensive included a diverse group of ACU students across education, nursing, business and the arts. More than a quarter of the inaugural group of students are now enrolled in a Diploma and continuing their language studies.
The summer intensive offers a range of cultural experiences beyond the classroom, giving students an authentic taste of life in Rome.
"The feedback we got from the first group of students was so positive," Dr Menicucci said.
"They have language classes in the morning and then a practical language-based task each day - they might have to go to a café, order a meal in Italian or make purchases in the language at the market or visit a bookshop."
"They also had a range of cultural experiences, like the audience with the Pope, visiting sites like the Colosseum, the ancient markets and weekend trips to places like Pompeii, Florence and Venice.
"We were also involved in community engagement activities with local charities, which gave the students a chance to give back."
Just three kilometres from the Vatican City, ACU's Rome Campus is centrally located near Rome's ancient heart, Trastevere.
Students can combine the Italian language intensive with the ACU Semester in Rome (ACUSiR) program, which allows students to take their studies to the Eternal City for a semester.
Expressions of interest for the summer language intensive close on 1 September. For more information, visit ACU Rome Campus - Student Portal - Australian Catholic University (ACU).