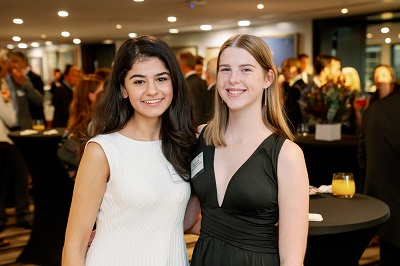 This month, ACU welcomed its third cohort of Ramsay Scholars into the Western Civilisation program - the largest to date.
In 2023, 34 new Ramsay Scholars embarked on their journey at ACU, across the Bachelor of Arts (Western Civilisation), the Bachelor of Arts (Western Civilisation) with a Bachelor of Laws and the BA (Western Civilisation) with a Master of Teaching (Secondary).
The high-achieving students were welcomed at a special reception at ACU's North Sydney campus.
The event was hosted by ACU Vice-Chancellor and President Professor Zlatko Skrbis, Provost Professor Meg Stuart and Director of the Western Civilisation Program Professor Robert Carver.
The Ramsay Centre for Western Civilisation was represented by CEO Professor Simon Haines and several Ramsay directors. Ramsay Board Chairman and former Australian Prime Minister, the Hon John Howard OM AC, presented each student with their scholarship award.
Through a partnership between The Ramsay Centre and ACU, the scholars are supported through scholarships worth more than $30,000 p.a. for five years. The students also receive funding to participate in an overseas study experience.
ACU Vice-Chancellor and President Professor Zlatko Skrbis said the event served as a celebration of the success of the Western Civilisation Program at ACU and a means of welcoming the new cohort of Ramsay Scholars.
"ACU Ramsay Scholars are unquestionably high-calibre students. They are bright and curious minds who display a commitment to the enrichment of society and the promotion of the common good," Professor Skrbis said.
"By embracing and strengthening their engagement with the ideas and culture of Western civilisation, we give them an appreciation of the influence that its art, architecture, science, technology, literature, language and laws have had on the world of today."
Ramsay Centre CEO Professor Simon Haines encouraged the new scholars to savour the intellectual challenges ahead.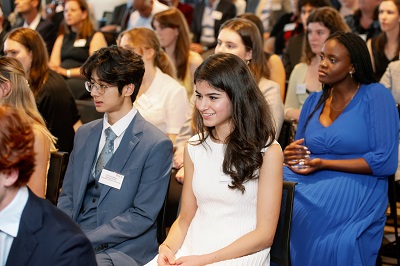 "In this degree you're going to learn how to read all over again. The books you will be reading will extend you and challenge you as few others can," Professor Haines said.
"They can make us feel that they are almost more real, more meaningful, than we are ourselves… and the conversation they are part of is itself a still larger reality-one that you too can be part of, even contribute to.
"If you can put together a kind of wisdom map of our civilisation after three or four years on this course then you really have something to sustain you and share with others all your life."
Director of ACU's Western Civilisation program Professor Robert Carver said the new scholars were taking the first steps on a life-changing journey through the past, present, and future of Western intellectual life.
"These new scholars are embarking on an exciting journey - to understand, critique and maintain the intellectual, cultural, social, legal, and political legacies that have been passed down to us over the last two and half thousand years," Professor Carver said.