Psychology student. Scholarship recipient. Student representative. Volunteer. Meet international student Qazi Jafrin Kabir.
Qazi Jafrin Kabir arrived in Australia determined to pursue a psychology degree. In her home country of Bangladesh, mental health was a highly stigmatised topic – but in Australia, it was a thriving career path.
"I think psychology is something that is very relevant in the current word and across all aspects of life," she says.
"In Australia, there's such a huge focus on mental health. With psychology, there are so many career prospects."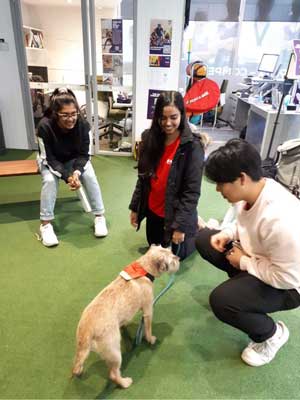 "Work experience is quite rare for an undergraduate degree in psychology, and that really motivated me to apply to ACU, because I really wanted to get that practical industry experience," says Qazi, who also received the ACU Mercy Scholarship for an essay she wrote on the sanctity of human life.
"And ACU also has smaller class sizes. I'd heard positive feedback about how this can lead you to communicate better with your lecturers and tutors and really build up that camaraderie with them, and that turned out to be true."
The degree more than lived up to Qazi's expectations. Over the last three years, she's thrown herself into a range of fascinating subjects, including abnormal psychology, critical thinking and research design. She's completed two professional experience placements in body image and weight stigma research, and in social psychology, and she's currently undertaking an organisational psychology internship with Psych Press.
But, while she's thriving in the classroom, that doesn't mean she's forgotten to get involved with life outside it. Qazi is actively involved with a range of clubs and societies, including as a professional development officer for St Patrick's Psychology Society and as the Vice President and Treasurer of the Melbourne Asian Cultural Students Society. She's also a student representative for the ACU Academic Board and the Batyr Mental Health Wellbeing Program, among others.
"I've also been heavily involved as a student volunteer, which really gave me the edge to network with a wider group of people, and with Campus Ministry, where I got to meet people from different faiths," she says.
"I have made so many amazing friends, met so many amazing people and got so much insight. Setting aside all the experience I gained and how good it looks on my resume, it has been personally a very, very rewarding experience as well."
A self-described introvert, Qazi knows all too well how intimidating it can be to put yourself out there as an international student in a new country. But she wants other students to know that the payoff is more than worth it.
"Once you build up that network, it makes it easier being an international student – you have a support network present here in the country," she says.
"It also just makes your time here more fun and engaging."
Now, approaching the end of her undergraduate degree, Qazi has big plans: postgraduate study, followed by a return to Bangladesh to start delivering mental health services to a country in need.
"People don't seek help because there are no places to seek help, so once I finish my postgrad, I want to go back there and contribute to society," she says.
To learn more about studying the Bachelor of Psychological Science at ACU, click here.