Stephanie Schofields, Bachelor of Arts/Bachelor of Laws, International Core Curriculum in Beijing, China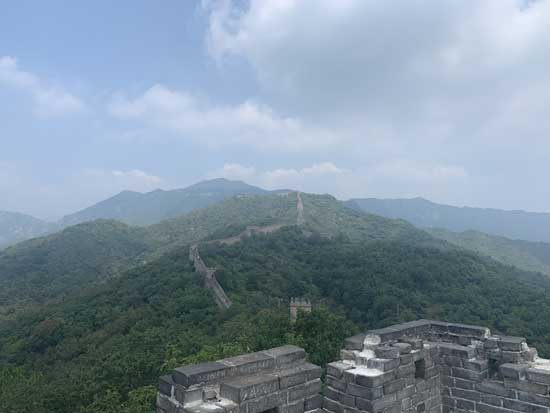 Back in 2019, I visited Beijing, China during the Winter Term for UNCC300. Aside from traveling to a foreign country where I didn't speak the language, I was nervous because I am very introverted and shy. I really dived into the deep end with this trip as I had never travelled alone, and I had only been out of Australia once before.
The fact that I was going to travel overseas to a foreign country for a few weeks didn't really hit me until I left. I remember sitting alone in Sydney Airport having the sudden realisation that this was happening. My nerves hit me all at once. I was left wondering whether I had made the right decision to do something that was completely out of my comfort zone. Despite how I was feeling, I managed to get onto the plane.

After arriving in Beijing, my nerves still hadn't settled. I managed to find the person I was supposed to meet, however, I still had to make it to the place we were staying. The person who greeted me put me into a taxi, telling the driver where to take me and then I was off. I had to blindly trust that the taxi driver would take me to the right location because I had no way of conversing with him and I did not have any clue where I was. That was a weird feeling. Finally, after a long and tiring journey, I had made it to the place where I would be staying.
From here, things started to look up. I was welcomed warmly by the teachers that had also travelled there and our host who helped me check in. Moments later, I was introduced to my roommate who had arrived before me. I started to feel more comfortable as I started to get to know her and settle in. Within a few days of arriving, all my nerves had virtually disappeared as I settled into a routine and got to know the other students more.
During my stay in China, our group was given the opportunity to visit various tourist sites in Beijing, Xi'an and Shanghai. It was interesting to learn about the history of these sites too and made me curious to learn more about Chinese history. My favourite location was the Great Wall of China. Being able to go and physically see, touch and walk on the wall was a surreal experience. Tobogganing back down through the mountain at the end was definitely a highlight.

Despite the initial challenges I faced, I am glad that I went out of my comfort zone to join this trip. It was one of the best experiences that I have ever had – I still look back fondly on the memories I made there.