For Kevin Santamaria Bustos, there's no such thing as a closed door.
Kevin Santamaria Bustos has always known three things: that he would study overseas, that he would pursue a career in marketing, and that his future lay in an English-speaking country.
So, when it came time to decide where he'd go to university, he had to choose carefully – which country would help him achieve all his goals in one? The answer was surprisingly easy: Australia was everything he was looking for.
"Australia allowed me to study and gain professional experience at the same time, which was one of the first – and probably the best – reasons why I chose to study here," says Kevin, who hails from Colombia.
His degree, with standout subjects like Marketing Toolkit and Strategic Management, gave him the fundamental skills to start building his marketing and leadership expertise. But, ever ambitious, Kevin also wanted to put his skills into action in the world outside the classroom – and he wasn't going to wait for opportunities to fall in his lap.
"I decided to knock on doors, trying to get opportunities, showing up and providing what I have to offer," he says.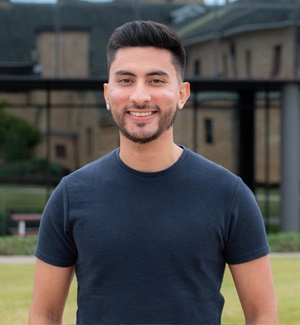 That can-do attitude quickly turned into a job as a shift supervisor with iPlay, a family entertainment centre with 20+ locations across Australia. Kevin loved the work and quickly developed a reputation for being a positive and reliable team player.
And he didn't want to stop there. After a couple of years in the role, he'd learnt everything he could, but he didn't want to leave. Instead, he emailed the company CEO and asked for the chance to prove himself as a member of the marketing team.
To his surprise, the CEO responded, inviting him to meet the team and spend a few hours each week getting a feel for what they did. Three months later, he was formally offered a job as a marketing coordinator.
"It's like a dream come true," he says.
"My role is about making sure that the campaigns we're running are completed successfully, which includes working closely with the regional and venue managers.
"I also support all iPlay teams to improve the social media pages engagement for all the stores we have nationwide and deal with customer complaints, customer reviews — everything that comes in that's related to marketing."
Now in his third year of his ACU degree, Kevin is balancing working* in the marketing industry with attending classes, completing his assignments, and developing as much marketing knowledge and job-ready skills as his degree can offer.
But, while the balancing act can be tricky, it's made easier by the fact that everything he's studying at ACU is preparing him for what's almost certain to be a truly remarkable career.
"Everything I'm learning in the classroom, I relate to my job," he says.
"It helps me to continue progressing my learning and turn my knowledge into practice."
If there's one lesson Kevin has taken away from his experience, is that success is a combination of hard work, good luck and seeking out opportunities that can help you meet your goals.
His advice to other international students? Chase down what you want – don't wait for it to come to you
"There is nothing that can stop you from doing what you really want in your life," he says.
"It all comes down to how much you want it and how that helps you to achieve it."
*International students are responsible for complying with the conditions outlined in their visa. For more information, please visit the Department of Home Affairs website