Author: Christina Sexton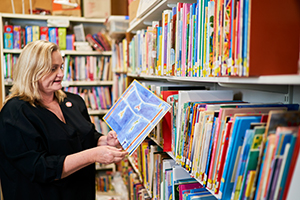 Nurse and midwife Bronwyn Sheehan began The Pyjama Foundation when she realised children in care need all the assistance they can get with books and the educational benefits of being read to aloud. It took just one newspaper ad for Bronwyn to begin growing an army of volunteers, who have now read over 2.5 million books to Australian children in care, sharing their love of learning with every story.
Caring for others is Bronwyn's life's work, which first began on a hospital ward in Brisbane. She came to ACU to formalise her skills with a Bachelor of Nursing post registration, after being trained on the job in the time before university degrees were required for nurses and midwives.
"Training at the hospital was obviously full on; very sink or swim because after just seven weeks of training you're thrown right in the deep end," she said. "But I'd wanted to be a nurse since I was a little girl and I've always loved helping people."
Seeing for herself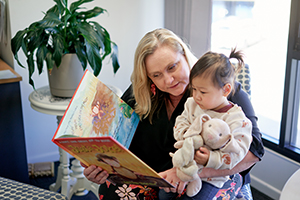 It was through her work as a nurse and midwife that Bronwyn first came into contact with children in care.
"I was working in the emergency department and we had 13-year-old kid come in who had run away from his foster home. He told me he'd been sleeping in a tree and just living on the streets. I couldn't believe this was happening in Brisbane.
"There were also two foster children actually living full-time inside the hospital. One of them was just two years old and had never lived anywhere else. He had his own bedroom and used to ride his little bike around the ward. All of the nurses just fell in love with him.
"Then, when one of my kids was in Year 4, she became friends with a little girl called Cate who was in foster care. I got to know her foster parent when my daughter asked Cate to her birthday – the first party she'd ever been invited to. This is typical and the kind of thing foster kids miss out on all the time.
"And her foster mum was incredible. She'd been raising foster kids for 35 years. She was a single parent herself and she didn't have a car. So, to get to the party, she and all of her foster kids caught three buses.
"What I remember the most is one day I was dropping Cate home and her foster mum had an 18-month-old baby in her arms. He'd just arrived with a Coles plastic bag of clothes to cover up the bruises on his little body and it broke my heart. I saw this really was happening in my own suburb. And these wonderful people we call foster parents are there picking up the pieces. It got me thinking about what I could do and what I wanted to change.
"I thought, if I read 1,000 books aloud to him, just like I had done with my own kids from the time they were newborns, and get him to love reading and learning, when it's time for him to go to school, he'll be equal to his peers. That was the start of The Pyjama Foundation."
Learning foundations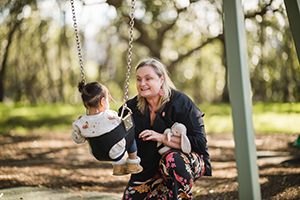 Armed with determination, Bronwyn started small to get her idea off the ground.
"It started with placing an ad in the local newspaper. My call out simply said volunteers needed to read books aloud to children – I got 50 responses and I had them all over to my house for training. I rang the journalist who'd organised the ad for me and she ended up putting it in three more newspapers. By the end of the first year, I had trained over 250 volunteers on my back deck."
Calling it the Love of Learning program, Bronwyn and The Pyjama Foundation screens, recruits and trains volunteers known as Pyjama Angels to visit and connect with a child in foster care every week.
"Originally my vision was to read 1,000 books to foster children before they got to school," Bronwyn said. "But we started getting referrals from the government's child safety department. They'd say to me, 'We've got a kid in Year 7, but he has a Year 2 reading level. Can you help?'. My response was always, 'Well of course we can'. So, I quickly had to change the foundation's age range to meet the demand for our service. Now, we do all ages. The youngest was three weeks old and we still support kids after they turn 18 if they want their Pyjama Angel to keep visiting them."
Since then, Bronwyn and the Pyjama Foundation have trained well over 8,000 volunteers and is currently mentoring 1,200 kids throughout Queensland, New South Wales and Victoria.
"We've impacted more than 10,000 young lives and we've read about 2.5 million books to foster children," she said. "The program is still literacy focused, but we now teach numeracy and life skills too."
The reality of foster care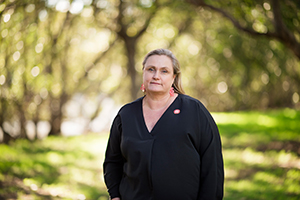 Bronwyn is adamant that very few Australians know or understand the realities of a foster child's life, and she explained how trauma underpins their lives.
"Most people think a child goes into a foster home and that's it, they live there happily ever after. It's a very stressed system and most of the kids have experienced significant trauma and have lots of complex needs," she said. "And it's not unusual for kids to be in sibling groups of six or more, and it's hard to allocate them all to one home. So, it might be two here, three there, and sometimes they get moved if their parents move. On average they're usually in three to four foster placements and they often change schools.
"Children's author Mem Fox said if you don't experience love in the first 12 months of your life, that plays out physically, psychologically, emotionally and socially. It's true. And if you've been traumatised like most of these kids, it's very hard for you to concentrate and it really impacts your brain development. Additionally, some of the kids have been badly affected by drugs and alcohol, neglect, or are left looking after their younger siblings when they're only four years old themselves.
"You can't expect a foster kid to be grateful and happy either. Even if they're now in a safe environment, their past is always there. Many find it hard to control their emotions and to trust people. And these kids 100 per cent feel the stigma of being different and standing out. Life for them is a real challenge and people who've experienced trauma will only recover and thrive through positive relationships – and the most powerful therapy is human love."
Taking charge
While The Pyjama Foundation is now a highly respected organisation, Bronwyn readily admits her success did not come without having to overcome significant challenges.
"It's so tough! We work across three states, and child protection policies are managed at the state level, so that means we're working with three different government departments which makes everything harder.
"However, what makes it easy for me is this is my life purpose – I have meaning in abundance. I get to grow, develop and improve myself every day. My learning curve has been exponential, and it does take an extraordinary amount of effort; it's the hardest thing you could ever do.
"We have to fundraise about 80 per cent of our income which is incredibly hard, and as the Executive Director I have to be across everything. Luckily, thanks to my nursing experience, I'm used to juggling lots of balls in the air.
"The truth is I'm just so proud of our whole program. The people who work and volunteer for us are really compassionate and dedicated. And this year we had 2,000 businesses register to take part in National Pyjama Day and wear pyjamas to work to raise money for us.
"I know my purpose – it's working to change the direction and lifepath of kids in foster care, which came from first seeing that 18-month-old baby covered in bruises. I thought about how I could significantly change his life. I wanted to gift him the love of learning, which is something that can guide him through his whole life. And my vision is to empower children with confidence. But you need to stick to this vision. You can't jump around and think 'hmm now I'm going to concentrate on kids and sport or music'. You need a 30-second elevator pitch on what you do and why. And that's it.
"Though, if I could do it all over, I think I'd pay more attention to program evaluation and concentrate on impact measurement and collecting data right from the start. We've handed out 50,000 pairs of pyjamas, read 2.5 million books, we've given out thousands of bikes, and I've been too busy to count the impact of all of this. Though I was lucky enough to complete a course at Harvard about program evaluation and measuring frameworks and change, which has been so helpful to running the foundation."
Recognition and rewards
Bronwyn's years of community service has been recognised over the years with high-profile awards and titles, including being made an Order of Australia, winning Queensland Australian of the Year and she was also a finalist for Australian of the Year.
"I went to Canberra for the event and I was standing on the stage outside of Parliament House, waiting to hear who'd won. At the time I was thinking, 'What the hell am I doing here?'. It was so surreal. Clearly, I had imposter syndrome. I thought they were going to work out I was not meant to be there and someone would pull me off the stage saying, 'Sorry we made a mistake.'
Bronwyn's latest recognition is ACU's Community Engagement Alumni Award.
"This was a real thrill – I don't take winning any award lightly. It's really heartfelt to be nominated, let alone win. I'm not doing anything in order to win an award. But it's a wonderful recognition. I couldn't have done any of this by myself. I have an army of staff and volunteers and I see it as recognition of a whole team effort."
Bronwyn has big plans for her future and is always thinking about what's next for The Pyjama Foundation.
"We want to increase numbers, as while we currently mentor 1,200 kids, there are 48,000 kids in care in Australia – when I started the organisation in 2004 there were just 21,000. We're just scratching the surface."
Bronwyn is the winner of the Community Engagement Award in ACU's Alumni Awards 2021.