Three outstanding ACU undergraduates are set to expand their horizons in 2022 when they take up study and internships at universities in the Indo-Pacific region under the New Colombo Plan (NCP).
Angelo Groza, Georgina Valjak and Zoe Paterson were named recipients of the highly prized New Colombo Plan (NCP) scholarship at an online ceremony hosted by the Department of Foreign Affairs and Trade on 29 November.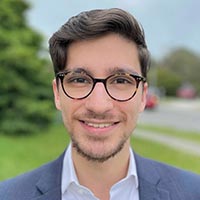 Bachelor of Laws/Bachelor of Global Studies student, Angelo, will travel to the Philippines to study Philippine foreign policy at Ateneo de Manila University. During his time in the country, he is also planning to complete an internship at the ASEAN University Network and One Asia Legal network, with the aim of fostering strong relationships with likeminded students and young professionals and building an understanding of Philippine policymakers' role in the region.
"As part of the global studies component of my degree, I have been learning about the international system, and how relations vary between different state and non-state actors. Studying in the Philippines will give me the opportunity to gain a practical understanding of what diplomacy and foreign policy looks like in the field, reinforcing the strong theoretical knowledge I have gained during my studies at ACU," Angelo said.
When asked what he was looking forward to most about travelling to the Philippines, Angelo said, "I'm actually really excited for the 'culture shock'. The Philippines is a country that is full of good food, a vibrant music culture, and generous people. I cannot wait to be immersed in it."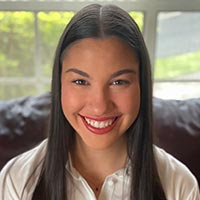 Fellow Bachelor of Laws/Bachelor of Global Studies student, Georgina, will travel to the Maldives as part of her program, undertaking full-time language training in Dhivehi (Maldivian language) before studying at the Maldives National University to broaden her understanding of the global context of law from the Indo-Pacific perspective. Georgina is also planning to complete an internship with Transparency Maldives, applying her research skills about human rights in an Indo-Pacific context.
"By learning Dhivehi, I will be able to enhance my ability to carry out cross-cultural communications and will strengthen my capacity to engage effectively throughout each component of my program," Georgina said.
"My program draws on my passion for law and the environment. I have plans to move into environmental law and policy management, so my internship will allow me to obtain real-life experiences and gain vital knowledge that I will be able to use throughout my career."
In addition to receiving the NCP scholarship, Georgina was also appointed the NCP Fellow for the Maldives and will play a strong leadership role in promoting the NCP while on her scholarship program.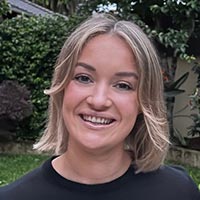 Zoe Paterson, a Bachelor of Public Health/Bachelor of Global Studies student will travel to Indonesia to study Public Health, Social and Political Science at Universitas Gadjah Mada (Yogyakarta). Zoe is also looking forward to learning Bahasa (Indonesian language) and she plans to intern at a range of organisations, such as The East Bali Poverty Project and the Australian Embassy in Jakarta.

Zoe said she is motivated to use the skills she has learnt through her studies to give back to the local community.
"I'm passionate about providing support and outreach to marginalised communities to improve health outcomes and create better sustainable futures," Zoe said.
The NCP Scholarship Program is an Australian Government initiative that provides opportunities for Australian undergraduate students to undertake semester-based study and internships or mentorships in participating Indo-Pacific locations.
ACU Pro Vice-Chancellor, Global and Education Pathways Chris Riley says, "The NCP scholarships provide our students with a unique opportunity to engage in a comprehensive learning abroad program in our region and develop life-long connections."
"Our scholars will undoubtedly come away from their experiences with a level of understanding of local issues, customs and challenges, that could not be achieved through participation in a shorter program. It is this insight and engagement that will give them an excellent platform from which to build ongoing personal and professional links with the region."
During the past two years, our students have not had the opportunity to study abroad or engage in international internships. We are excited that these new NCP Scholars will have access to re-engage with our Indo-Pacific neighbours in this way. For our NCP Scholars who were unable to travel in 2020-21, we are also working on plans for them to take up international studies and internships in 2022."
In addition to international learning experiences supported by the Australian Government through the NCP Scholarship, ACU launches an expanded range of study options at our own Rome campus next year.
"We remain committed to ensuring our students can engage with the world during their ACU degree in ways that enhance their learning. Furthermore, as our Vice-Chancellor stated in his inaugural lecture this year 'Global citizenship involves a set of skills, outlooks, and practices which allow individuals to confidently and competently move between the familiar and the unfamiliar and enable them to engage in issues of global concern'. Our NCP Scholars are well supported to embrace this vision."
For more information on the NCP Scholarship Program, please visit our ACU Study Overseas webpage and the New Colombo Plan webpage.