Ellyse Mujdrica, Bachelor of Nursing, International Core Curriculum in Beijing, China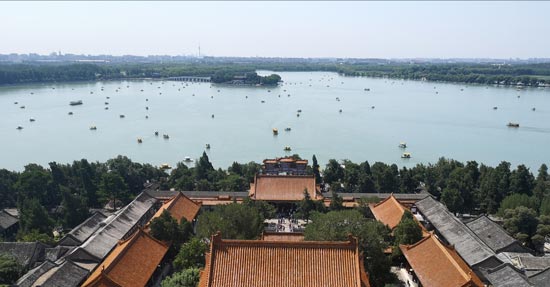 One of the major highlights of the UNCC300 Winter Unit in the People's Republic of China was our visit to the Summer Palace in Beijing.
Unlike other main attractions that we visited like the Great Wall, Terracotta Warriors and the Forbidden City, I was greatly unaware of what I might expect. I had assumed the Summer Palace would be much like the outlay of some of the temples we had seen so far, and while this was somewhat true with the style of its buildings, I was completely blown away with what I came to see.
We walked through the entrance and explored some beautiful buildings and the gardens that surrounded them. Manmade hills allowed for a truly surreal experience, travelling down to one side of the main entrance site to sheltered pathways adorned with ancient paintings on their ceilings that outlined the most beautiful pond I had ever seen. When we returned to the main site, which was truly huge and so much to explore, I thought we would exit through the other side and head home. I was so wrong. The buildings and outlay of the site were actually most cleverly hiding one of the most breathtaking sights I had ever seen. We curved through and arrived at a path that led to what was actually a man-made lake that was absolutely huge and ridiculously beautiful, I could not believe my eyes nor believe that was hiding behind all these buildings that whole time. This was still in Beijing as well!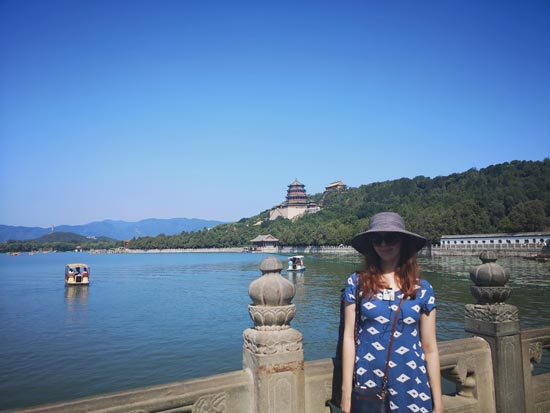 On a large hill in the distance we could see what the Buddhist temple was up above, and once we walked to its entrance, we were given the opportunity to climb through the buildings up the stairs to the top. The stairs were so steep and quite scary, but I amongst others powered through and the view at halfway and especially the top was just spectacular – I took videos rather than photos because I camera couldn't capture its panorama. Could not believe the enormity of the attraction, and even so could not believe what those entrance buildings were hiding.
China was just filled with moments like these where I was completely blown away. It's made me want to go back and explore more, though the idea sort of scares me without the ACU tour group – it made everything such a breeze and was the best way possible to be introduced to the magic of China. At least now I have an idea of what to expect – the unexpected!
P.S: The photo of the view was only from halfway up! Only took videos up top. So just imagine that x2..