Eleanor Gate, Bachelor of Nursing, Short-term program in North Carolina, U.S.A.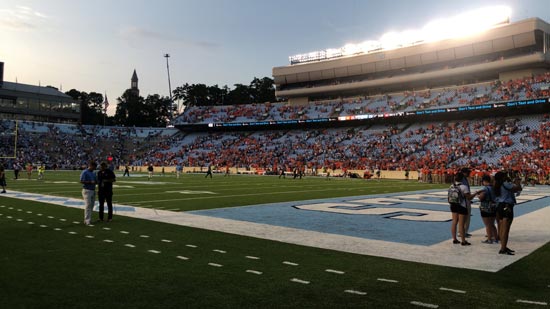 In September 2019, myself and 7 other nursing students from ACU campuses across Australia visited the University of North Carolina. We stayed in Raleigh, however, we frequented the main street of Chapel Hill and it's many cafes. Chapel Hill itself is a beautiful town, mostly dominated by the college campus but teeming with life and energy, as well as looking like it was taken straight from a fairy-tale. Your time here could be spent walking through lush green parks, watching presentations at their planetarium and wandering the expansive campus with its beautiful architecture.
Of all the different places to be and things to try, the most notable in my mind would have to be the Carolina Coffee Shop – a gorgeous café that prides itself on being North Carolina's oldest coffee shop, having been established for nearly a century and still in operation. Being the University's biggest football game that day, the café was packed with students and families dressed up in their team's colours, however that didn't stop our servers from displaying their famed Southern hospitality.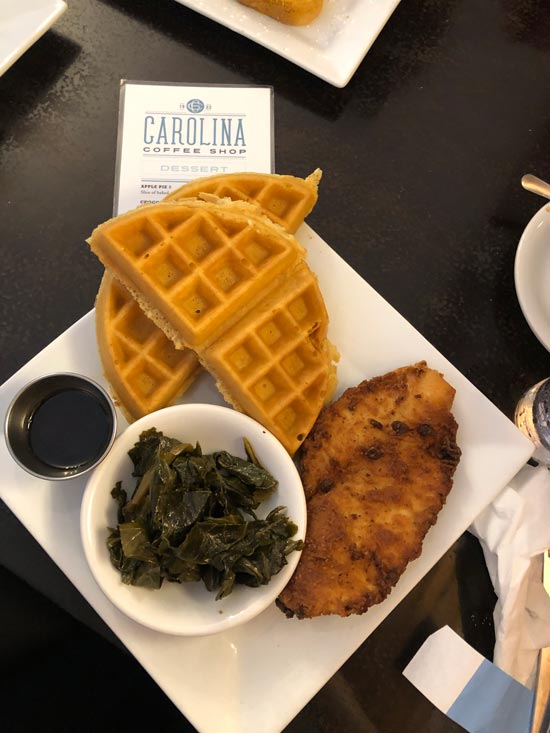 During my stay, I really wanted to try something distinctly American, and that's when I decided on the chicken and waffles. It's not a combination that you see often in Australia, however it is a Southern staple in the United States of America. As you can see in the picture attached, the meal included a delicious fried chicken filet served with thick golden waffles, collard greens and a maple bourbon syrup. For $13, you got a pretty substantial, delicious meal that perfectly mixed sweet and savoury together. I honestly hope I never get my hands on this recipe, because I fear I may never eat anything else again.
Image 1: UNC Football Stadium after their game
Image 2: Chicken & Waffles, Carolina Coffee Shop