Jack Comte, Bachelor of Youth Work, International Core Curriculum in New York, U.S.A.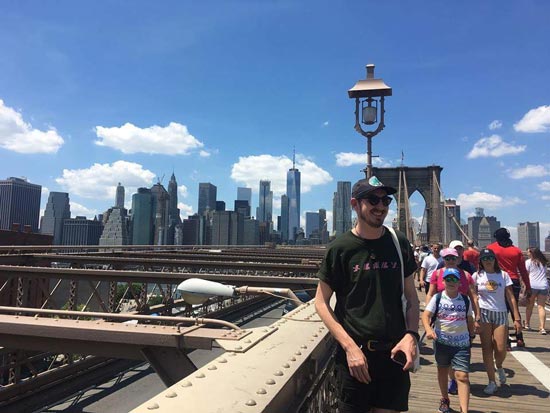 Going into the International Core Curriculum New York exchange program I didn't know what expect, both from travelling and studying overseas but also from the subject itself. Coming home I can say that my time was certainly not wasted. Studying UNCC300 intensively was just that, an intense experience that forced me out of my comfort zone, but with such a supportive classroom environment the discussions that we had definitely helped shape my view of not only how my professional practices can be more ethical, but also changed my view of studying for the better. Being exposed to different ideas and different ways of teaching from professors at St John's University made me realise the quality of the experience at ACU both locally and internationally. And with experiences like studying in New York, you can really see that ACU is about giving students a quality, well-rounded education, exposing students to new ideas and interesting ways of thinking.
I spent a bit of time before classes started exploring New York City on my own, going to tourist sites, finding great food, and discovering interesting places and people that opened up my preconceptions and discovered why NYC is so romanticised. Once class started, I got to juxtapose these experiences with community engagement where I learnt about all of the empowering and important social justice that has emerged out of such a diverse cultural landscape. This for me was the best part of doing the International Core Curriculum. Being allowed to see all the great work that people are doing to support each other in a sometimes-difficult world, and to get to contribute to a small part of it was really exciting.
But it's not all study and community engagement. There was plenty of time to explore the hidden gems of New York both individually and with classmates, a fantastic group of likeminded people, who contributed to my trip in such a positive way. Highlights for me included hanging out with a freestyle rap group in Washington Square park, watching the 4th of July fireworks from a rooftop party in the Lower East side, eating delicious New York pizza from Joe's in Williamsburg, and having picnics in Central Park. The arts and culture in such a buzzing city could not go ignored or unmentioned. From the huge number of galleries to the murals in Bushwick, there is colour and beauty to be found if you're looking for it.
I cannot recommend taking the opportunity to take part in the International Core Curriculum highly enough. With a supportive classroom environment that is both challenging and engaging, put into context against the vibrant backdrop of New York City, it's an experience not to be missed. New York, it's a hell of a town.