Rower Rowena Meredith could by now be sporting a paramedic's uniform had she not been so focused on earning a green and gold Australian Olympic team tracksuit.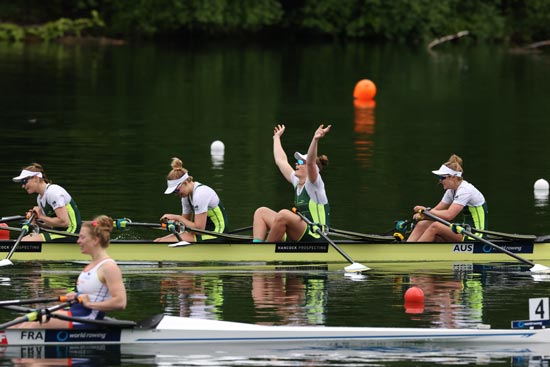 A dream materialised for Australian Catholic University student Meredith when she and teammates Caitlin Cronin, Harriet Hudson and Ria Thompson qualified Australia's women's quadruple scull for the Tokyo games at the so-called "regatta of death" in Lucerne, Switzerland, on May 16.
The quartet will be among nine boats representing Australia at the Olympics in July.
Meredith's future could have been aimed in a different direction had the Mosman product redirected all her energy into her Bachelor of Paramedicine studies.
Instead of planning for Tokyo, there is little doubt the England-born rower would by now have completed her course and be on the road working as a paramedic.
"It has been a bumpy road but I wouldn't change a thing," the 26-year-old said.
"Financially it's a sacrifice and without a doubt I'd be working by now. There're times I go into classes and the tutors are people I started out studying with.
"I know there's plenty of time for that after my sporting career."
Meredith's experience is typical of the social and financial impact of COVID-19, and the many sacrifices demanded in elite sport, on Australian athletes.
A recent Australian Sports Foundation survey found 61 per cent of athletes reported financial losses, with many losing sponsorship deals because of the global health pandemic.
Meredith considers herself fortunate to have the backing of ACU's Elite Athlete and Performer Program (EAPP) which supports its members in pursuit of active and academic lives.
Speaking from a Sydney hotel room during her recent quarantine stretch after returning from Switzerland, she said balancing study, training and competition was a rewarding mix.
"To have something outside rowing is like a breath of fresh air," she said.
"There's some difficult conversations about placements and assessment but it's worth it in the end."
The quadruple scull's qualification for Tokyo has been a two-year slog.
They finished 10th at the 2019 world championships in Austria where the crew missed qualification by two places.
It took victory at the final Olympic qualifying regatta in Lucerne to book their ticket. The crew, coached by Andrew Randell, led their final from start to finish to cross the line in a time of six minutes 29.93 seconds.
"They call it the regatta of death. It's the most intense racing you'll ever see," Meredith said.
Australia's rowers will finalise their Olympic preparation at a training camp in Rockhampton, central Queensland, chosen to help the athletes experience similar heat and humidity to what they will face in Japan.
Photo credit: World Rowing.