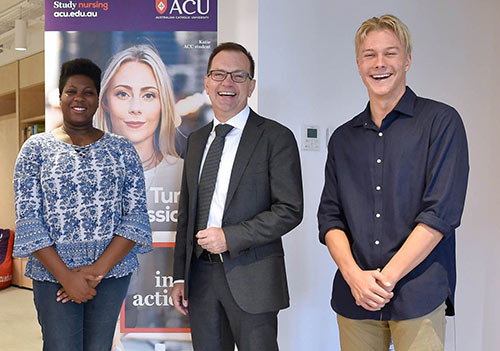 Hundreds of students arrived at ACU's new Blacktown campus on Tuesday 23 February for Orientation activities.
Up to 700 undergraduate students will be enrolled this year to study at ACU Blacktown's temporary vertical campus in Main Street Blacktown.
Vice-Chancellor and President Professor Zlatko Skrbis and Blacktown City Mayor Tony Bleasdale OAM met newly enrolled students and welcomed them to the campus.
Professor Skrbis said; "This is a very exciting day for our university and for education in Western Sydney. ACU Blacktown is situated in a region of exciting growth and development.
"I'm delighted because so much planning, preparation and work has gone into setting up this campus. We've been really blessed with the collaboration and partnership that we have with Blacktown City Council.
"But this is about students and I'm delighted to see such a large and diverse cohort of students here today. I can see their excitement, I can see that they feel that they have arrived at the right place, we are so excited to have them here." Professor Skrbis said.
Blacktown City Mayor Tony Bleasdale said; "This day has been more than two decades in the planning.
"Up to 18 thousand students travel out of Blacktown City to study at university. But now students have the opportunity to study at one of Australia's leading universities right here in Blacktown.
"It's a game changer absolutely in terms of education for our city. No great city can grow without fantastic education opportunities and certainly ACU is now providing another level of education right here in Blacktown city centre.
"Blacktown City Council has been instrumental in welcoming ACU and we're delighted that hundreds of our students can now look forward to getting a quality education without having to commute for hours across Sydney."
Faith Edeko has enrolled in a nursing degree in the Health Sciences faculty.
"As a Blacktown local, I really love how everything is interconnected. There's shopping centres, there's the Max Webber Library nearby so I can do research and everything including the train station is easily accessible."
Champion swimmer, Oskar Stamiucha is studying high-performance sport.
"Swimming is my life at present and I eventually want a career in high-performance coaching. I'm also excited to see the plans for Council's International Centre of Training Excellence.
"I'm thrilled to be able to study in Western Sydney because I'm from Western Sydney and this campus is close by and convenient. I think it's just really good for the community."
ACU Blacktown is offering degree courses in Education, Health Sciences, Humanities, Law and Business, as well as Foundation Studies which is a pathway to a bachelor degree.
The campus is named in honour of St Josephine Bakhita, patron saint of Sudan and of victims of slavery. Blacktown City is home to one of Australia's largest Sudanese communities.
The official opening and blessing of ACU's Saint Josephine Bakhita Campus, Blacktown will be held on 12 March.