Congratulations to our three ACU ambassadors – Pooja Biradar, Sarina Manandhar and Anxiu Lio who will no doubt do an outstanding job and make ACU proud as they serve as ambassadors.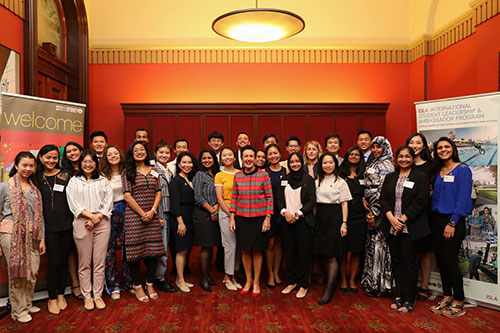 Mayor of Sydney, Clover Moore with 2018-2020 International Student Leadership ambassadors.
Photo credits: Katherine Griffiths, City of Sydney.
The Sydney City's award-winning international student leadership and ambassador program aims to increase the positive experience of all international students and build Sydney's reputation as a preferred destination to study.
The 2018–20 ambassadors helped organise and lead a range of projects over 18 months, including:
cultural tours for newly-arrived international students
international student networking events
employment and career panels to provide advice and support for international students to find work
youth leadership conferences for both local and international student leaders
a youth music competition and concert to bring together local and visiting young people.
The Induction Ceremony for members of the 2018-2020 International Student Leadership and Ambassador Program was hosted by the Lord Mayor of Sydney, Clover Moore.