ACU has been ranked 101–200 in the Times Higher Education (THE) Impact Rankings. The first edition includes more than 450 universities from 76 countries, including 16 universities from Australia.
THE Impact Rankings capture universities' impact on society, based on their success in delivering the United Nations' Sustainable Development Goals (SDGs).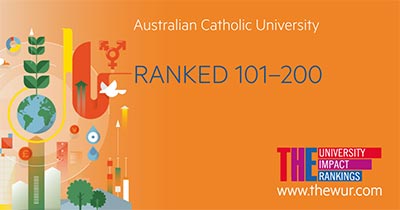 ACU demonstrated excellence in the following SDGs:
SDG 3 – Good Health and Wellbeing: 25 globally
SDG 4 – Quality Education: 40 globally
SDG 5 – Gender Equality: equal 55 globally
Data on 11 of the 17 United Nation SDGs were included in these new rankings, with the overall ranking of universities based on "Global Partnerships" (SDG 17, the only mandatory goal) plus the best three SDGs per universities.