Modes of Knowing Rome seminar in July
Research
06 August 2018
Share
On 26-28 July 2018, scholars from ACU and around the world met at ACU's Rome campus for a research seminar titled 'Modes of Knowing and the Ordering of Knowledge in Early Christianity, Part II.'
The Modes of Knowing project aims to study 'modes of knowing' constructed by Greek, Latin and Syriac Christians 100-700 CE in relation to contemporary theological, philosophical, medical and rhetorical discourses, social practices (asceticism, pilgrimage, liturgies), imperial and institutional power structures, and the material world of early Christianity (relics, sacred texts).
This second meeting in a series of five annual seminars, consisted of discussions of a dozen papers treating the project theme for the period from the early fourth through the mid-fifth century.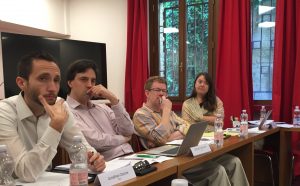 Attendees to July's seminar came from such places as the University of Notre Dame (USA), the University of Glasgow, University of Oxford, St. Louis University, KU Leuven, and Humboldt-Universität Berlin. Papers covered topics such as the role of creeds in the development of early Christian doctrine, Christian interaction with pagan educational and poetic traditions, pagan and Christian reactions to the practice of divination, theories of language among late antique Christians, and the dissemination of knowledge through episcopal letters, homilies, and hymns.
The ACU research team managing the project is currently planning the subsequent seminar in the series, which will be held in May 2019. This seminar will focus on the project theme for the period from the mid-fifth through the seventh century.
See further information about the Modes of Knowing project here
See further information about other seminars in the IRCI Rome seminar series here.