Athletes rewarded for off-field achievements
Media Release
22 September 2017
Share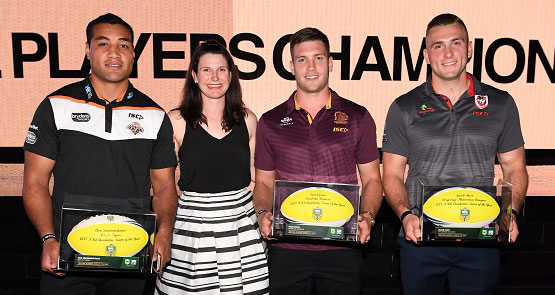 Image courtesy of National Rugby League Limited
Four ACU student-athletes have been rewarded for their off-field commitment to their studies, by being selected in the National Rugby League (NRL) Academic Team of the Year.
---
ACU alumni, James Tedesco, also took out one of the most coveted awards, the Rugby League Players' Association Player of the Year, whilst current student Adam Blair took out the Pasifika Leadership & Excellence Award for his work with the NRL Pacific Islander community.
Student-athletes Jacob Host (Illawarra Dragons), Tom Opacic (Brisbane Broncos), Ava Seumanufagai (Wests Tigers) and Luke Keary (Roosters) were named in the representative squad for their contribution to academic pursuits and on field performance. It was a white wash of success for these students and a credit to the development of the Elite Athlete and Performer Program (EAPP) at ACU.
ACU would like to congratulate these outstanding student athletes for their contribution to the university, wider community and success in their sporting endeavours. It was a very proud night for Ceran Nilsen, ACU's EAPP Officer, who went along to support these athletes, "Each one of these students has shown character and overcome unique challenges throughout their time at ACU" she said.
Working with these students one on one, Ceran went on to praise their efforts by explaining how "it's a credit to see these student athletes excel whilst they manage their time, balancing the demands of their football commitments and university studies. All the while, these students remain focussed on the bigger picture slowly chipping away at their degrees".
St George-Illawarra prop Jacob Host spoke of his time at ACU and selection in the NRL Academic Team of the Year...
"I'm doing a Bachelor of Exercise Sports Science at Australian Catholic University and I'm really enjoying it at the moment". Host went on to add "It's pretty surreal and I didn't really think that I would be in consideration, but I got nominated by the guys at the Dragons and I'm very privileged and honoured to be selected in the NRL Academic Team of the Year."
With the NRL's strong focus on Education, now 22% of all NRL and National Youth Competition (NYC) players have, or are currently completing, a university degree. Senior NRL Wellbeing and Education Manager Paul Heptonstall said "It's players like all those in the 2017 NRL and NYC Academic Teams that will help ensure the NRL, Clubs and Rugby League Players' Association (RLPA) continue to prioritise the importance of engaging in education at all levels of our game".
These student are supported by ACU through the EAPP which helps balance the demands of being an athlete or performer with academic pursuits, to excel at both university and their chosen sporting or performing field. ACU boasts over 400 student athletes and performers across more than 70 disciplines. Members of the EAPP have access to academic support, early timetabling and financial support, among other sporting or performing arts related opportunities.
For more information about the program contact ACU's EAPP team at elite.athleteprogam@acu.edu.au
Full Details:
Selected in NRL Academic Team of the Year
Jacob Host - Illawarra Dragons studying a Bachelor of Exercise and Sports Science at Strathfield
Tom Opacic - Brisbane Broncos studying a Bachelor of Exercise Science/ Bachelor of Teaching in Brisbane
Ava Seumanufagai – Wests Tigers Studying a Bachelor of Arts (Psychology) at North Sydney
Luke Keary - Sydney Roosters studying a Bachelor of Business Administration and North Sydney. (not in photo)
Other Awards
ACU Alumni James Tedesco from Wests Tigers (changing to Roosters) took out the RLPA Player of the Year also.
Brisbane Bachelor of Social Sciences student Adam Blair (Brisbane Broncos) took out the Award for Pasifika Leadership & Excellence.