EAPP – the secret to success on-field and in class
Media Release
21 March 2017
Share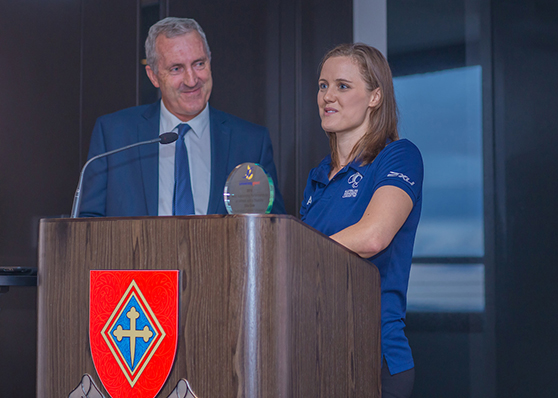 Paul McJannett asks Ellie Cole to give new students tips on managing study and swimming.
Supporting athletes and performers in balancing the demands of studying and competing can make the difference between whether they continue their education or not.
---
More than 150 of Australia's finest athletes and performers are enrolled at Australian Catholic University (ACU) in 2017 as part of the Elite Athlete and Performer Program (EAPP). The program, launched in Sydney on Thursday 16 March, helps balance the demands of being an athlete or performer with academic pursuits to excel both on and off the field.
Last year the University supported 360 student athletes and performers across more than 70 disciplines. Upon successful application into the EAPP, these students will have access to academic support, early timetabling and financial support, among other sporting or performing arts related opportunities.
Director Student Engagement and Services Paul McJannett said the University was immensely proud of its high-performing students. ACU was committed to supporting those juggling academic and performing commitments, including financial assistance in many cases.
"Last year we awarded more than 100 students financial scholarships and travel subsidies, which provided greater depth and value to the academic and pastoral support we offer.
"This is particularly valuable for those students whose National Sporting Organisations NSO's stop funding subsidies when the student turns 18 – ACU's help can make the difference between continuing studies or not," Mr McJannett said.
The most high-profile example is the four ACU students who attended the Olympics and Paralympics in Rio in 2016: Ellie Cole (swimming), Mack Horton (swimming), Emma Tonegato (Rugby 7s) and Anabelle Smith (diving). Each won at least one medal, with Cole bringing home six.
Attending the launch in Sydney were new and returning students, sporting partners, coaches, club executives, academic staff, and supporters.
Among their ranks were athletes who have represented their country at national competitions (including Olympic and Paralympic Games), as well as those who are starting out in their careers and have demonstrated significant success in the sporting arena or artistic performing arts. ACU could field two teams of rugby league players, complete with reserves, from the ranks of those who have studied at the University.
Deputy Vice-Chancellor (Students Learning and Teaching) Professor Anne Cummins presented certificates to each participant in the program, and presented triple Paralympian Ellie Cole with the Australian University of Sport award for the "Most Outstanding Performance of the year by an Athlete with a Disability" for her outstanding achievement at the Rio Paralympic Games.
Cole's advice to incoming EAPP students is to put as much work into their studies as they do to their sport, become known to lecturers, and hand in assignments on time. Studying a Bachelor of Exercise and Sports Science, she has learned this the hard way.
"When I first moved into University I assumed that the lecturers were going to do all the work for me. and I failed three out of four subjects in my first semester, then realised that if I wanted to get somewhere academically in life I would have to put the same effort in. You have to start building that relationship with them at the start of the semester is really important."
Among ACU's elite athletes are Australian Olympic high jumper Brandon Starc, AFL player Tom Mitchell, WNBL player Lara McSpadden, Melbourne Vixen captain Kate Moloney, NRL footballer Adam Blair, AFL St Kilda captain Jarryn Geary, and AFLW players Nat Exon, Tahni Nestor, and Jasmine Grierson. Sports represented are as diverse as fencing, cross-country skiing, dragon-boat racing and rugby 7s, while performing arts extend to Irish Dancing and opera singing.
Launch events to celebrate our Elite Athletes and Performers will be held in Melbourne on Tuesday and Brisbane on Thursday this week.