How the future of global religion is shifting focus
Media Release
31 July 2017
Share
Religious identity around the world is in a state of flux and major changes are expected. Visiting demographer Conrad Hackett will examine Pew Center's most recent projections.
---
Pew Center demographer Dr Conrad Hackett is visiting Australia as a guest of Australian Catholic University (ACU) to present two public forums on global trends in religious identity on Monday 7 August in Sydney and Thursday 10 August in Melbourne.
Recent Census data shows that religious affiliations of Australians are changing rapidly. Religious identity around the world is also in a state of flux and major changes are expected over the coming decades.
Many people have speculated about the future of religion in the 21st century. Pew Research Center has undertaken the first formal demographic projections exploring the future of religion using data on age, fertility, mortality, migration and religious switching for major religious groups around the world.
The results may surprise you.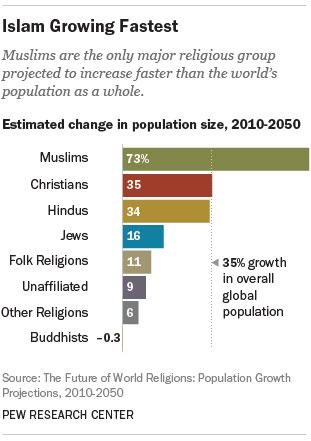 Dr Hackett's public lecture 'World Religions – Who's up, Who's down?' in Sydney, co-hosted with the Sydney Institute, will include a response from Associate Professor Ruth Powell, Director, National Church Life Survey Research. In Melbourne, Australian demographer Bernard Salt, who heads The Demographics Group, will respond to Dr Hackett's lecture on 'The Global Future of Religion and Nonreligion'.
Dr Hackett is also the keynote speaker at ACU's Parliamentary Interfaith Breakfast, at the National Press Club in Canberra on 9 August.
Biography
Conrad Hackett is Associate Director of Research and Senior Demographer at Pew Research Center in Washington DC. His expertise is in international religious demography, sociology of religion, and how religion relates to characteristics including gender, fertility and education. Dr Hackett received his doctorate from Princeton University's Department of Sociology and Office of Population Research and was a Postdoctoral Research Fellow in the University of Texas at Austin's Population Research Center. He also earned two graduate degrees from Princeton Theological Seminary.
He is one of the lead authors of The Future of World Religions: Population Growth Projections, 2010-2050, Religion and Education around the World, The Global Religious Landscape, The Gender Gap in Religion Around the World, Global Christianity, The Global Catholic Population and various other studies of religious demography.
EVENT DETAILS
SYDNEY
What: 'World Religions – Who's up, Who's down?' public lecture
When: Monday 7 August 2017, 5.30pm for a 6pm start
Where: The Sydney Institute, Level 40, Governor Phillip Tower, 1 Farrer Place, Sydney
MELBOURNE
What: 'The Global Future of Religion and Nonreligion' public lecture
When: Thursday 7 August 2017, 5.30pm for a 6pm start
Where: Mercy Lecture Theatre ACU Melbourne Campus 115 Victoria Parade, Fitzroy
Enquiries and registration: pmg@acu.edu.au or (02) 9739 2184