On 20 November 2017 at ACU North Sydney, the PM Glynn Institute held the first conversation in "the Rules of Engagement Series: from culture war to reasonable disagreement" on the topic of euthanasia.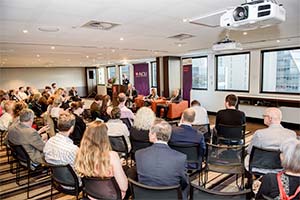 Leading bioethicist and opponent of euthanasia, Professor Margaret Somerville was joined by the Honourable Trevor Khan MLC, who in September 2017 introduced the Voluntary Assisted Dying Bill as a Private Member's bill into the NSW Parliament.
"I think it is fair to say that none of us are very happy with the way in which we conduct many public debates about important issues at the moment", Dr Michael Casey, Director of the PM Glynn Institute, said in introducing the discussion.
"There's a lot of shouting; sometimes there's a sense of people feeling silenced or intimidated", he said. "It makes public life a place where people aren't too keen to go. That makes disagreement a place where people don't want to go and it leads to increasing disengagement at a number of levels".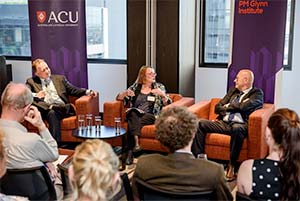 Dr Casey also noted that while disagreement is a normal part of life, it is important to reflect on the mode in which people disagree. Do we disagree as enemies or should we disagree as friends? Can we acknowledge that something important can be learned from people with whom we disagree?
The conversation between Professor Somerville and Mr Kahn was moderated by Professor Hayden Ramsay, Pro Vice-Chancellor assisting the Vice-Chancellor and President at ACU.
"It has been a very tense and hard six months in Australia", Professor Ramsay observed. "Disagreement, over marriage in particular, has descended at its worst, into vitriol over charity and slogans over reason".
"The opposing armies approach hasn't served us well", Professor Ramsay said. "It is time to try to put some things back together. We may disagree but . . . we can do so civilly."
Professor Ramsay also noted that disagreement should mark the start of the conversation and that through discussing a topic, people may hope to learn something and, perhaps even agree, and realise the importance of differing perspectives.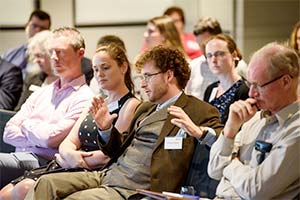 The two panellists shared their thoughts on the topic of legalising euthanasia in Australia very frankly and openly.
Mr Khan spoke candidly about the prolonged and harrowing death of his father, and how despite having access to good care, his father's death was not a good one. He acknowledged that this is not everyone's experience, but that it was his and that sometimes in the euthanasia debate and in the discussion of access to good palliative care that there is a wide gap between the myth and the reality of people's experiences. He therefore felt that it would be pertinent to legalise voluntary assisted dying to ensure that the suffering of the dying was limited.
Professor Somerville agreed with Mr Khan that the ultimate goal was to prevent suffering. However, she strongly disagreed with Mr Khan's suggestion on how this suffering should be relieved.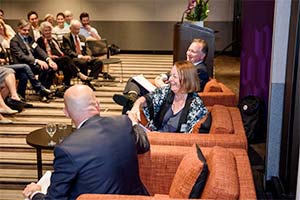 "What you are suggesting is that instead of caring for people and reducing their suffering . . . you're suggesting killing people instead of caring for them", Professor Somerville said. "We have got to kill the pain and suffering, not the person with the pain and suffering".
The panellists also discussed how the use of emotive language can influence people's thoughts on euthanasia – assisted killing versus assisted dying, the notion of why some lives are considered worthwhile, while others are not and how a person's autonomy gave them the right to decide upon their future.
The discussion was robust, respectful and friendly, and while the two guests did not fundamentally agree with each other on the topic, they were able to cheerfully shake hands at the end of the evening, in the spirit of the series.
The event was attended by some 50 people. The "Rules of Engagement" series will continue in 2018.