Geoff Page wins ACU Poetry Prize
Media Release
31 August 2017
Share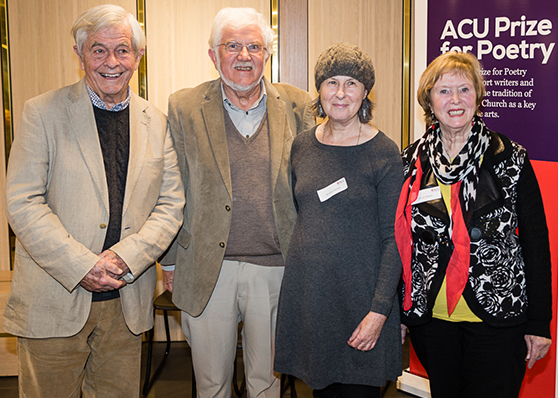 From left: Chris Wallace-Crabbe, Geoff Page, Lesley Lebkowicz, and Judy Keighran.
The celebrated poet headed a strong field of entrants whose poems addressed the theme of Joy.
---
Canberra-based poet Geoff Page has won the 2017 ACU Poetry Prize for his piece Charles S. Ryan to Alice E. Sumner.
The winner of the $10,000 first prize was announced on Thursday 31 August at Australian Catholic University's Melbourne Campus.
Page's poem was selected ahead of Lichen: 13 points by fellow Canberran Lesley Lebkowicz ($5,000 second prize) and On Botox, bibles and baguettes by Melbourne's Judy Keighran ($3,000 third prize).
A celebrated poet and author, Page has published 21 collections of poetry and five verse novels. His abiding themes have been the First World War, Aboriginal dispossession on the Australian frontier, and farming and country-town life in the region where he grew up along the Clarence River near Grafton in Northern New South Wales.
Professor Chris Wallace-Crabbe AM, competition judge, distinguished poet and academic, singled out Page's winning poem, which recreates a marriage proposal between two historical Australian families, for its gravitas and historical sensibility.
"This is artistic tact and intimations at a very fine level," he said.
"The poems submitted for the ACU Prize this year remind us just how alive this art is in Australia at present and remains highly important."
The quality of entries was so high that a special $500 highly-commended prize was awarded to Alastair Spate and Jenny Pollak from Sydney, and Susan Fealy of Melbourne.
ACU's annual Prize for Poetry is sponsored by the Office of the Vice-President led by Fr Anthony Casamento csma, and continues the tradition of the Catholic Church as a key patron of the arts.
"The Arts are integral to expression," said Fr Casamento. "Early Christians, in particular, used symbols, iconography, music and creative language as a way of understanding and identifying their faith."
"The process of artistic creation points to the transformative life that offers joy and hope. In the annual ACU Prize for Poetry, we also enjoy and appreciate the God-given talent of others."
More than 330 poems were entered addressing this year's theme of Joy and the winner was chosen from a shortlist of 33. These works will be published in the 2017 ACU Prize for Poetry chapbook which is available for purchase by emailing aculiteratureprize@acu.edu.au
Read the poems
Charles S. Ryan to Alice E. Sumner
On Botox, bibles and baguettes