Download ACU's 2021 interfaith publication, Reflections on Hope and Resilience (PDF, 4.5MB)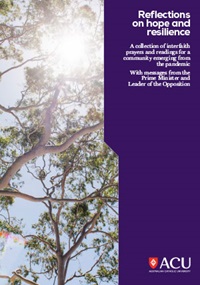 2021 Interfaith Publication: Reflections on Hope and Resilience
Due to the COVID-19 pandemic, the Parliamentary Interfaith Breakfast was unable to be held in 2020 and 2021.
To continue its commitment to bringing together our respective faiths, ACU compiled a publication titled Reflections on Hope and Resilience, featuring short prayers, readings and reflections from faith leaders across Australia.
The purpose of the publication – and its collected readings – is to highlight the spirit, resilience and hope that each community of faith has offered its members and the broader Australian community throughout a time of hardship and despair for many.
Prime Minister Scott Morrison and Opposition Leader Anthony Albanese united to provide forewords to the publication.
ACU's Vice-Chancellor and President Professor Zlatko Skrbis said the collection of prayers and readings was designed to fill the vacuum and maintain the sense of connection between faith communities even as they were unable to gather in person.
"I hope this interfaith publication, with its rich and moving words, brings all Australians joy and a sense of connection at a time when so many of us have had to be disconnected from one another," Professor Skrbis said.
"During the darkest moments of the pandemic, our faith communities rallied together to provide support to Australia's most disadvantaged, and to each other, in ways that provided hope and encouraged resilience in the face of the challenges."
Click here for an electronic copy of the publication or request hard copies by emailing interfaith@acu.edu.au.