The Queensland Bioethics Centre was established in 1981 by Archbishop Francis Rush, DD, and directed by Sr Regis Mary Dunne, rsm. "The aim of the Centre was to focus the scientific knowledge, faith, understanding and life experience of the ordinary person." The centre was located in a property provided by the Sisters of Mercy within the Mater Misericordiae Public Hospital campus.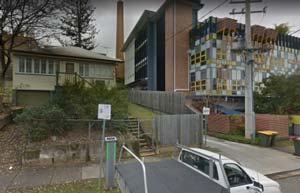 The centre undertook research into the human, moral and religious implications of the scientific advances of the times. It provided resources addressing bioethical problems and moral issues of the time, both theological and scientific in nature. Topics within these resources include current professional, medical, ethical, moral and social dilemmas, supporting spiritual maturity. The resources were suited to three levels of understanding and knowledge: science for theologians, philosophy for the scientist, and uneasily understood for the non-professionals.
The Centre's library provided a comprehensive filing system containing recent articles, journals, texts, books and tapes. A number of Church documents, encyclicals and Papal teachings were also available at the centre.
The Centre addressed issues relating to modern technology, specifically medical technology, which would influence many aspects of a person's life, including their religious, psychological, biological, philosophical and academic perspectives. Parents, school students, tertiary students in medicine, nursing, social work, theology and ethics, as well as politicians, lawyers, teachers, doctors, ministers of various religions and journalists made use of the information service.
Education was an essential component of the work completed by the Centre. Sr Regis Mary provided workshops on diverse topics and issues throughout Queensland, from Cairns to Brisbane. She also held workshops in New Zealand, at the invitation of the New Zealand Sisters of Mercy.
There were two permanent staff, the Director, Sr Regis Mary Dunne RSM AO and administrative assistant and secretary, Mrs Linda Reardon. Mrs Reardon co-ordinated and managed the centre.
Sr Regis Mary
Sr Regis Mary began her career as a microbiologist and cytogeneticist. She was one of the pioneers of cytogenetics within a laboratory environment. Throughout her career, Sr Regis Mary gained vast experience as an ethicist and geneticist. She retired after fourteen years of distinguished service and scholarship in 1995. In memory of Sr Regis Mary Dunne rsm.
Dr Elizabeth Hepburn
Dr Elizabeth Hepburn IBVM took on the role as director of the Centre in 1995. She held qualifications in education and theology. Dr Hepburn had a background in psychology and pharmacology. Her professional interest focused on the ethics of the pharmaceutical industry and biomedical research. Dr Hepburn saw bioethics as a multidisciplinary enterprise. Dr Hepburn retired for medical reasons.
Dr Ray Campbell
Dr Ray Campbell, formerly a university lecturer in Sydney, stepped in as the third Director in 2000 after Dr Hepburn retired. He was "a leading advisor for the Church in Queensland on various ethical issues including human embryo stem-cell debates, human cloning, abortion, euthanasia and more recently the pastoral care of transgender students. " Dr Campbell retired in December 2016 after sixteen years as Director of the Queensland Bioethics Centre.
Each Director has made their own mark on the centre and its activities.