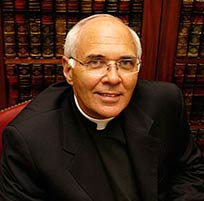 On 17 May 2021 (10-11:30am AEST) the ACU Centre for Liturgy had the honour to host Msgr Kevin Irwin as he gave this important and topical online lecture.
In the face of restrictions on gathering for public worship, parishes have attempted to keep their congregants attached to the Eucharist by use of technology such as streaming video. However, this has underlined some of the problems with liturgical practice as it has developed in the decades since Vatican II. Streamed liturgies have no 'live' congregations and often only a single priest in the sanctuary, which skews the roles of congregation and presider. The celebration of other sacraments has been no less affected, as they've been 'streamlined' for the sake of expediency and observance of social distancing rules. Vatican II's emphasis on scripture whether through the expanded lectionary used at Mass or through the inclusion of readings in the celebration of every sacrament, has often been overlooked and is sometimes lost in practice. The increasingly sloppy application of norms has led to bad liturgies that betray a basic lack of understanding of the meaning of the liturgy itself. Rather than return to 'business as usual' post-COVID, Kevin Irwin urges us to use this 'break' as an opportunity to revisit the liturgical reform and truly implement it.
A member of The Catholic University of America Theology Faculty for over thirty years, Msgr Irwin held the Walter J. Schmitz Chair of Liturgical Studies from 2000-2015 and was the Dean of the School of Theology and Religious Studies from 2005-2011. Currently Ordinary Research Professor at CUA, Msgr Irwin is the author of over twenty books and seventy journal articles. Prominent in his research are liturgical-theological method and the role of creation in liturgy and sacraments. Msgr Irwin's most recent books include A Commentary on Laudato Si' (Paulist Press, 2016), the revised and expanded edition of his classic text Context and Text: A Method for Liturgical Theology (Liturgical Press, 2018), Pope Francis and the Liturgy: The Call to Holiness and Mission (Paulist Press, 2019), and Liturgy and Sacraments in a COVID World: Renewal not Restoration (Paulist Press, 2021).
This online lecture was not recorded. Those interested in this important topic are referred to Msgr Irwin's book of the same name.
---
Public Lecture "Liturgy, Prayer, Pastoral Care and Pandemics"
On Monday, 12 October 2020 the ACU Centre for Liturgy hosted Sr. Prof Julia Upton, RSM, a member of the Institute of the Sisters of Mercy of the Americas, who gave an online Public Lecture entitled "Liturgy, Prayer, Pastoral Care and Pandemics". Applying her expertise in liturgy and her education and interest in Public Health, Dr Upton's lecture was received with gratitude and great interest by all those who attended.
Sr. Prof. Julia Upton, RSM, Ph.D. (Fordham) is Provost Emerita and retired Distinguished Professor in the Department of Theology and Religious Studies at St. John's University (NY), where she has taught for 40 years. She is a member of the Liturgical Commission of the Diocese of Brooklyn since 1978 and served as an advisor to the United States National Conference of Catholic Bishops Committee on Divine Worship (1978-1981; 2007-2010). Dr. Upton is author of Worship in Spirit and Truth: The Life and Legacy of H. A Reinhold and is currently writing a biography of Adé Bethune, a liturgical artist, consultant and social activist associated with the Catholic Worker. In 2019 Dr. Upton completed a Master's Degree in Public Health and now devotes her time to writing and consulting.
References used in the Public Lecture can be found here
---
Public Lecture "The Challenge of Intercultural Liturgy in the Era of Pope Francis"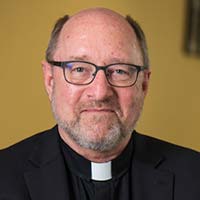 In July 2020 the ACU Centre for Liturgy hosted Rev Prof Mark R. Francis CSV, author of Local Worship Global Church: Popular Religion and the Liturgy and Shape a Circle Ever Wider: Inculturating the Liturgy in the United States.
In addition to the online Public Lecture on 20 July 2020 entitled " The Challenge of Intercultural Liturgy in the Era of Pope Francis" Professor Francis also taught an online one-time-only special studies unit, THEL620: Liturgical Inculturation through the Faculty of Theology and Philosophy on 6, 7, 9, 10 July. The unit was offered as a professional learning seminar available to liturgists, clergy, pastoral associates and all with an interest in the fascinating and pastorally relevant area of Liturgical Inculturation.